Six reasons to spend Christmas in Thailand
Swap mulled wine for a tropical cocktail and treat yourself to a very merry – and much sunnier – Christmas in Asia
Christmas Day spent on the beach basking in sunshine may go against British festive tradition, but it's also a fantastic experience that everyone should do at least once in their lifetime. For the ultimate winter holiday, enjoy Christmas in Thailand, where there are many reasons to feel merry and bright in December…
Escape winter weather
Apart from a flurry of well-timed snow, typical Christmas weather in the UK isn't too alluring. For one year, dodge sub-zero temperatures, rain, sleet and grey skies, and treat yourself to sun and warmth instead. The dreamy island of Ko Samui, for example, boasts an average high temperature of around 28°C in December, with the sea just one or two degrees cooler. Forget woolly hats and jumpers, and dig out your flip-flops instead.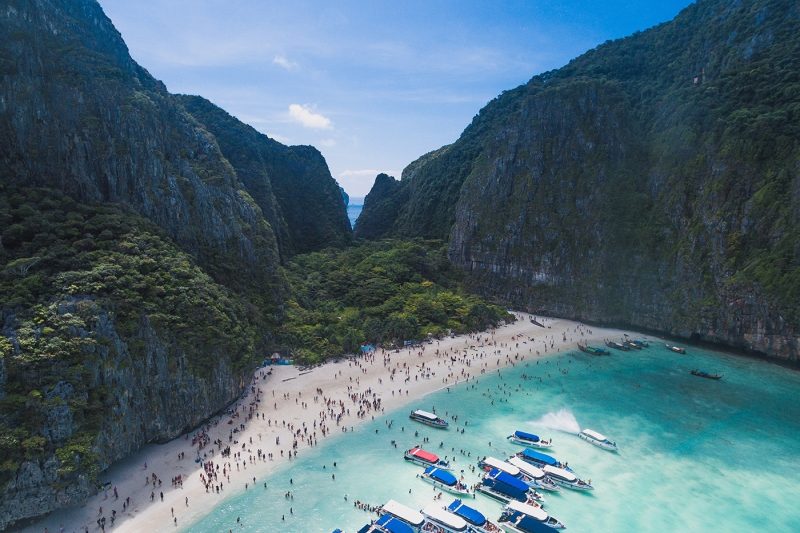 The beautiful beaches of the Phi Phi Islands © Humphrey Muleba/Unsplash
Bathe on blissful beaches
Celebrating Christmas is made even more appealing in Thailand, where you've got your pick of world-class coastlines to lounge by. On Thailand's largest island, Phuket, there's the gentle curve of white-sanded Nai Harn and peaceful Kata Noi, surrounded by dramatic, rugged hillsides. Alternatively, take a Princess day trip to the Phi Phi Islands and enjoy a spot of snorkelling on the gorgeous Bamboo Island beaches.
Enjoy next-level Christmas shopping
Take the stress out of Christmas shopping by doing it in Thailand's vibrant capital. Being in Bangkok at Christmas means you can swap high streets for buzzing street markets and air-conditioned malls as you hunt out the perfect presents. Forget socks as a stocking filler this year and instead snap up exotic spices, intricate jewellery and other unique gifts. To really get the most out of your visit, mix shopping with sightseeing on a Princess excursion that combines Bangkok's highlights (including the Wat Trimitr temple housing the incredible golden Buddha statue, weighing over five tonnes) with browsing and buying time in a popular shopping area.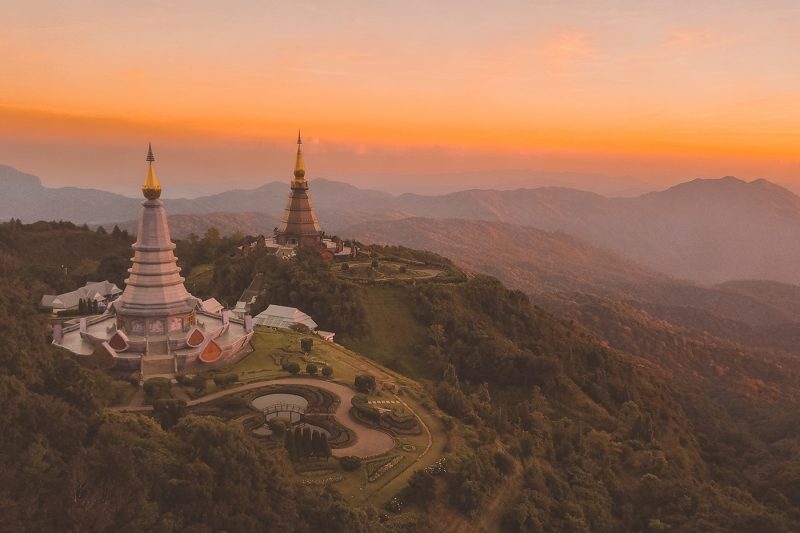 The view from Doi Inthanon, Thailand's highest mountain © Bharath Mohan/Unsplash
Encounter jaw-dropping nature
If sand and sea isn't your thing, Thailand's beauty isn't confined to its shorelines – there's a whole country's worth of stunning scenery to discover. How about a Christmas spent gazing out at misty mountain tops? Or trekking through waterfalls? Doi Inthanon in Chiang Mai, for example, is Thailand's highest mountain and home to countless amazing viewpoints, while Erawan National Park, north-west of Bangkok, offers dreamy waterfalls and wild hiking trails. Perfect for a one-of-a-kind Christmas.
Soak up the festive spirit, as you would at home
You may be halfway around the world, but that doesn't mean you'll miss out on all the Christmas sparkle of home. Even in Thailand, you'll see dozens of Christmas trees and sparkling decorations, and you'll even hear carols being sung in some shopping malls. Finally, if you can't stomach the thought of missing traditional Christmas dinner, some hotels and restaurants even put on a traditional British festive feast with all the trimmings.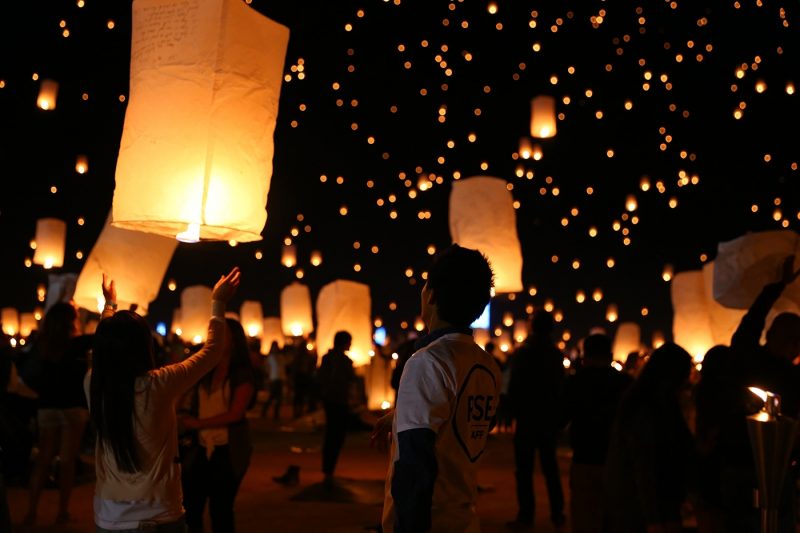 Pretty paper lanterns lit for New Year in Thailand © Hisu Lee/Unsplash
Celebrate New Year's Eve on an idyllic island
With celebrations big and small to suit every taste, Thailand is a fine place to see in the New Year. The annual floating lantern ceremony in Chiang Mai, where hundreds of paper lanterns are released into the night's sky, is a favourite for many, but we recommend heading to an island for a more intimate, but equally memorable celebration. You'll still be able to release a paper lantern as you make a wish for the year ahead, but the feeling of counting down to midnight with warm sand between your toes, and hearing the ocean lapping over the gentle hubbub of festivities, is a special thing indeed.
Excited to explore Thailand?