The rising stars of Asian street food
From floating markets to Michelin-star food stalls, these are the street-food spots you don't want to miss
Asia is one of the few places in the world where the most delectable dishes of your life can be found at a humble food stall. The street-food scene is world-renowned for mouth-watering cuisine and there are even places to find a Michelin-star dish for less than the cost of a posh cup of coffee. Wherever your Asian travels take you, be sure to add our picks to your itinerary…
Best street food in Bali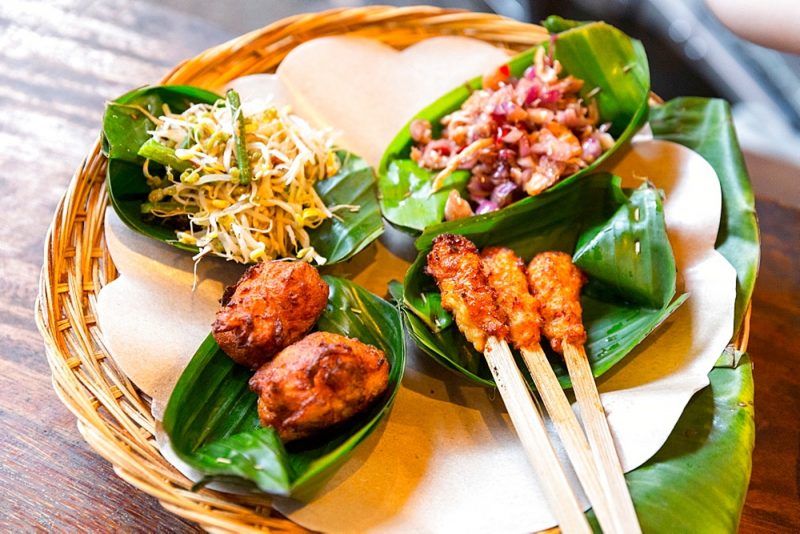 Ubud is not only Bali's cultural hub, it is also a foodie delight. Vendors sell the ubiquitous bakso – a broth with meatballs, noodles and lashings of chilli – everywhere, as well as nasi jinggo, seasoned rice served in a banana leaf, and the sweet coconut and banana pisang rai.
If you are looking for a good breakfast in Ubud, head to any of the carts that line the main streets in the morning – they do a brisk trade in bubur mengguh, a sort of savoury porridge topped with chicken and spices. It is a surprisingly delicious way to start your day.
Best street food in Bangkok
Watching women paddling along the waterways of a floating market is the quintessential Bangkok experience. These resourceful business owners display their colourful wares and ingredients from their longtail boats, often cooking right there over an open flame and serving customers on dry land as they float down busy waterways.
Damnoen Saduak Floating Market is the city's most famous, but make sure you get there early to avoid the tourist crowds. Alternatively, try Taling Chan Floating Market – it's smaller, but quite authentic and favoured by locals. Famed for its seafood, market sellers will grill up octopus, catfish and huge shrimps on their boats.
Best street food in Singapore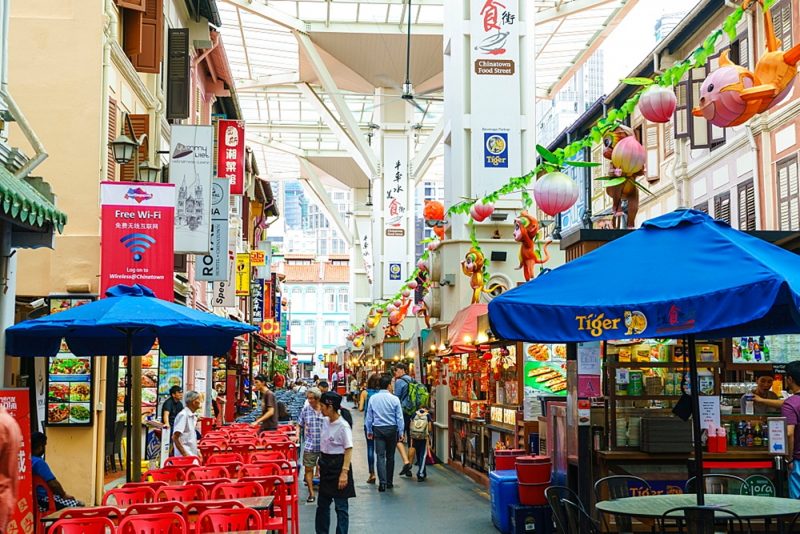 At Singapore's largest hawker centre, Chinatown Complex, there is a stall with a less-than-catchy illuminated sign that reads Hong Kong Soya Sauce Chicken Rice And Noodle. Its namesake dish costs about £1, and in 2016 was considered worthy of the culinary world's highest honour: a Michelin star. It really is delicious, and is probably the cheapest Michelin-star meal you will ever eat.
That is what is so great about Singapore. Its street-food scene has never been more exciting. The island nation's mixed cultural heritage makes it a great bubbling melting pot of Chinese, Indian, Malay and Western flavours. Huge open-air hawker centres are like culinary cathedrals, where dishes will delight the palate of even the most distinguished gourmand. Just expect to queue if you want Michelin-star fare.
Best street food in Ho Chi Minh City
As Vietnam's most populous metropolis, Ho Chi Minh has an undeniable energy. It's the kind of place where you can enjoy a steaming bowl of phở or shrimp bánh khọt rice pancakes at any hour. The whole city is an open-air restaurant.
Often, a street-food stall will focus on one dish and perfect it, which means you can meander down streets, trying different delicacies at different places. Vĩnh Khánh Street, once famed as a favourite spot of gangster Năm Cam, is the place to be, with local hipsters sitting on plastic chairs and dining on fried sea snails with salt and chilli at Oc Oanh. Arrive in the early afternoon to beat the crowds.
Discover the exotic allure of the Far East on a Princess cruise
Best street food in Penang
Getty Images
On spectacular Penang, George Town is perhaps the best-preserved city in Southeast Asia. It is also a culinary delight, with the island said to sit at the crossroads of Asia – thanks to its history as an important trading port, it accepted ships filled with spices from all over the continent. This influenced the food, which is second only to the playful street art that has sprung up across George Town.
Tuck into the island dish of char kway teow – flat noodles, prawns, cockles, beansprouts and spring onions – and don't miss nasi lemak, the creamy, coconut-infused rice dish with fried anchovies, nuts, eggs and chilli sauce. You can try them at the Sri Weld Food Court, right by the coast.
Best street food in Hong Kong
For the full Cantonese foodie experience, head to Bowrington Road Market. It is a place where you can enjoy the hustle of a traditional wet market while also finding some great dai pai dong (food stalls) serving up everything from steamed fish to stir-fries, curried fish balls to soy-sauce chicken.
Start downstairs and immerse yourself in the vivid world of the wet market, where you will find unusual cuts of meat hanging, seafood stalls selling fish you've never seen before and the freshest exotic fruits to give it all a pop of colour. Upstairs, the cooked-food centre has an unfussy, come-as-you-are atmosphere. Head to Kui Kee Seafood Restaurant for spicy fried crabs and Wing Kee for shellfish with black-bean sauce.
Best street food in Ko Samui
You may think street food is the preserve of cities, but Thailand's southern islands serve up delights at local stalls. Curries, satay chicken, squid-egg balls and barbecued fish are all freshly set to sizzle when you order, and make sure you don't miss the delicious Thai dessert of sticky coconut rice with mango.