Eight reasons to cruise at Christmas time
Have yourself a very merry Christmas onboard a cruise, enjoying some of the world's most beautiful destinations alongside an abundance of festive cheer. It's a dream combination
Deciding where to go at Christmas isn't always easy – do you visit family? Stay at home? Escape everything on a holiday? Setting sail on a cruise at that time of year is the perfect option if you're looking to eliminate those difficult decisions but also have the Christmas holiday of a lifetime. You'll not only visit show-stopping destinations (Christmas Day in the Caribbean, anyone?) but enjoy all your favourite festive traditions onboard the ship. If you needed any more persuading, here's why embarking on a festive cruise is the perfect present to yourself or your family – and you don't even have to wrap this one.
1. It takes all the stress out of Christmas
Let's be honest, we all know that Christmas can get stressful at points, what with arranging family meet-ups, co-ordinating present buying and prepping the most important meal of the year. But spending Christmas onboard a cruise ship means no cooking, no wrapping hundreds of presents, no deciding where to spend the big day… You're free to relax and soak up the holiday atmosphere – because you are on holiday!
2. You'll feel like you're in a winter wonderland
Don't worry about missing out on your favourite festive traditions, as you'll find them all onboard. Expect to see your Princess ship decked out with wreaths, holly, mistletoe and numerous Christmas trees (including one on the mast), and listen out for the sound of carollers singing Yuletide classics as they stroll around the decks. There's Christmas spirit everywhere you go on our ships.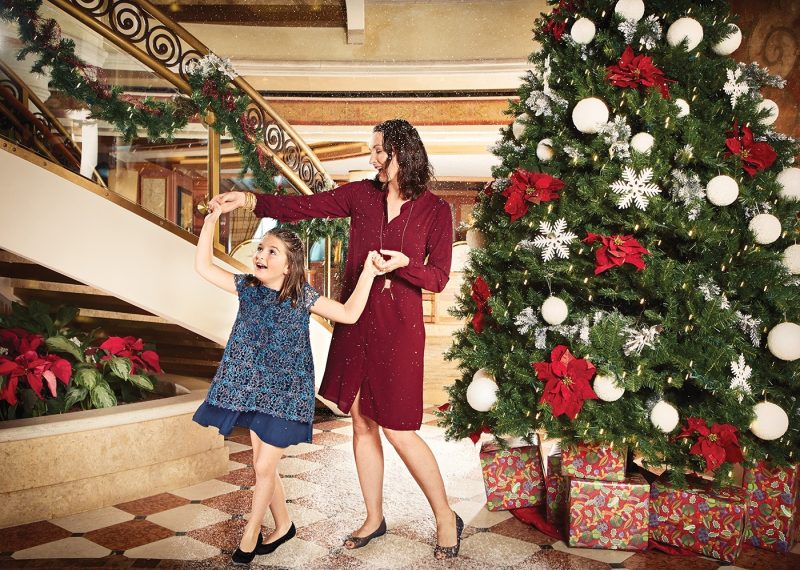 A spectacular Christmas tree in the Atrium © Princess
3. There's plenty of season's eatings
One of the most important parts of Christmas Day is the food. We'll be serving roast turkey and goose (and options for veggies and vegans) along with all the trimmings, plus sweet treats like yule logs, mince pies and Christmas cookies for pudding. I think we can fairly say that all your festive food requirements will be more than met onboard – and all without any washing up.
4. And guaranteed snow!
Hoping for snow on Christmas morning in the UK is often a lost cause, but rest assured that whatever the weather in your destination, you will indeed have a white Christmas onboard a Princess Cruise ship. Simply make your way to the Atrium and prepare for the perfect flurry. Let it snow, let it snow, let it snow…
5. Visit bucket-list hotspots throughout the festivities
At Princess, we sail to a vast selection of incredible destinations across the globe during the festive period, including Mexico, around the Caribbean, Argentina, Panama, Japan, Australia, New Zealand, Thailand, Vietnam, the Antarctic Peninsula and many more.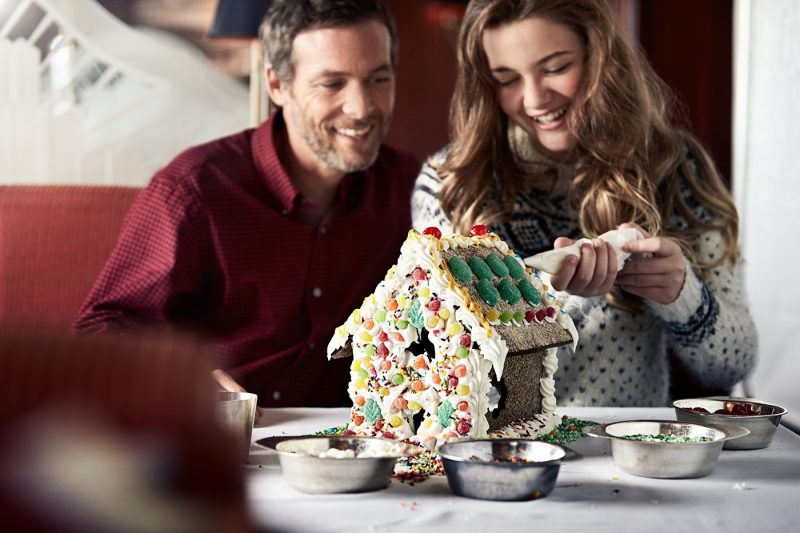 Make the perfect gingerbread house while onboard © Princess
6. The whole family will be entertained
Children will love spending their school holidays on a Christmas cruise, particularly when Santa Claus makes an appearance (with a present, perhaps!) on Christmas Day. There are kids' clubs for both younger children and teenagers, with festive parties, seasonal performances and special activities, like gingerbread house-making and decorating Christmas trees (which, you'll be pleased to hear, can get involved in too!).
7. Treat yourself to unique Christmas experiences
You've most likely spent many Decembers traipsing around shops, stockpiling cranberry sauce and filling every spare minute with festive get-togethers. This year opt for some different activities, like wandering through serene Japanese gardens or spying tropical fish as you snorkel in the warm waters of St. Kitts. And if you've still got an urge to shop at this time of year, why not haggle for souvenirs in one of Hong Kong's bustling street markets?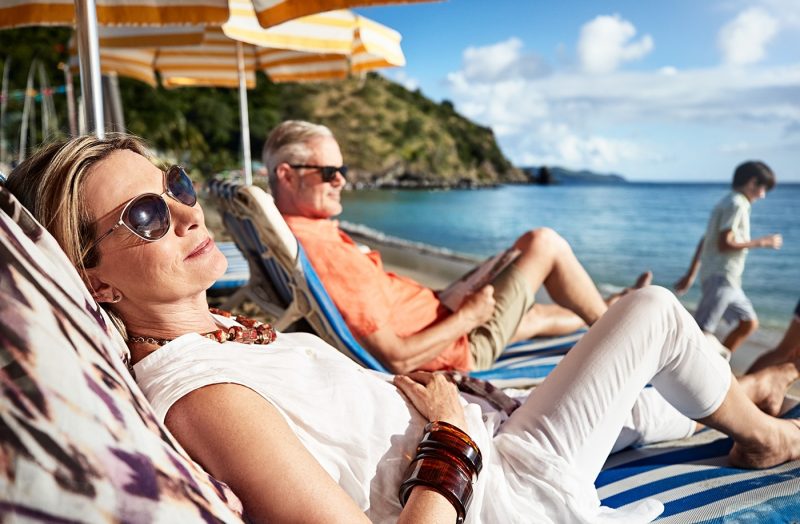 Soak up some winter sun in St. Kitts © Princess
8. Spend Christmas on the beach
Woolly hats, novelty jumpers and cold, frosty temperatures are all part of Christmas at home, but everyone needs to spend at least one Christmas on the beach. Bright sunshine and tropical heat might seem a little untraditional at first, but when you're sat in a deckchair, sipping on a cocktail with your toes in golden sand, you'll be bursting with festive cheer. Put it this way: you probably won't need the woolly hat this year.
Plan your cruise at Christmas today