How to see Bangkok, Thailand, like a local
One of the most-visited cities in the world, we show you how to experience this buzzing metropolis like an insider…
Rainbow tuk-tuks, gold-topped temples, mirrored skyscrapers, heaving street markets, glamorous rooftop bars, monks busy on their mobile phones – Bangkok is one of the top destinations in Asia, thanks to a dizzying blend of tradition and modernity, high-energy and slow moments, as well as sensational food. One of the most visited cities in the world, here we show you how to do it like an insider, from where to shop, eat, relax and even where to find the best souvenirs...
3 unique must-see sights in Bangkok
1. Thonburi Klongs Bangkok sprang from the banks of the Chao Phraya River, so one incredible way to explore the city's origins is on a long-tail boat tour of the Thonburi Klongs (canals). Glide through a labyrinth of waterways, looking out for monitor lizards, fruit and vegetables being sold on boats and monks filing into some of the 600 temples. Finish at Wat Arun, a Khmer stūpa clad in ceramics.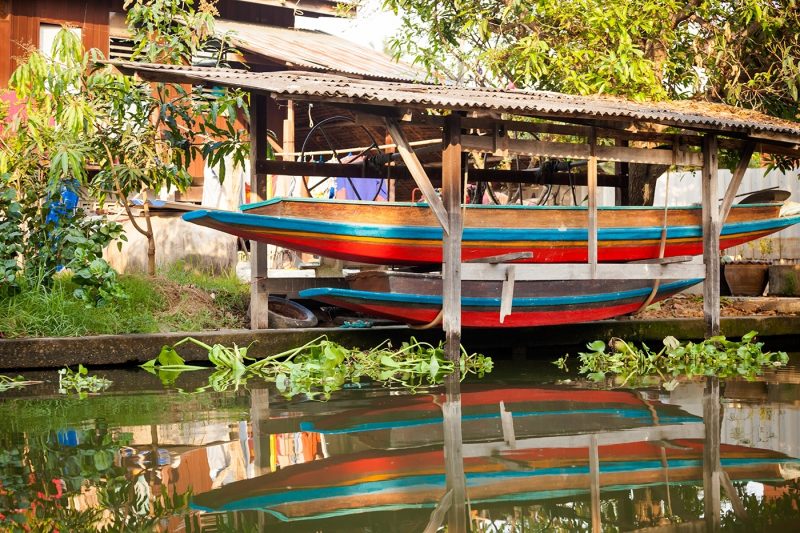 Getty Images
2. Museum of Floral Culture A visit to one of Bangkok's smallest museums comes as a literal breath of fresh air. More than just a place to ogle some blooms, it offers a fragrant insight into an important part of Thai culture. A stroll through the manicured grounds reveals an old Thai mansion and a deck for afternoon tea.
3. National Museum Thailand's vastly underrated National Museum is housed in a former royal palace in the Phra Nakhon district, a 20-minute walk from the stunning Wat Pho Temple (also a must-visit). Opened in 1874 and spread over three beautifully decorated exhibition halls, it is one of the largest museums in South East Asia. Exhibitions on Thailand's rich history include shows of elaborate textiles, ceramics, musical instruments, clothing and weaponry. It also boasts a peerless collection of Buddha sculptures and Buddhist art from Thailand.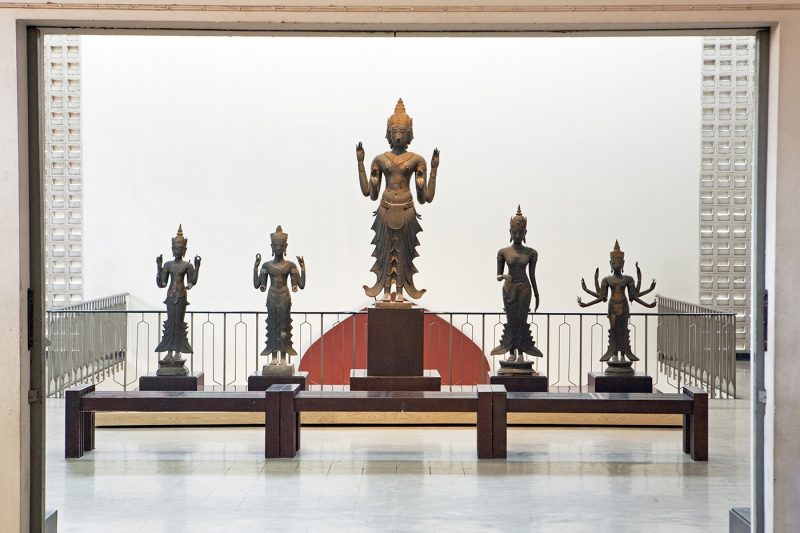 AWL
Where to have an amazing Thai massage in Bangkok
Massage is as intrinsic to Thai culture as spices are to its food. Head to these local favourites to recharge your batteries...
Watpho Thai Traditional Medicine School Knotty calf? Clicky hip? This massage school (affiliated with Wat Pho temple) will have you fixed in no time. Wat Pho is where Thai massage originated and offers the gold standard in massage training. Try a traditional massage that's performed on the floor.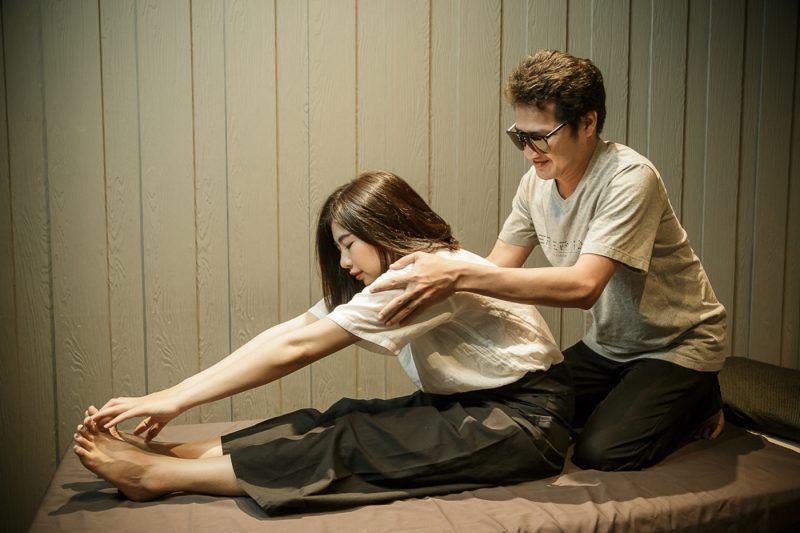 Perception Blind Massage This chic salon in Silom has an up-to-date take on the blind massage institutes long found in South East Asia. In the absence of visual cues, blind massage therapists are more in tune with the body's responses. Treatments include the herbal ball massage, where a cotton is filled with herbs and spices, steamed and compressed against your body to release toxins – all for the price of a coffee back home.
Run out of time for a massage ashore? Enjoy a Thai poultice massage at the Lotus Spa onboard, that uses a similar technique as the herbal ball massage. The Lotus Spa was named Best Spa on a Cruise Ship by spa finder Wellness 365, so don't miss out.
Where to find unique souvenirs in Bangkok
The Jam Factory Between coconut groves on the Khlong San side of the river, a series of old factories have been transformed into lifestyle stores, a café, restaurant, gallery and bookshop – including Anyroom, which sells wooden furniture, as well as handmade ceramics and scented candles.
Jim Thompson House Museum The former home of American explorer and silk exporter, Jim Thompson is part museum, art gallery and fabric merchants. Tours run on the half-hour and provide an insight into the Thompson collection of antiques and artworks. After, stop by the gift shop for silk dressing gowns, shawls and cushion covers.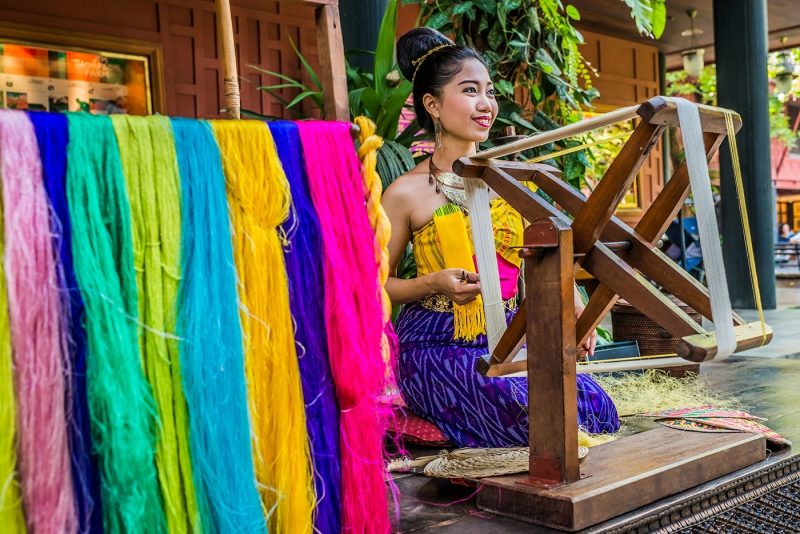 Alamy
EmQuartier Arguably one of Bangkok's fanciest malls, EmQuartier has the best shopping in the city. Come for brands you're not likely to find elsewhere – it has a gallery of cool Thai designers – or get lost in the Helix, a seemingly never-ending spiral of restaurants and stores.
5 of the best places to eat in Bangkok
Top spot to splurge ... Sorn Specialising in southern Thai cuisine, multi-awarding winning Sorn is set in a beautiful reconstruction of a traditional teak mansion in Bangkok's trendy Khlong Toei neighbourhood. The seasonal menus focus on long-lost family recipes gathered from across the country, using ingredients which are all sustainably sourced. Be sure to book well in advance.
Top spot to splurge... Paste It's a delight to dine at Paste, arguably one of the finest restaurants in town (Michelin has awarded chef Bee's culinary creations one star for the last three years in a row). Thai-focused tasting menus start with dainty canapés, followed by appetisers like curried roast duck on rice crackers. The mains are portioned to share – spicy sour orange seabass, white turmeric grilled prawns, chargrilled organic pork – while tropical desserts provide the final flourish.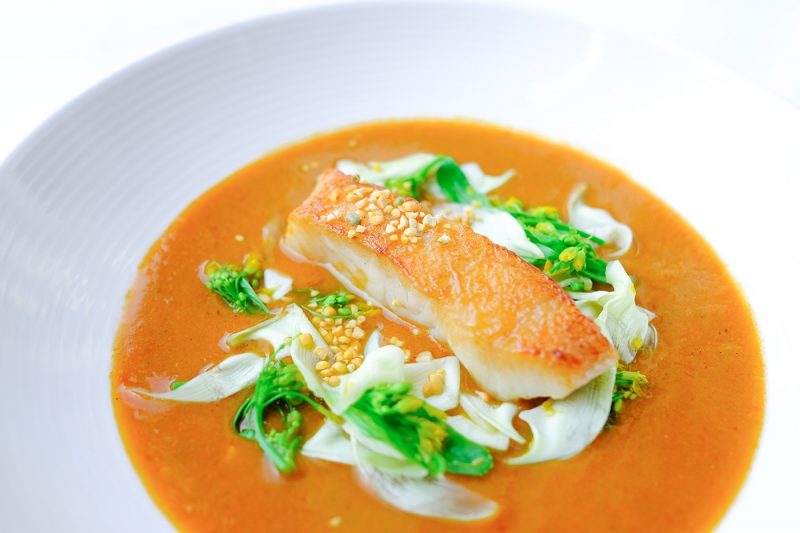 Top cheap eat... Jay Fai The only street food joint in Bangkok to be awarded a Michelin star, this Thai institution is famed for its feathery crab omelette. No-frills, with tiled walls and wooden stools, you'll see everyone from taxi drivers to Thai royalty, all waiting while goggle-wearing Supinya Junsuta works over a charcoal stove.
Top cheap eat... Thipsamai Pad thai (stir-fried rice noodles tossed with bean sprouts, scrambled egg, tofu and chicken or prawn) is Thailand's best-known dish, and Thipsamai is one of Bangkok's best-loved pad thai restaurants. The original store had people queuing down the road, which makes its new outpost in the IconSiam mall all the more sweet.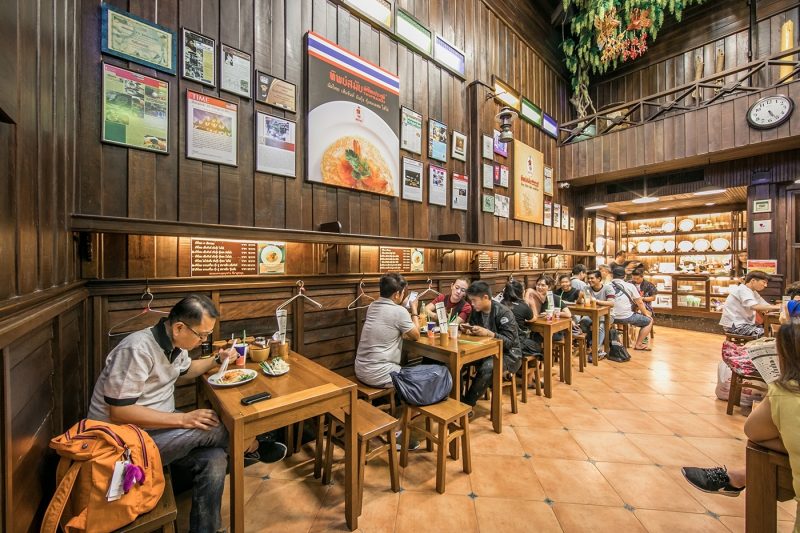 Top cheap eat... Tom Yum Goong Banglamphu A five-minute walk from Khao San Road, under a patch of green tarpaulin, you'll find street-side joint Tom Yum Goong Banglamphu. This stall has been around for decades and serves the best tom yum goong (a hot-sour coconut broth with lemongrass, tamarind and fat prawns) in town.
Experience the magic of Bangkok for yourself
Explore more of Asia with these stories...