How to see Singapore like a local
With a dazzling array of old and new architecture, sensational food and attractions to suit every taste, Singapore is a delight. Here are the locals-approved ways to make your stay in the Lion City roar
World-class dining, impressive architecture, unique shopping and an exciting fusion of cultures means planning a trip to Singapore can be as exhilarating as it is overwhelming. That's why we went straight to the locals to discover where they're dining, shopping and socialising in Singapore. Here's what they had to say...
Where to shop for a souvenir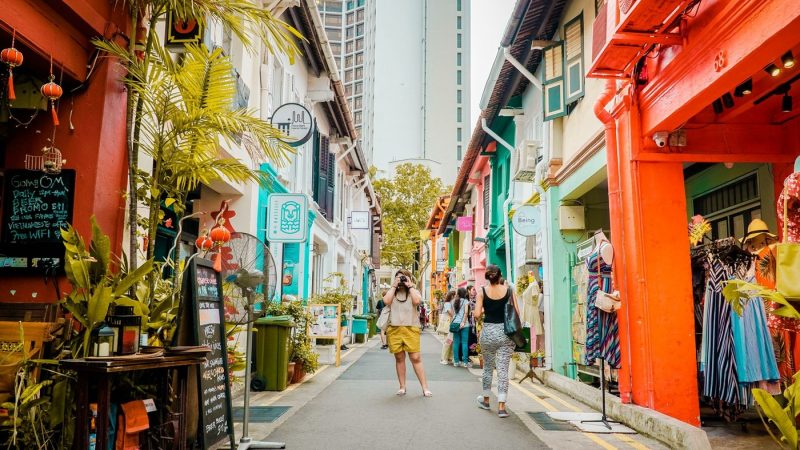 Bna Ignacio/Unsplash
Haji Lane This narrow mural-strewn alley (above), tucked away in Kampong Glam, is Singapore's original indie neighbourhood, packed with cutesy boutiques, vintage finds, new-age stores, leather makers and a dozen or so funky bars and restaurants. Shop up a storm then refuel at Selfie Coffee (11 Haji Lane) where a photograph of your own face is used as latte art.

Raffles Boutique Vintage luggage ticket tea towels, leather pocketbooks, tropical-print cushion covers, framed Chinese horoscopes, fridge magnets – if you have an inkling to take some colonial-era Singapore memorabilia home with you then Raffles Boutique is the place. As with the rest of the grande dame, the boutique and surrounding arcade have been newly revamped. Post-shopping, pop up to the famous Long Bar to throw peanut shells on the floor and drink a real deal Singapore Sling.
5 of the best places to dine and drink...
The White Rabbit
1. Old Airport Road Hawker Centre Visiting Singapore's hawker food centres, serving up lip-smacking street food, are one of the city's must-dos. Maxwell Road, with over 100 stalls, including Michelin Tian Tian Hainanese Chicken Rice, is the most popular. But if you really want to go local, head to Old Airport Road for a feast of charcoal-roasted pork and curry puffs.

2. Pollen Pollen earned a recommendation from Michelin for its inventive vegan dishes and excellent-value set lunches – think roast swede with parmesan and cashew and crusted beef short rib. But its setting, inside a glass room in the Flower Dome at Gardens by the Bay (below), is as memorable as the food.
3. The White Rabbit Named after the cottontail that led Alice down the rabbit hole, this restaurant serves European classics with a twist. The brunch spans everything from lobster grilled cheese sandwiches to apple and brie soufflé pancakes. After, roll into the secret garden for a digestif.

4. The Old Man This sleek Hong Kong speakeasy, winner of Asia's 50 Best Bars, has decanted itself into a second location in Singapore. It also sports the same subtle Ernest Hemingway theme, with a list of cocktails named in honour of the author. Start with a goblet of Islands in the Stream #1970, a grown-up blend of clarified pink grapefruit, salted gin and soda. 5. Lantern The Marina Bay Sands has the same problem as the Eiffel Tower – if you're inside it you can't see it. Those in the know tack across the bay to Lantern, the rooftop bar at The Fullerton Bay hotel. Get there for sunset to watch the city sparkle into life.
5. Lantern The Marina Bay Sands has the same problem as the Eiffel Tower – if you're inside it you can't see it. Those in the know tack across the bay to Lantern, the rooftop bar at The Fullerton Bay hotel. Get there for sunset to watch the city sparkle into life.


See the wild side of Singapore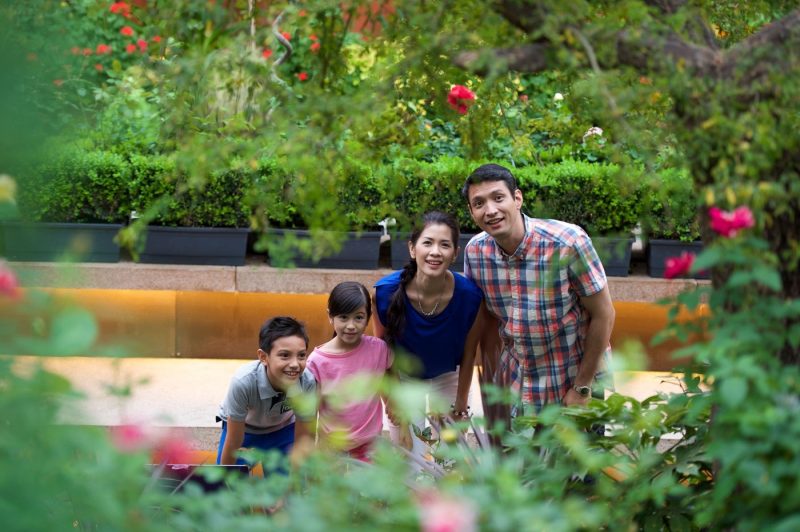 Princess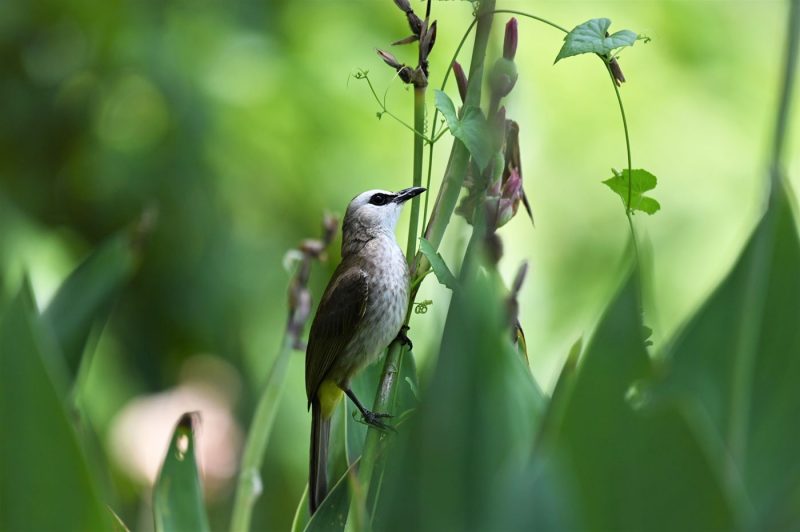 Mark Stoop/Unsplash
Southern Ridges Long before the skyscrapers and robo-gardens arrived, Singapore's landscape was one of lush jungle. Unbeknown to most, a small section of it still remains in the form of the Southern Ridges, a six-mile long stretch of banyan-tree lined paths. Bird lovers should look out for rare species, such as crested serpent eagles and red-whiskered bulbuls along the way.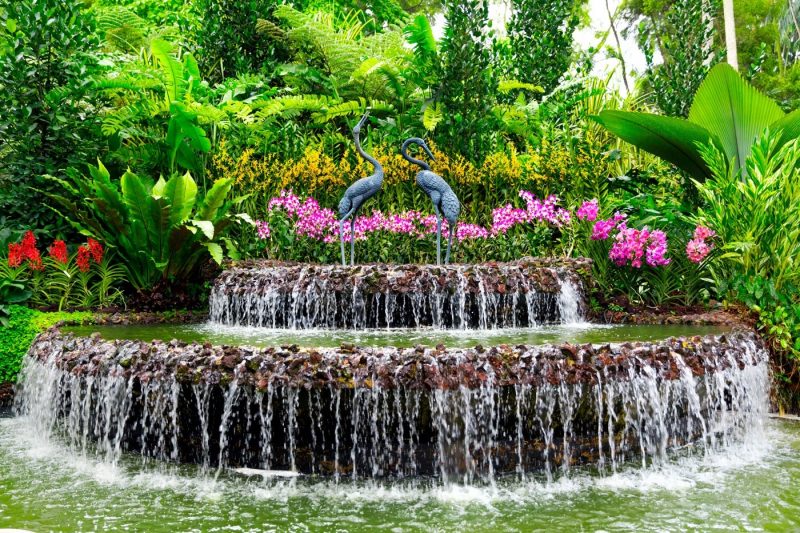 Shutterstock
National Orchid Garden
Covering over 60 acres of the city, it's easy to get lost amid the leafy confines of Singapore Botanic Gardens. But if there's one spot you should try to find your way to it's the National Orchid Garden. Housing over 1,000 species of orchid, among them you'll find ones that smell like chocolate and others that look like tiny monkeys.
Where to experience historic Singapore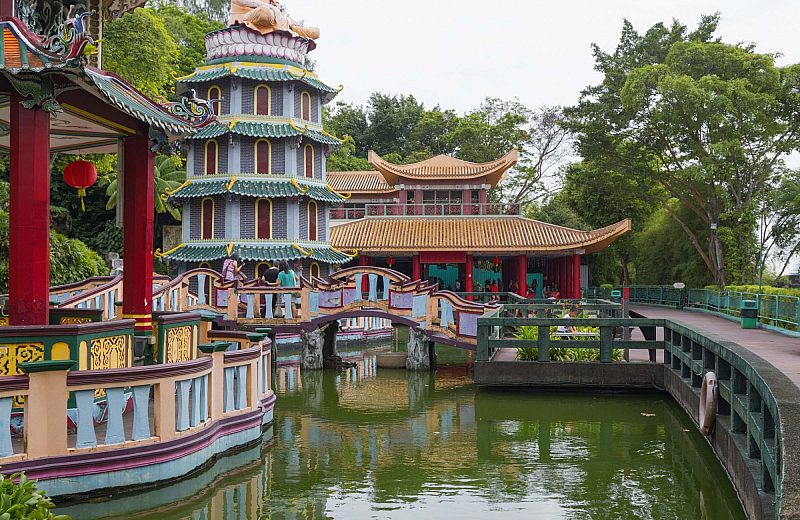 Robert Harding
Haw Par Villa Arguably Singapore's strangest attraction (above), this 1930s theme park is filled with over 1,000 garish stone statues and giant dioramas. Based on scenes from Chinese mythology, displays range from the amusing – ponds of mermaids – to the alarming Ten Courts of Hell tunnel.
The Intan Peranakan culture descends from 19th-century Chinese settlers that emigrated to the Malay archipelago. The result is a rich tapestry of traditional dress, food and architecture. One of the best places to learn more is at the The Intan, a museum filled with hand-painted porcelains and bright beaded slippers.
National Gallery Singapore This gallery blends the rotundas of Singapore's old City Hall and Supreme Court with vast glass walls and floating walkways. Tickets give you entry to the enclosed galleries, or just head to the roof terrace for great views of the Raffles landing spot.
Where to experience futuristic Singapore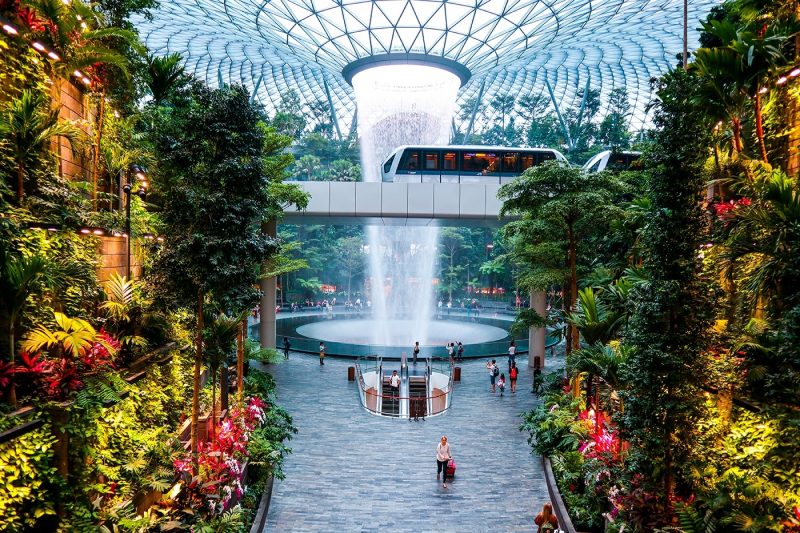 Sreehari Devadas/Unsplash
Marina Bay Sands Take a stroll over the DNA-inspired Helix Bridge to the city's most recognisable building, Marina Bay Sands (above). After hitting some of the mall's high-end boutiques make your way to the casino to ogle the gargantuan gaming halls. Later, trail back upstairs to catch the epic light and water show.
Art Science Museum Shaped like a huge lotus flower, the Art Science Museum shows how art and science are interconnected. Permanent exhibitions include an interactive light installation and mesmerising digital versions of Japanese calligraphy and there are also temporary blockbuster exhibitions from Disney and Marvel.
The Jewel Disembarking from a cruise to visit an airport might seem counterintuitive but The Jewel – adjacent to the terminal – is Singapore's hottest attraction. Shaped like a giant doughnut, this enormous mall spreads over 10 storeys with a thundering rain vortex tumbling through its heart – the world's largest man-made waterfall.
Make the most of your time in Singapore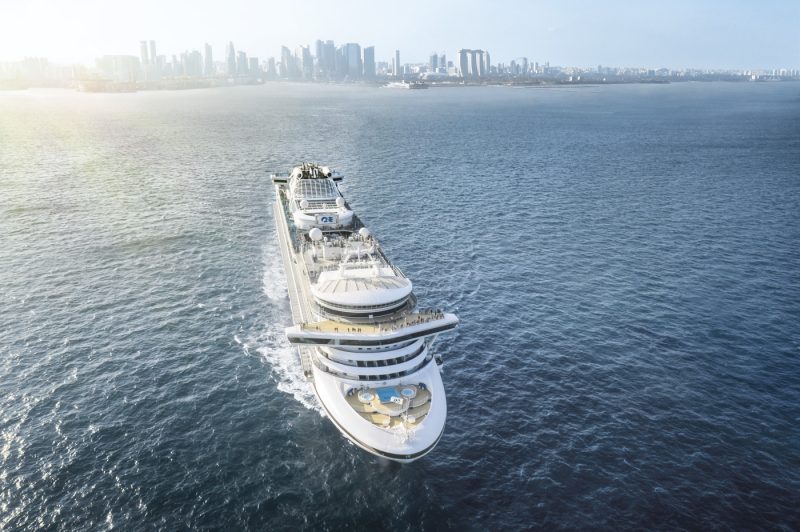 Princess
See more of Singapore with a pre- or post-cruise stay with Princess. As itineraries start or stop here, you can easily build in extra time to explore every corner of this incredible city.
Explore every side of Singapore with Princess Cruises