Come aboard for our 2023 Culinary Stars cruise
Fancy yourself as a bit of a foodie? Join Ainsley Harriott MBE, Jean-Christophe Novelli MBE and Hairy Biker Si King for our cooking-themed cruise
If you're looking for something a little different from your next holiday, why not join us for our Culinary Stars themed cruise? Setting sail on 16th September 2023, our 7-night Spain and France round-trip itinerary from Southampton will feature kitchen legends Ainsley Harriott MBE, Hairy Biker Si King and Jean-Christophe Novelli MBE.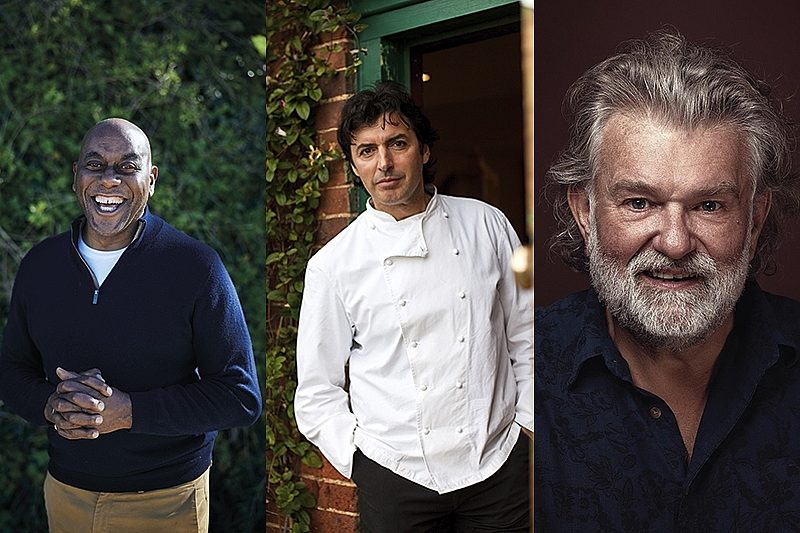 Come onboard with Ainsley Harriott MBE, Jean-Christophe Novelli MBE and Si King (left to right)
Cookbook veteran and former Can't Cook, Won't Cook and Ready Steady Cook host Ainsley Harriott MBE will be joined by one half of the Hairy Bikers, Si King, and French chef, restaurateur and TV star Jean-Christophe Novelli MBE for a series of live cooking demonstrations, workshops and Q&A sessions aboard Sky Princess.
While there'll be plenty of foodie action to satisfy your appetite onboard (including all of our delectable dining options as well), there'll be plenty to tickle your tastebuds in port stops, too. As part of the 7-night Spain and France itinerary, you'll dock in Guernsey, where you can feast on fresh, local crab sandwiches followed by home-grown strawberries with cream from Guernsey cattle.
In the coastal city of La Rochelle, south-west France, there's an abundance of homely brasseries serving up oysters, lobster and other seafood plucked straight from the sea. The traditional dish of mouclade originates from La Rochelle and consists of mussels cooked with cream, white wine, saffron and a dash of curry powder.
When in the port of Bilbao, delve into delicious Basque flavours in the form of pintxos, which are small plates not dissimilar to tapas, though they're often heartier and come served on thick slabs of bread. A favourite ingredient of Basque Country is cod (known as bacalao), so expect to find it here in many forms – fried, battered, grilled and baked.
Lastly, in La Coruña, don't miss the much-loved egg and potato tortilla or zamburiñas – seared scallops served in their shells with a drizzle of olive oil on top. So simple but so delicious.

The announcement of our 2023 Culinary Stars cruise comes after a very successful food-themed cruise in August 2022. In case you missed it, Enchanted Princess played host to celebrity chef and TV presenter John Torode, best-selling cookery writer and TV chef Rachel Allen, and chef and presenter of BBC1's Saturday Kitchen Matt Tebbutt.Rachel Allen showed guests how to make this delectable potato Soup with chorizo. Perfect for the chilly season, give it a go at home!
Potato soup with chorizo recipe
A simple potato soup is one of the most versatile there is, working superbly with spices, fresh herbs, croutons, drizzles or pesto. I love to use a floury potato, rather than one that's very waxy, for the best light and silky consistency. When reheating this soup, avoid prolonged simmering in order to keep its silky texture. For a dairy free version, use extra virgin olive oil in place of the butter and omit the cream and milk. You can also leave it unblended for a chunky, broth-style version.

For the potato soup (serves 4-6)
25g (1oz) butter
350g (12oz) potatoes, peeled and chopped
150g (5oz) onions, peeled and chopped
Sea salt and freshly ground pepper
750ml (1.25 pints) chicken or vegetable stock
1 tablespoon parsley, chopped
1 teaspoon thyme, chopped
250ml (8fl oz) milk, or half milk and half cream

And then…
75g (3oz) chorizo
1 tablespoon extra virgin olive oil

Method
- Melt the butter in a saucepan over a medium heat until it foams.
- Add the diced potatoes and onions, season with salt and pepper, stir well and cover with a butter wrapper or a piece of parchment paper. Put on the saucepan lid and sweat over a gentle heat for 10 minutes, stirring every so often to prevent the potatoes sticking. Add the stock, bring to the boil and continue cooking until the vegetables are all tender if they're not already. Add the chopped herbs and the milk (or milk and cream) then liquidise the soup and season to taste. The soup can be served straightaway or it can be reheated.
- While the vegetables are cooking, peel the chorizo and dice into small pieces. Pour the olive oil into a frying pan that's still at room temperature. Scatter over the diced chorizo and then place the pan on a very low heat and gently cook the chorizo for a few minutes, tossing it every so often to turn the chorizo. If it cooks over a very low heat like this, you'll end up with beautifully cooked chorizo with the rich amber-coloured oils rendered out. You want both the oils and the chorizo itself for drizzling over the soup when serving. Take off when it is nice and crisp, reserving the rendered oil.
- To serve, pour a ladleful of the hot soup into a warm bowl and top with a few pieces of cooked chorizo and a drizzle of the oil from the pan over the top.

Excited to join us for our Culinary Stars cruise?