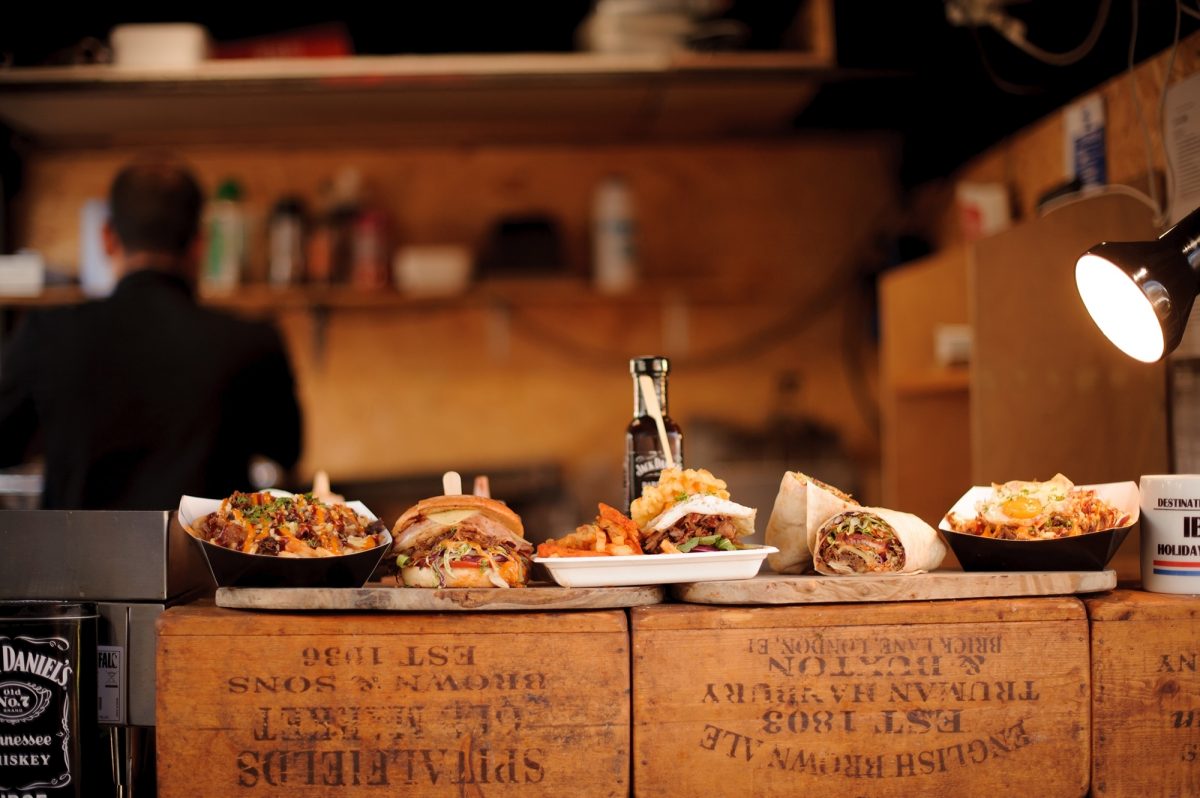 © Paula Vermeulen/Unsplash
Seven of the best street food spots around the British Isles
Give your tastebuds a tour of these top-notch street food markets and food halls
Thanks to recent the street food revolution, the British Isles is now a hotbed of incredible flavours plucked from all over the world. If you know where to look, you can now find amazing global cuisine and sublime snacks that go way beyond what your local takeaway might offer.
We've rounded up seven of the best venues around the British Isles that offer first-rate street food, so all you need to do is turn up hungry and get stuck into dishes that either show off much-loved tastes of home or transport you to the likes of Thailand, Peru and Greece.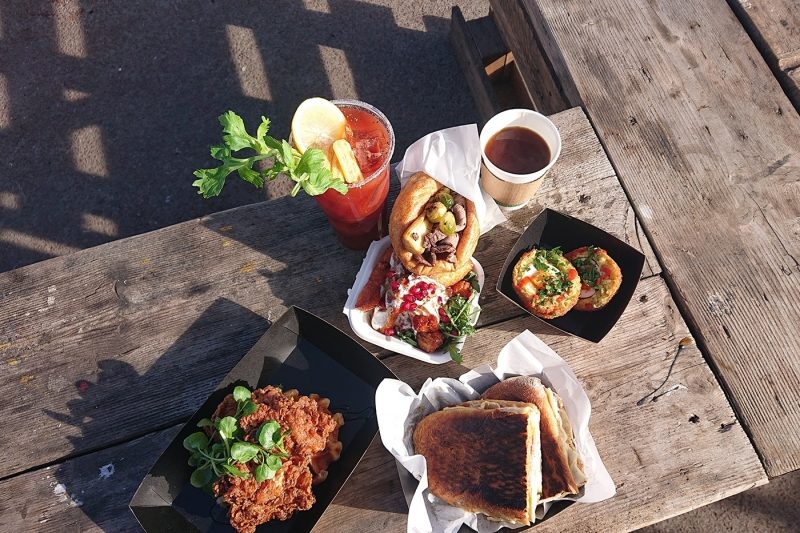 Prepare for a street food feast at The Pitt in Edinburgh © The Pitt Edinburgh
The Pitt, Edinburgh
Spread across a warehouse and courtyard in buzzy waterfront neighbourhood Leith, The Pitt is Edinburgh's street food paradise. It holds a changing line-up of food stalls and trucks, which might include traditional Scottish dishes with a contemporary twist from Ròst (think succulent pheasant burger with crunchy peanut butter), plant-based mac 'n' cheese from FacePlant Foods or gooey chilli cheese nachos from Soulfull. Wash it all down with a craft beer from one of the many local breweries represented at The Pitt. If you're more in the market for something distilled, there's also local gin and rum to sample, plus carefully selected global wine at the cosy Smith & Gertrude wine bar.
Bushy Park Market, Dublin
This popular market is located about 30 minutes from Dublin's city centre, but your stomach will thank you for making the journey. The roster of stalls here includes Mr Crepe, which serves oozing chocolate and hazelnut crepes; Syrian Foods, who offer perfectly fried falafel; and Hot Potato Fusion, who pile their baked potatoes high with Asian-inspired toppings.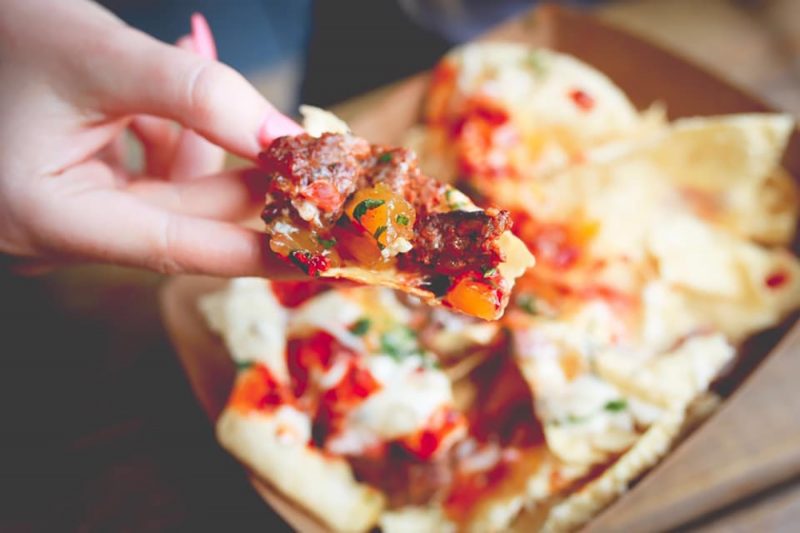 Delicious Indian-style naan wraps from Hullabaloo © Stack Newcastle
Stack, Newcastle
Set in a series of shipping containers in the heart of Newcastle, Stack plays host to various enticing street food traders alongside cafés, bars and independent boutiques. Once you're done browsing the shops at Stack, start on the food, which includes Greek gyros and souvlaki at Acropolis (including non-meaty options, too), Indian-influenced naan wraps at Hullabaloo, Lebanese mezze delights from The Bake One and Thai goodness from Thaillicious, including tom yum soup, pad Thai and fragrant curries.
Baltic Market, Liverpool
This trendy but utterly friendly food court has become an essential stop on any foodie's Liverpool itinerary in recent years. There's something for everyone here, from Middle Eastern flavours at Hafla Hafla (we love their lamb kebab with honey yoghurt) to fluffy, wood-fired Neapolitan-style pizzas at Little Furnace. If you need a pick-me-up, stop by Press Bros Coffee for a Baileys espresso martini. Cheers to that!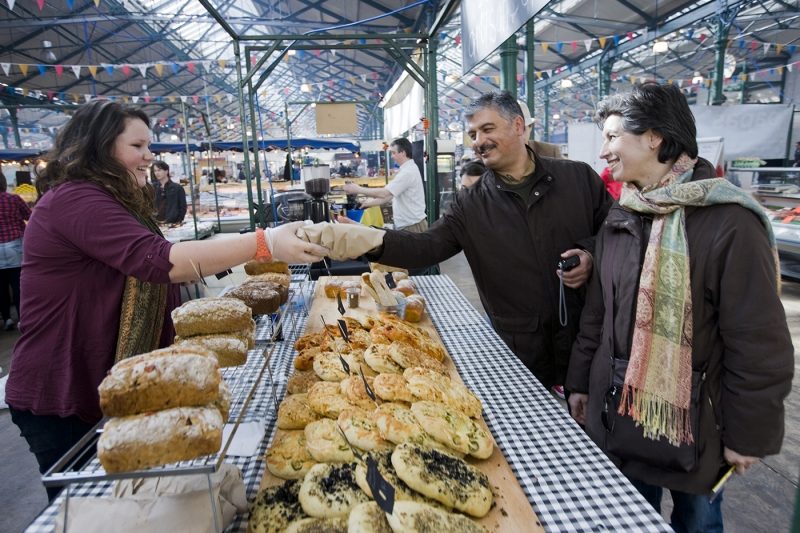 Baked goodies at St George's Market in Belfast © Tourism Ireland
St George's Market, Belfast
A favourite Belfast spot for both locals and visitors, this historic weekend market takes place in a cavernous Victorian building and offers a wide choice of street food stalls. Seek out the cheekily named Check Out My Buns, who sell delightfully indulgent sweet treats, including indulgent almond, date and chocolate torte; chocolate brownie cookies; raspberry coconut slices; and apple and custard cake. There's also live music to soundtrack your chomping, plus other stalls selling antiques, clothes, crafts and foodie gifts to take back onboard with you.
Platform, Glasgow
Located in the maze-like space underneath Glasgow Central Station (hence the name), this giant indoor street food market covers a mighty 35,000 sq ft. There are all kinds of global delights to scoff here, from Mexican tacos to Korean bao to Spanish tapas, but if Italian food is your bag, head to Gallus Pasta. The handmade pasta connoisseurs churn out soul-warming plates of taglierini with slow-cooked meat ragu, and ravioli stuffed with smoked mozzarella, ricotta and spinach. Do leave room for one of Platform's famed ice cream sandwiches, too; we recommend the Coco Loco, with biscuit, coconut ice cream, dark chocolate ganache and toasted coconut.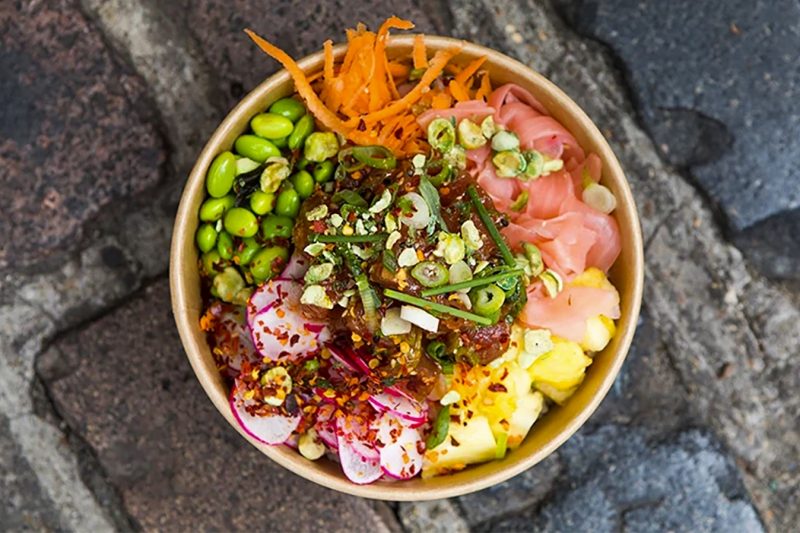 A bright bowl of goodness from Lords of Poké in Camden Market © Lords of Poké/Camden Market
Camden Market, London
It's not easy to pick just one spot for street food in the culinary megalopolis that is London, but the food offer at ever-popular Camden Market is a comprehensive choice. Ready yourself for a global odyssey, including Venezuelan wraps from Arepazo Bros; California-inspired poké bowls from Lords of Poké; healthy Peruvian wraps and salad boxes from Quinoa Arepa; Indonesian rendang (similar to a rich, stewed curry) from Makatcha; plant-based British pie and mash from Young Vegans; and then liquid nitrogen ice cream from Chin Chin Labs to finish it all off. Visit with an appetite, that's for sure.
Excited to explore more of the British Isles?