Our onboard food and drink in numbers
Ever wondered what it takes to wine and dine a whole ship? Food and Beverage Director Edward Gonsalves gives us a glimpse into the galley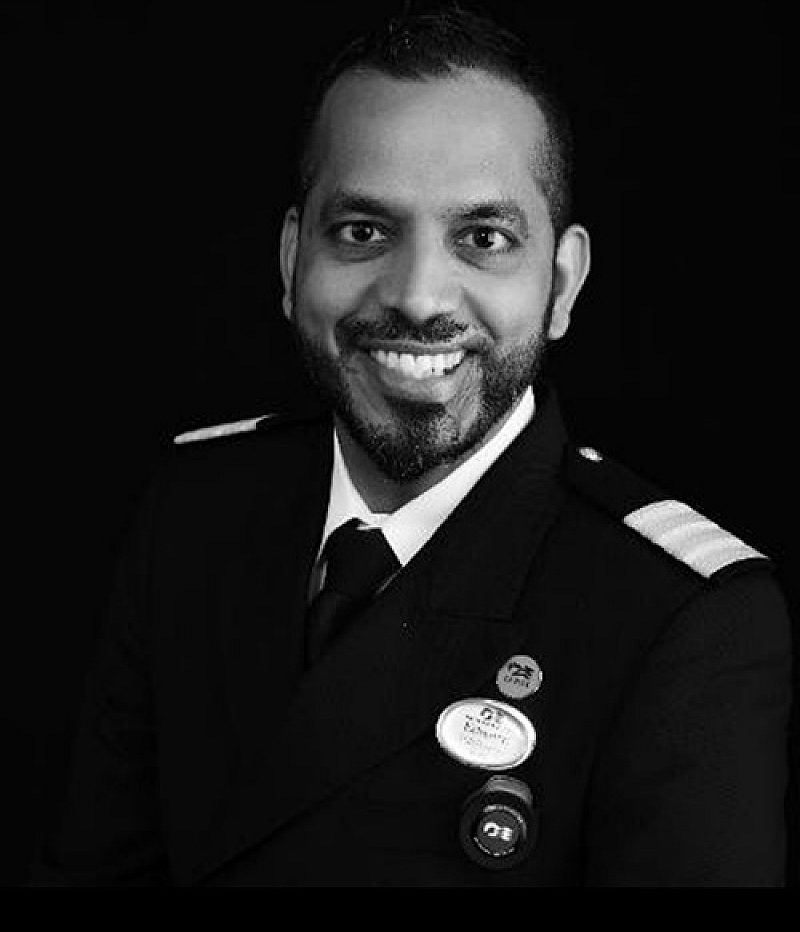 Edward Gonsalves, Food and Beverage Director
Feeding a ship of thousands is no mean feat and takes some serious organisation, so while guests tuck into gourmet dishes, freshly baked treats, hand-mixed cocktails and much, much more, the Princess crew are busy behind the scenes 24 hours a day. Food and Beverage Director Edward Gonsalves, formerly of Sky Princess, gives us an insight into what goes on in the ship's galleys (large kitchens where food and drink is cooked and prepared) and how food from onshore ends up on our hungry guests' plates.
How is food and drink brought onboard each ship?
For each cruise, the shopping list consists of food from all over the world, from fine Italian and French cheeses to the best New Zealand lamb. On a single cruise, between 110-115 tons of food is delivered to the ship. For itineraries departing from the UK, food is loaded onboard in Southampton before we embark and then again in Europe during the cruise. We do not load food from lots of different ports unless a ship is doing a more exotic itinerary.
How many people make up each ship's Food and Beverage team?
In total on Sky Princess, we have 709 teammates in the Food and Beverage team. These teammates are distributed across the Beverage Services team, Restaurants team, Galley, Stewarding and a Stores team. In addition, we also have a Food and Beverage Director, Assistant Food and Beverage Manager, Junior Food and Beverage Manager, Hotel Inventory Manager and Bar Manager, who all manage our onboard eating and drinking operations.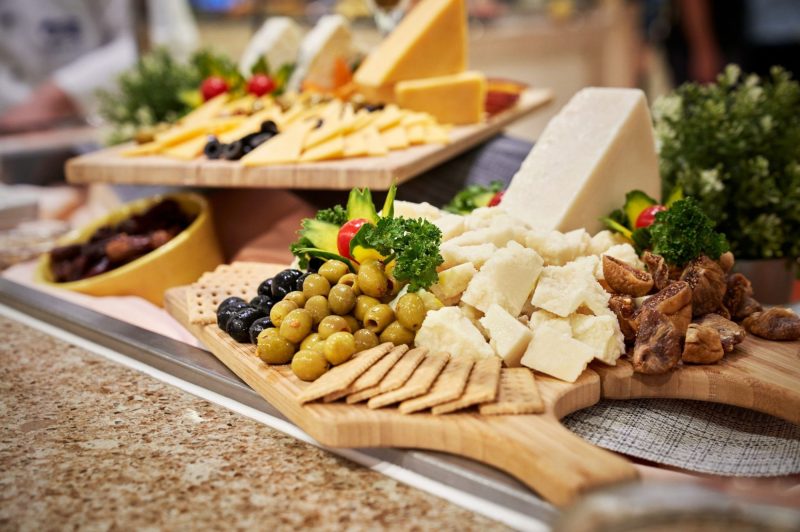 Calling all cheese lovers: come onboard to try our delicious and varied selection © Princess
Speaking of the galley, how many does each ship have?
On Sky Princess, there is one (very big!) main galley on both Deck 5 and Deck 6, which serves approximately 1,500 guests in our three main dining rooms. We also have one separate galley for the crew's dining, one for room service – operated 24 hours a day, preparing breakfast, lunch, snacks, tea and dinner – and each speciality restaurant has their own galley, too. World Fresh Marketplace is also supported with an additional galley, where food is prepared 24 hours a day.
What are the different sections in the main galley?
Firstly, we have the garde manger, which is the French name given to the area where all cold dishes are prepared, from crisp salads to the fresh fruit and vegetable displays that decorate our buffet tables. Eleven teammates work in this area, which contains mixing and slicing machines and refrigerators where all prepared dishes are kept.

We then have the soups, pastas and vegetables section, where teammates prepare seasonal vegetables, fresh pasta and flavourful soups for guest to enjoy.

The bakery is, of course, filled with the aroma of freshly baked bread. Here, our bakers use mixers and special proofing ovens, which create the perfect environment for the dough to rise. The pastry shop is a flurry of activity at all hours. During the day, thirteen people perform their craft here, while four work steadily at night to prepare sweets and pastries.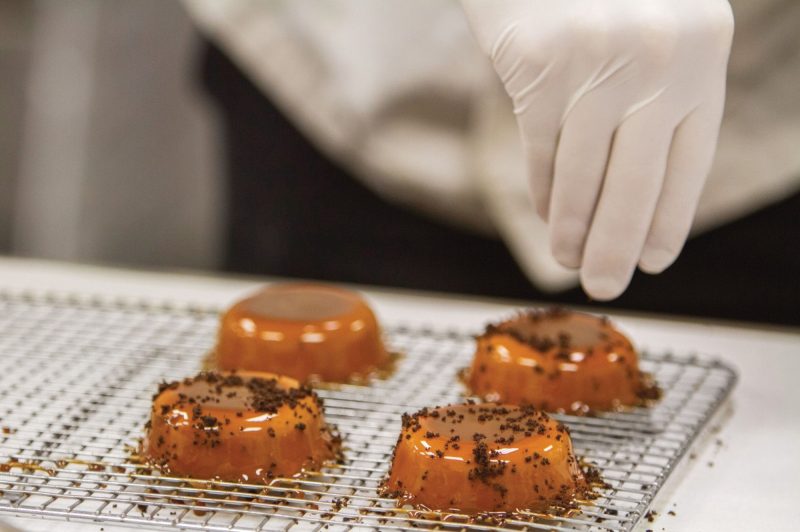 The sweet stuff: desserts being hand-finished in the galley's pastry section © Princess
We also have a coffee pantry, where a team of three keep the automatic coffee and espresso machines working during mealtimes, and a fruit and cheese pantry, where assortments of fine cheeses and crackers are arranged and where fresh fruit is washed, sliced, prepared and beautifully presented.
In the fish-preparation area, three people clean the fresh catch and cut the fish into tender portions before our chefs cook it. And in the meat-preparation area, there are five butchers, three assistants and several helpers who slice and portion beef and poultry.
Last but by no means least, a total of 78 teammates work continuously across all the ship's galleys, washing, sorting and feeding a constant stream of china, glasses, silver, pots and pans into the dishwashing machines. In the sculleries (dishwashing rooms), ten workers scrub and polish all our bespoke oversized pots and braising pans, so they're ready for our chefs. Silverware is cleaned and polished through the night so that the surfaces have a fine finish the following day.
What are some of the most popular foods onboard?
Popular things onboard are salmon, our shrimp cocktails, lamb shanks and the sirloin Steak Diane, but the most popular is definitely our hand-pulled Italian pizza.
In numbers...
Below are the average amounts for Sky Princess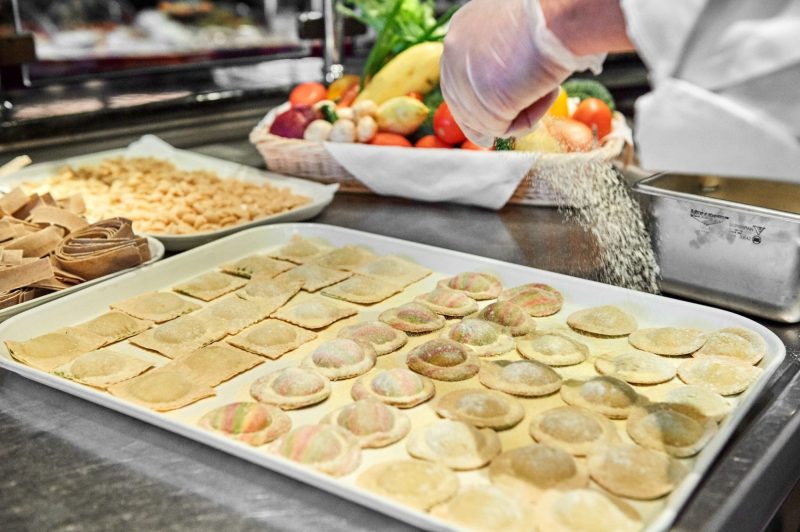 A popular choice: our hand-made pasta © Princess
725kg of salad served daily

180kg of shrimps eaten daily

50 litres of mayonnaise used daily

225kg of pasta made daily

1,225kg of potatoes cooked daily

2,500 litres of soup made daily

6,000 assorted pastries made daily

455 litres of ice cream made daily

18,000 bottles of wine consumed during a 14-day cruise

30,000 bottles of beer consumed during a 14-day cruise

600 bottles of gin (750ml) consumed during a 14-day cruise

500 bottles of whisky (750ml) consumed during a 14-day cruise
Hungry to come onboard?