The Japan you don't know (but should)
Japan's southern islands are a world away from the hustle and bustle of the country's mainland, but a must visit if you want to truly understand Japanese culture
It's been an hour, not that you'd know it. Time on the Kerama Islands works a little differently to the rest of the world – days just tick by when you're caught up in glassy waters, clean breeze and prickling sun. A boy no older than six totters past to the end of the pier, fishing rod and bucket in hand. We're here for the same reason: squid. The transparent little creatures flit and ripple in the waters around the jetty and despite looking easy to dupe, they know what they're doing – I've not had a single nibble. I turn to my guide, a teacher who has lived on Geruma for the last four years, and profess my sympathies for the hopeful boy. He replies, "Oh, he's the best squid-catcher on this island. They learn to fish young here. Every day I come out here and every day I watch him reel in my dinner. He's quite annoying actually."
I would give this unlikely squid-rustler a once-over, but a creature has finally approached my bait, body still and tentacles wriggling. In a flash, he darts for my line: I try to hook and haul it in but no luck – I'm left with nothing more than a dissipating plume of black ink. Then, suddenly, a line flicks past my ear into the water. The boy has come over to muscle in on my catch. I watch as he flicks a chubby wrist, hooks the writhing squid and pulls him into his bucket. Without a word or a look, he lifts his load – I spy another squid already inside – and returns to the pier's end. My guide shrugs with a resigned smile and goes back to contemplating sea, sun and squid.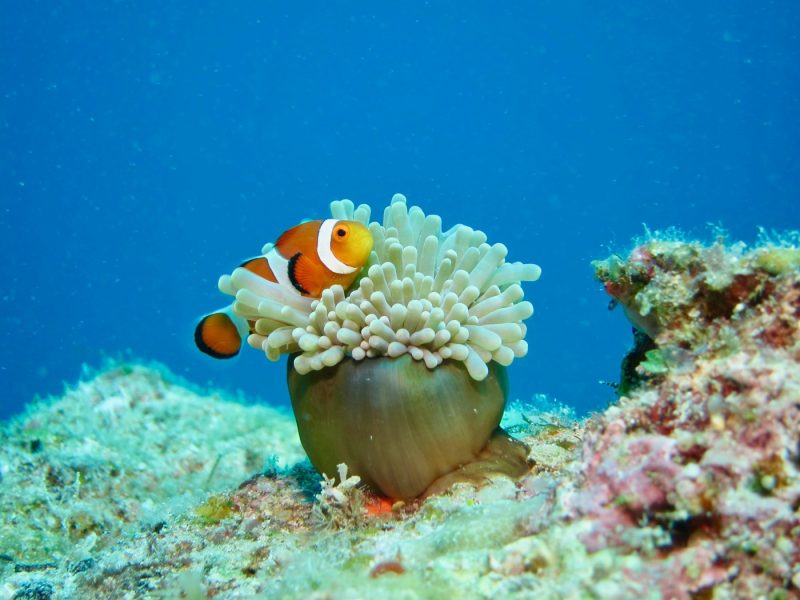 Hiroko Yoshii/Unsplash
A maritime hub
The idyllic Kerama Islands are a spectacular day trip from Okinawa-hontō, the main island of Japan's southern archipelago. They're a bright blue balm to the touristy buzz of Okinawa's capital Naha; a home to whales, coral reefs and 1,600 people. They're just one of the archipelago's three island groups, which form the border between the East China and Philippine Seas, and they're a world away from the Japanese mainland. Many don't even realise Japan's southern islands exist. Despite stretching over 1,000km from Kyūshū to Taiwan, the archipelago is so small it's a mere blip on world maps. Nor does it fit Japan's image of scarlet temples, snow-dusted Fuji and neon city streets. Here you'll find ivory sands, thick jungle and coral-crusted waters. It's hard to believe they're even part of Japan – and for a long time, they weren't.
Many don't even realise Japan's southern islands exist.
In the 15th century, these islands were united as the independent Ryūkyū kingdom. The Ryūkyūs became a trade hub between Japan, Southeast Asia, Korea and China – their first trade partner and ally – but their maritime monopoly ended at the hands of Japan's emperor. In the late 16th century, the kingdom refused to join his invasion of Korea and China. In retaliation, he sent feudal lords from its southern Satsuma domain to conquer the islands. In 1879, the Ryūkyū kingdom was officially subsumed into Japan as Okinawa prefecture (county). The Satsuma domain retained hold on the northernmost islands, creating the prefectural boundary between Kagoshima (Satsuma) and Okinawa (below) that remains today.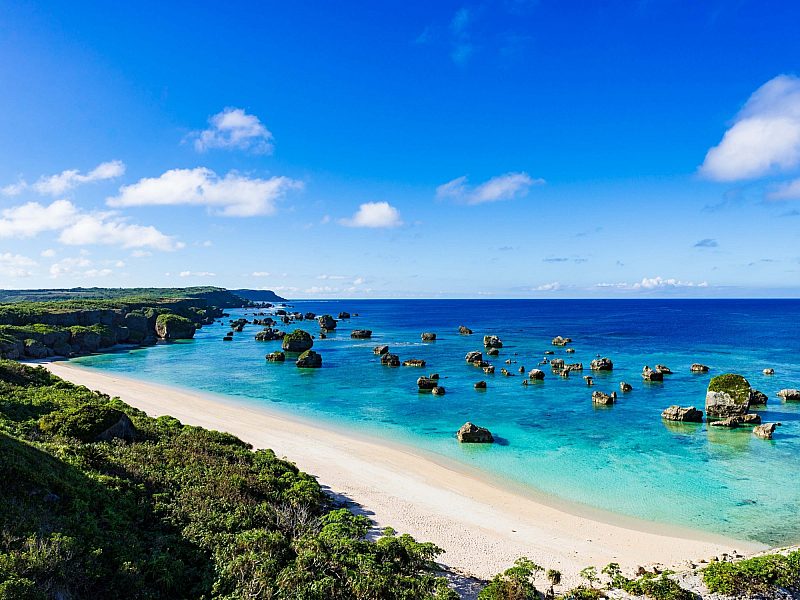 Shutterstock
Like most, my first experience of the archipelago was Okinawa-hontō – one of the most distinct islands thanks to its relative size and American influence, an ever-present legacy of World War II. Okinawa's capital Naha (below) – once the seat of Ryūkyū Kingdom – is now a family-friendly, tourist-driven city, overflowing with markets, bars and restaurants. The height of its hubbub is palm-lined Kokusai-dōri, a street where shops spill onto the pavements with all manner of island knick-knacks, from locally made cloth to miniature pineapple plants. To the southeast lies the Tsuboya pottery district, a beautiful area where you can see Okinawan ceramics being made, including traditional shīsa, the lion-dog statues that guard Ryūkyū rooftops.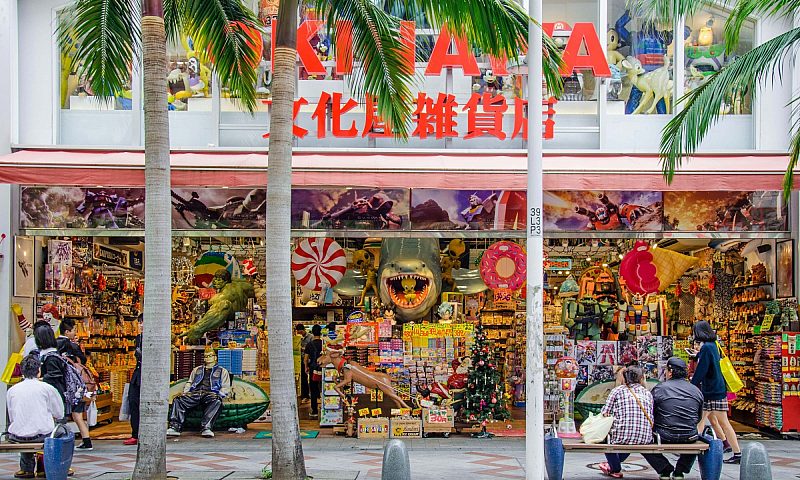 Julie Fader/Unsplash
For a journey back to the kingdom's former glory, join the Highlights of Okinawa Princess shore excursion. You'll get an up-close glimpse of the area's rich history by exploring Ryukyu Mura, a replica of an ancient Okinawan village. Craft demonstrations, a colourful parade or dance performance and the chance to see 14th-century style architecture makes it a fascinating experience for all ages.
A complicated past and present
History buffs should join the Princess excursion to the fantastic Okinawa Prefectural Museum, which gives an in-depth education into Okinawan history, culture and folklore. It's impossible to understand these islands and their people without understanding their place in World War II. The final and bloodiest stages of the Pacific War played out here, where US troops battled against the Japanese and their young kamikaze pilots. Tragically, civilians paid the ultimate price in the Battle of Okinawa: estimations put civilians lost at as many as 150,000 people – a quarter of the population and 40,000 more than the number of Japanese military casualties. Must-see monuments and museums dedicated to the conflict permeate Naha. The Battle of Okinawa excursion takes you to a great selection, including the hard-hitting, lesser-known Himeyuri Peace Museum. It commemorates one of the war's saddest tales, when over 100 schoolgirls made to serve and care for troops committed suicide rather than face capture.
Book your Japanese shore excursion now
A combination of cultures
The influences of Japanese invasion, American occupation and Chinese trade fluctuate as you travel the islands from north to south, creating a kaleidoscope of cultures that change with each atoll. Many locals consider themselves Okinawan, rather than Japanese. History plays a part in this distinction but so does language; of the 13 languages spoken in Japan, 11 come from these islands. There's also a difference in appearance from mainland Japanese. Islanders are unsurprisingly more tanned but researchers attribute this not just to sun but to Polynesian seafarers, who were some of the first to colonise the islands. Geographically, the islands couldn't be more diverse. Standing amid the crowds of Kokusai-dōri – a lively retail and entertainment hub – it's hard to imagine the same archipelago is home to remote jungles, wild cats and award-winning beaches. But a single night's journey south brings you to the wilder and most wonderful side of Japan.
Princess Cruises shore excursions, whether showcasing a single aspect or a whole island group, help you get the best from Japan's archipelago. Tours, such as the new Best of Miyakojima, take you on a fantastic adventure across island groups, covering off-the-beaten-track experiences such as Shimoji Island's mythical Tori-ike Ponds. Focused, family-friendly tours like Local Products Ishigaki and the Seifa Utaki & Gangala Valley Hike will take you in depth into the archipelago's culture, nature and history, and are ideal for anyone wanting unique travel experiences.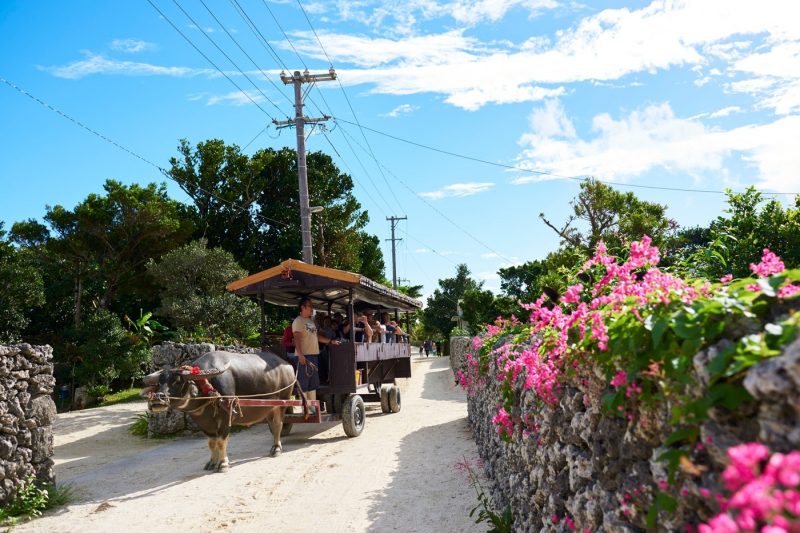 JNTO
The call of the wild
The Miyako and Yaeyama island groups are as remote as Japan gets, meaning many of the country's citizens have never set foot on them. Iriomote, which you can experience on a Princess excursion from the main Yaeyama island Ishigaki, is a remote anomaly and the most unusual place in the archipelago. It's a tropical rainforest, with mangrove and jungle covering 90% of the land. While Ishigaki charms visitors with impossibly blue bays, local textiles and black pearls, Iriomote is for the adventurous. A trip down its Amazonian, olive-green rivers is unmissable and if you're lucky you might get a glimpse of Iriomote's greatest treasure – the Iriomote cat, a critically endangered subspecies of leopard cat only found on this island.
Neighbouring Taketomi Island is one of the best islands for soaking up the old Ryūkyū life, as traditional housing, walls and streets are preserved and protected. The ultimate Taketomi day is spent searching for star sand at Hoshizuna beach, taking a ride on an oxen-led cart and listening to the soundtrack of Okinawa – the three-stringed sanshin.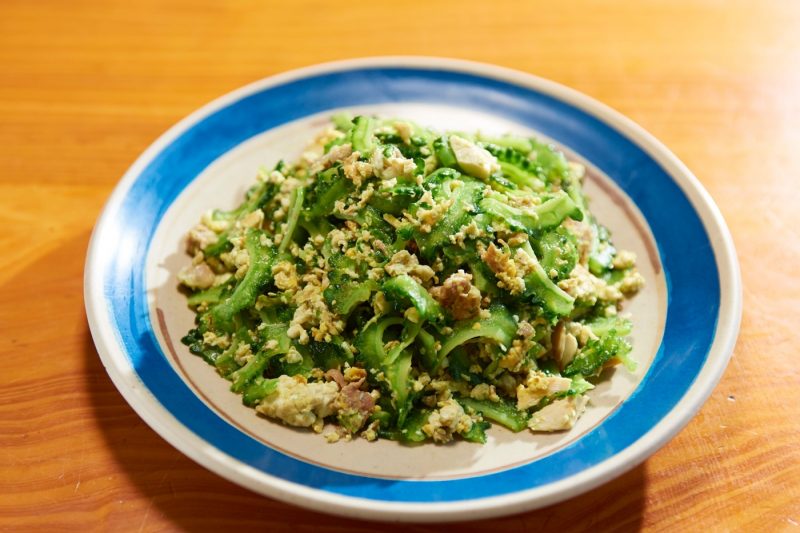 JNTO
Local specialities
With these myriad attractions in the north and south, the central islands often get unfairly overlooked. The Miyako group is actually one of the most accessible – bridges connect all but two of the islands – and is the most restorative, relaxing destination in the archipelago. Its headline act is the main island Miyako, a cerulean paradise home to some of the best beaches in the world. Though top-rated Maehama's white-sand stretch is a family favourite, Sunayama beach's warm shallow waters are the perfect place to float alongside locals and see the sunset: one resident told me watching a sunset here with your loved one means your relationship will last forever. True or not, it's easy to believe in a bit of magic when the sun paints the skies coral over Miyako's gentle sea. The island's pace is definitely set by its sandy shores: locals are wonderfully welcoming and laid-back.
If you do nothing but dine during a shore visit, you won't be disappointed. Unique to the islands is gōyā chanpurū (above), a bitter melon stir-fry starring the bizarre gōyā fruit – a blistered cucumber with a celery-like cross-section. Other adventurous specialties include marinated pork belly (rafute), sea-snake soup (irabu) and goat-meat sashimi (yagi sashimi). A favourite among children is the 'vegetarian caviar', an alien-looking salty seaweed called umibudo – literally 'sea grapes' – that pops when bitten.
A special destination
What the islands share with the mainland is the Japanese love of festivals. Boat races, dance parades and the world's largest tug-of-war are just some of the incredible events in the Okinawan calendar. Streets come alive on festival days as young and old, locals and visitors, join the party atmosphere. If you visit during a festival, simply embrace the island pace and let the crowds and merriment guide you. All this – unbeatable scenery, world-famous cuisine, unique wildlife – is squeezed into just 1,818 square miles: half the size of Jamaica. These islands aren't just a remarkable destination for family adventure and relaxation but are an untold side to the country's story and a vital piece to the fascinating puzzle that is Japan.
Let Japan surprise you