The ten best things to do in Belfast
Modern art exhibitions, cosy pubs and verdant botanic gardens – this vibrant capital offers so many unforgettable experiences
Art, history, exceptional dining, natural wonders, bucket-list sightseeing – there isn't much that Belfast doesn't excel at, which is why it's so often touted as one of the best places to visit in the UK. See a spectacular castle, catch a cutting-edge exhibition, feast on your choice of global cuisine or enjoy a pint of Guinness in a traditional pub – start your Belfast to-do list here.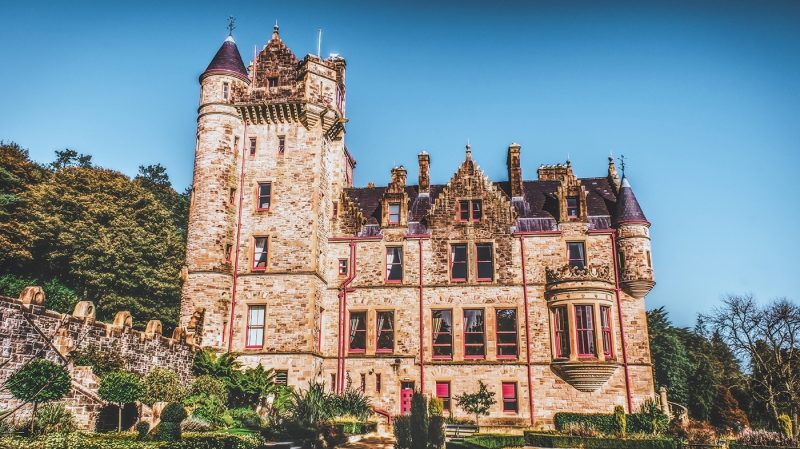 The grand Belfast Castle © K. Mitch Hodge/Unsplash
1. See history come to life at Belfast Castle
Just a short journey from the city centre lies marvellous Belfast Castle, which dates back to 1870. Once you've finished learning about the castle itself, there are the pretty gardens to admire and walking trails to follow. One of the trails even leads to nearby Napoleon's Nose (in Cave Hill Country Park), a hill resembling the French emperor's profile that's thought to have inspired Jonathan Swift's Gulliver's Travels.
2. Get arty at The MAC
The Metropolitan Arts Centre is the place to get your art fix when in Belfast. The venue has just one permanent artwork but its wide-ranging temporary exhibitions have showcased everything from art-world titan David Hockney to emerging local talent. The MAC hosts theatre and comedy shows, too, plus there's a lively café and bar on site for post-exhibition snacking.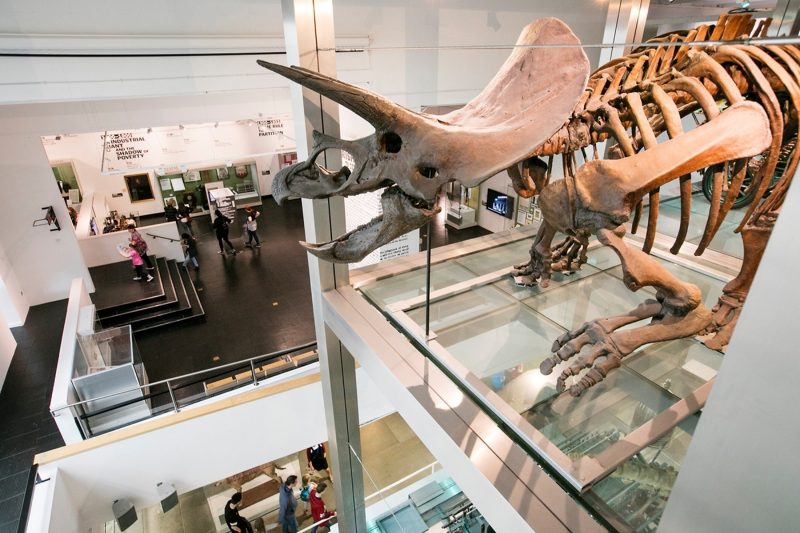 The towering triceratops at the Ulster Museum © Northern Ireland Tourist Board
3. Discover a dinosaur at Ulster Museum
Unearth local history alongside global tales at this much-loved museum. Here, you'll find a sprawling dinosaur skeleton, an ancient Egyptian mummy, masterpieces from Turner, Francis Bacon and Rita Duffy, and a whole world of fascinating artefacts that help tell the stories of the area from across the ages.
4. Admire nature's handiwork at Giant's Causeway
This incredible natural phenomenon has long been one of the top things to do in Northern Ireland – and with good reason. Tens of thousands of basalt columns line a stretch of the country's northern coastline, creating a truly magnificent sight that you can wander on your own or experience as part of a Princess excursion.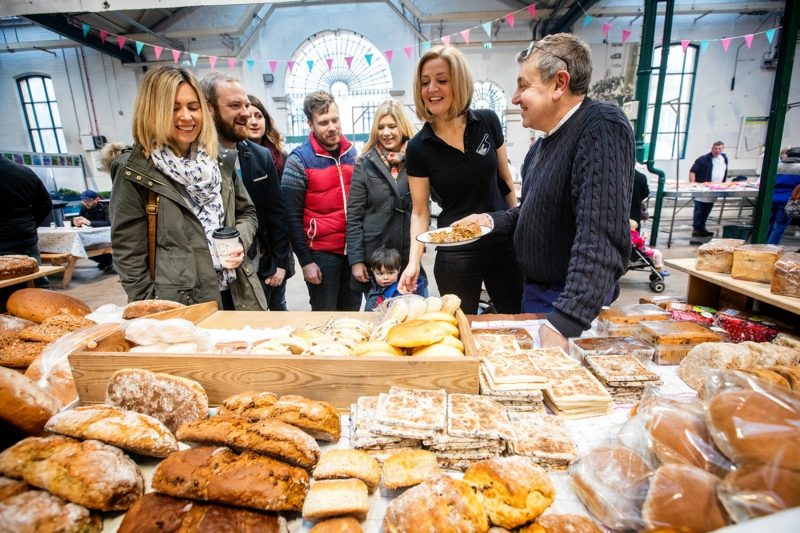 Freshly-baked bread and pastries at St George's Market © Northern Ireland Tourist Board
5. Fill up at St George's Market
One of the most popular things to do in Belfast, a visit to this lively market is a dream come true for foodies, who'll appreciate the huge selection of local and global goodies on offer, from coffee beans to craft beer to homemade cakes. Once you've filled your stomach, browse the other stalls selling arts and crafts, books, clothes, jewellery and gifts. Local musicians sometimes set up in the market to soundtrack the action with lively tunes.
Eat your way around Belfast
6. Peer into the past at Titanic Belfast
Learning about the Titanic's tragic voyage takes on an extra dimension when you're doing it in the city where the ship was built. This internationally acclaimed museum tells the Titanic story through a series of nine interactive galleries that let visitors step back in time to the year of the ship's launch, 1911. You can visit the museum as part of a shore excursion that also takes in some of the city's other key landmarks.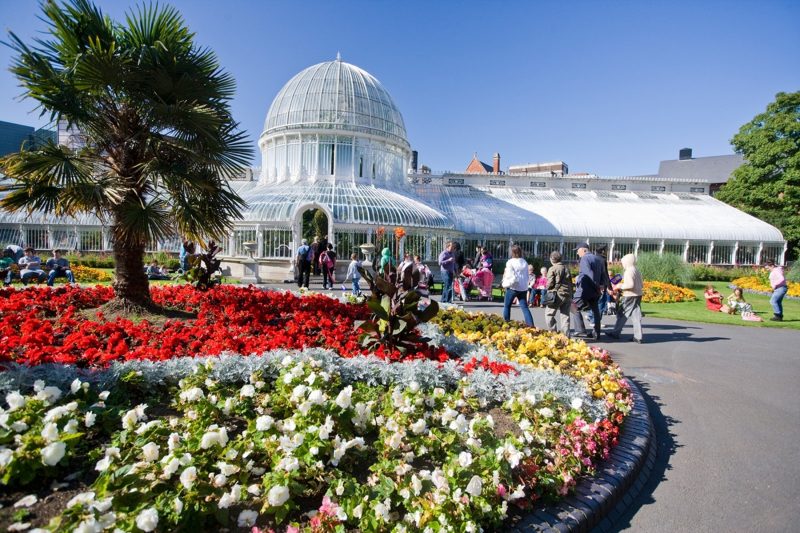 The colourful entrance to the Palm House, Belfast Botanic Gardens © Northern Ireland Tourist Board
7. Go green at the Botanic Gardens
These gorgeous gardens are a joy to walk through at any time of year and can be visited as part of a Belfast sightseeing excursion. After you've strolled around the main grounds, be sure to visit the Palm House and the Tropical Ravine. Here, you'll find yourself surrounded by numerous exotic plants and species, including colourful birds-of-paradise flowers and luscious banana plants.
8. Quench your thirst at The Crown
You don't have to look far to find a great boozer in Belfast, but no visit to the city is complete without stopping by The Crown Liquor Saloon, a former Victorian gin palace transformed into a wonderful pub. Now owned by The National Trust, it's a beautiful venue, boasting an exquisitely carved ceiling, stained glass windows, wooden booths and, crucially, excellent pints of Guinness.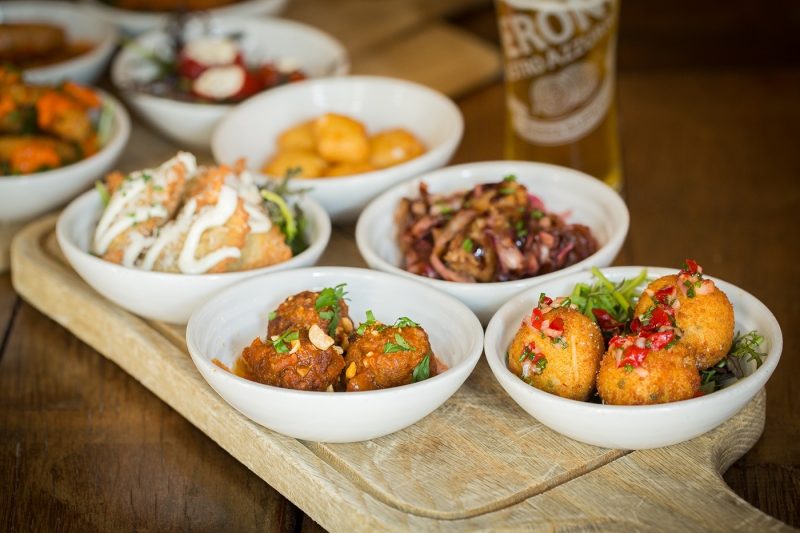 Delicious Italian cichetti at Coppi © Geoff Telford
9. Wine and dine in the Cathedral Quarter
Strolling through the atmospheric Cathedral Quarter is a great way to get a feel for modern Belfast. Set within the oldest part of the city, the area has been developed into a cultural and gastronomical hub, full of arts spaces, bars and restaurants offering food from around the world. Our picks? Try slick and stylish Coppi for creative Italian food and follow it up with a cocktail at the elegant Northern Whig bar.
10. Explore a Victorian masterpiece at the Grand Opera House
The name doesn't lie: designed by acclaimed theatre architect Frank Matcham in 1895, this Victorian landmark brims with opulence both inside and out. Even if you're not watching a production, it's well worth embarking on one of the regular backstage tours, which take you behind the scenes of one of the country's most important arts venues.
Excited to enjoy a cruise holiday closer to home?