How MedallionClass tech is making our ships even safer
Princess' MedallionClass technology not only offers an unrivalled cruising experience but extra onboard safety as well
While our MedallionClass technology was created to make your life at sea easier, it makes overcoming current challenges a lot simpler, too. MedallionClass innovation, which is available across the whole Princess fleet as of 2021, will help you to feel safe, comfortable and truly at home with us during every part of your cruise holiday...
Embarkation day
Our MedallionClass ships offer a truly touchless experience, beginning on embarkation day. You can use the OceanReady app to upload your personal information, travel documents and complete a health questionnaire before leaving home, and you can also select a ship boarding time window, ensuring maximum physical distance between you and other guests and crew at your port of departure.
We've even updated our onboard safety drill, making it more convenient to watch and totally crowd-free. Guests can view the required safety video at any time on embarkation day, on either the MedallionClass app or on their stateroom TV. You'll just need to visit your muster station during select hours before sailing and check in your OceanMedallion with a crew member, so you know exactly where to head in the case of an emergency.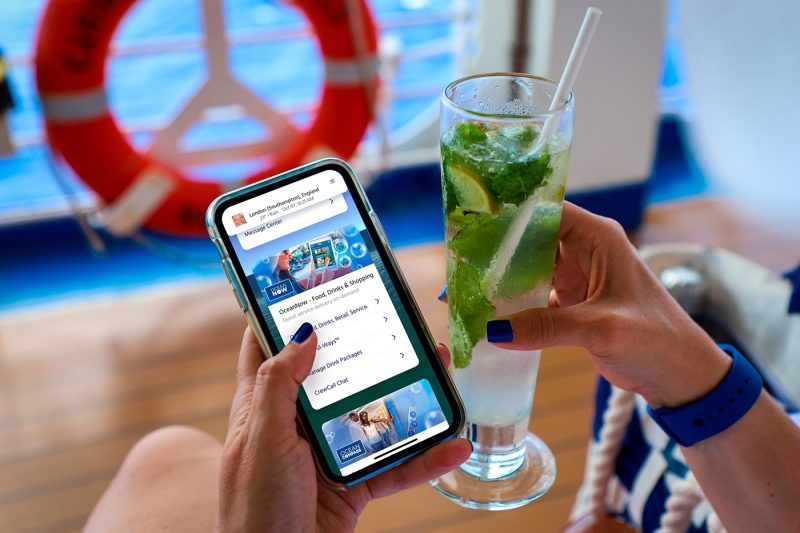 Order food and drink anywhere on the ship with the OceanNow app © Princess
Onboard the ship
Your 10p coin-sized OceanMedallion grants you keyless entry to your stateroom, as well as the ability to purchase anything onboard without handling cash or cards, using MedallionPay.

With the OceanNow app, you can control physical distancing like never before: simply order food, drink and items from our boutiques direct to you, whether you're out on deck, in a lounge or on your stateroom balcony.

With OceanMedallion you can order food anywhere with one tap on the app, plus, you don't have to worry about carrying your money or room key when you're onboard
Anastazja Stanowska, luxury travel blogger
As always, with the MedallionClass app you can sign up to Princess' many onboard events and classes, but now you will also be able to view class attendance numbers (in case you're wanting to avoid large groups). Plus, you'll be able to see a real-time view of attendance in lounges, theatres and other meeting areas.
Cruise with confidence