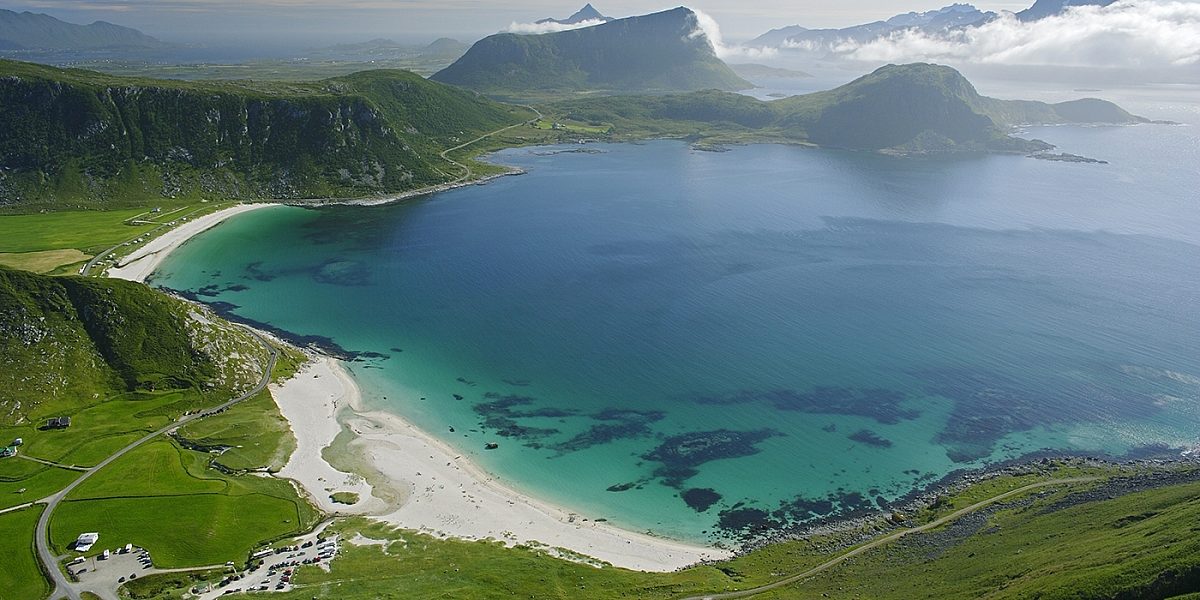 © Bård Løken – www.nordnorge.com
Why summertime in Norway is simply magical
With vibrant festivals, exceptional beaches, once-in-a-lifetime outdoor adventures and round-the-clock sunshine, Norway's appeal goes far beyond its wintry charms
For many people, Norway's association with snow-swept landscapes, winter sports and chasing the Northern Lights means the Nordic country is seen primarily as a winter holiday destination.
But to ignore Norway in summertime is to miss out on picture-perfect beaches, buzzing festivals and a natural phenomenon that gives the Northern Lights a run for their money. And, of course, the coffee and cinnamon buns taste that bit more delicious in the sunshine.
Sold on a Norwegian adventure? Here are some of our favourite reasons to visit this breathtaking country in the summer months…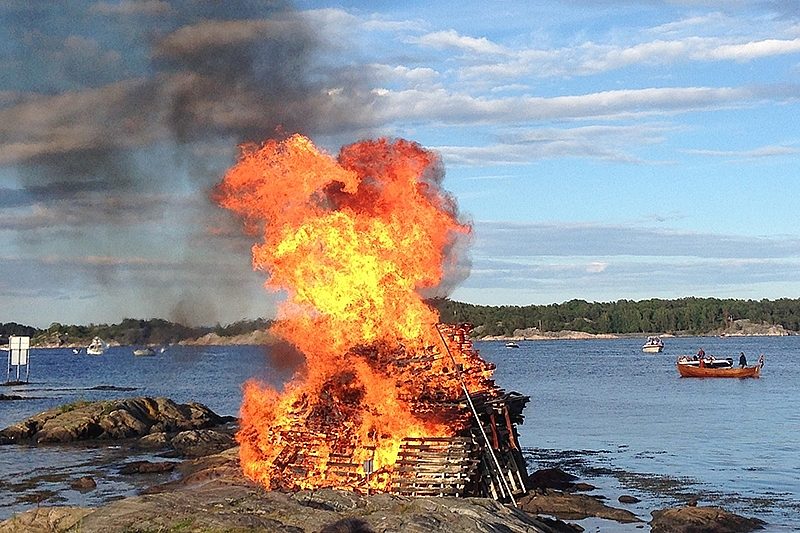 A bonfire in celebration of Midsummer © C. Yuki /Foap – VisitNorway.com
Join the party at a festival
One of Norway's biggest festivals is the celebration of the summer solstice, known as Midsummer. Marked annually throughout the country on 23rd June, it is tradition to light huge bonfires, as these are believed to keep the land fertile and ward off evil spirits. The largest of these fires usually take place in the port town of Ålesund, which set a record for the tallest man-made bonfire in 2016, towering more than 155 feet high. You can catch Midsummer in all its fiery glory in beautiful Honningsvåg, one of Europe's most northerly towns, our Land of the Midnight Sun and Summer Solstice itinerary.

In addition to Midsummer events, numerous music festivals take place in summer. Canal Street festival, which predominantly focuses on blues and jazz, is held in Arendal during July, while Oslo Jazz Festival and pop and rock festival Øya take over the Norwegian capital in August.
Marvel at the midnight sun
The midnight sun is a natural phenomenon in which the sun doesn't set at the end of each day and, instead, offers 24 hours of sunlight. The phenomenon, which happens due to the Earth rotating at a tilted axis relative to the sun, occurs every summer in areas located north of the Arctic Circle and south of the Antarctic Circle. This includes northern parts of Norway, such as the archipelago of Svalbard – one of the world's northernmost inhabited locations – where the sun doesn't set between 20th April and 22th August. Experience this natural marvel on our Land of the Midnight Sun itinerary in August.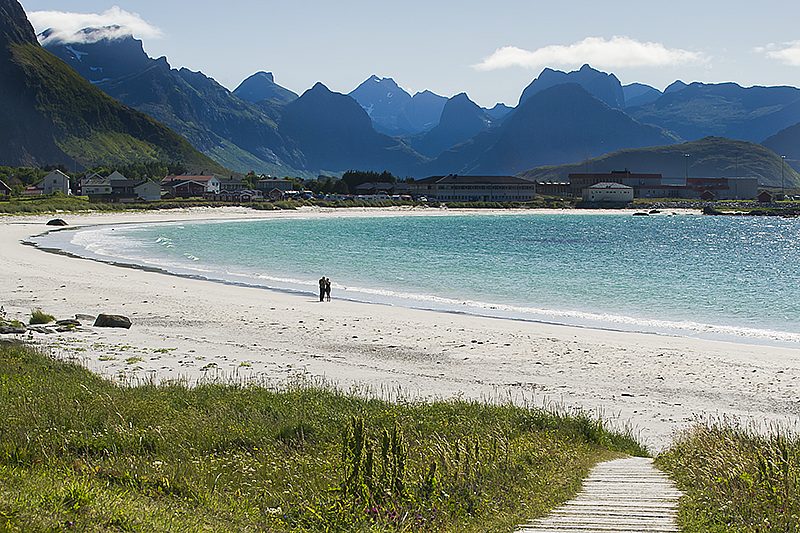 The stunning beach at Ramberg in Lofoten come summertime © CH – VisitNorway.com
Discover show-stopping beaches
Though it may be surprising, golden sands and azure waters are very much on the agenda in Norway – if you know where to look. Head to Mjelle Beach in Bodø for powdery sands surrounded by epic cliffs, or make a beeline for Telegrafbukta in Tromsø, which is a great city beach that laps up the extended daylight in summer months, thanks to its northerly location. Alternatively, Skagsanden on the Lofoten Islands is famous for its black sands and otherworldly beauty.
Spot summer wildlife
Norway is a dream for wildlife enthusiasts at any time of year, but summer is the best season to seek out some of the country's most fascinating creatures. These include the walrus, which can be spotted on safaris running from May to August in Svalbard. As for marine mammals, the Norwegian coast is great for whale watching, particularly around the Vesterålen archipelago in the north, where you can see sperm whales, humpback whales and even killer whales.
Back on land, seek out rare musk oxen in Dovrefjell and reindeer in Tromsø, among other areas, or turn to the skies for a bird safari shore excursion around Stappen Island, available from the port of Honningsvåg. Birdwatchers should see puffins, sea eagles, cormorants, guillemots among other species.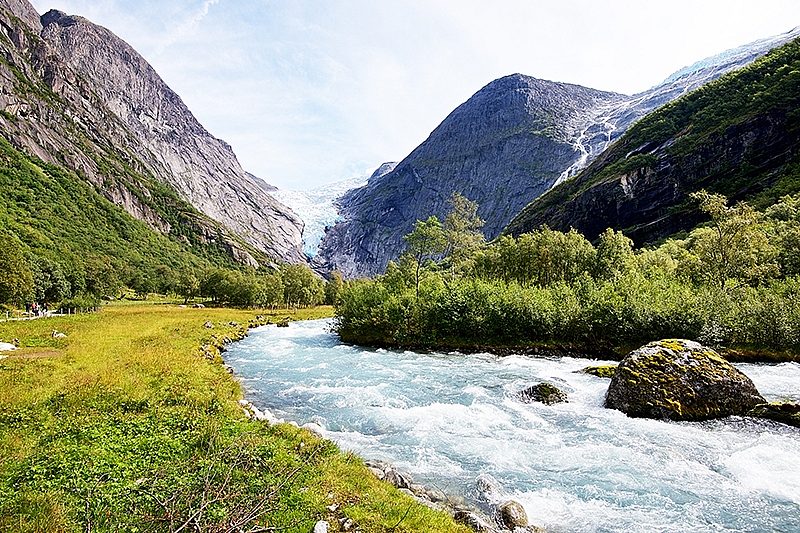 Hike your way to dazzling Briksdal Glacier © Øyvind Heen – fjords.com
Take a hike
Higher temperatures and more daylight mean it's time to get outside and take advantage of Norway's 20,000-plus kilometres of well-marked hiking trails. Whichever you follow, you're almost guaranteed to wander through all kinds of unforgettable Norwegian scenery – from fjords and lakes to wildflower meadows and forests. You can combine walking with some pedal power on a bike-and-hike shore excursion in Skjolden or hike out to the majestic (and rather mighty) Briksdal glacier, which is accessible on a shore excursion from Olden.
Hit the water
While the land offers plenty of adventure, summer is a wonderful time to explore Norway's extensive rivers, lakes and fjords. An aquatic adventure here can be as relaxing or active as you like, with gentle boating trips, paddleboarding and windsurfing all available. Kayaking is also popular and there's no better place to try it than on Næroyfjord, a designated UNESCO World Heritage Site since 2005. You can paddle around the fjord's waterfalls while taking in the surrounding mountain scenery on a Princess kayaking shore excursion.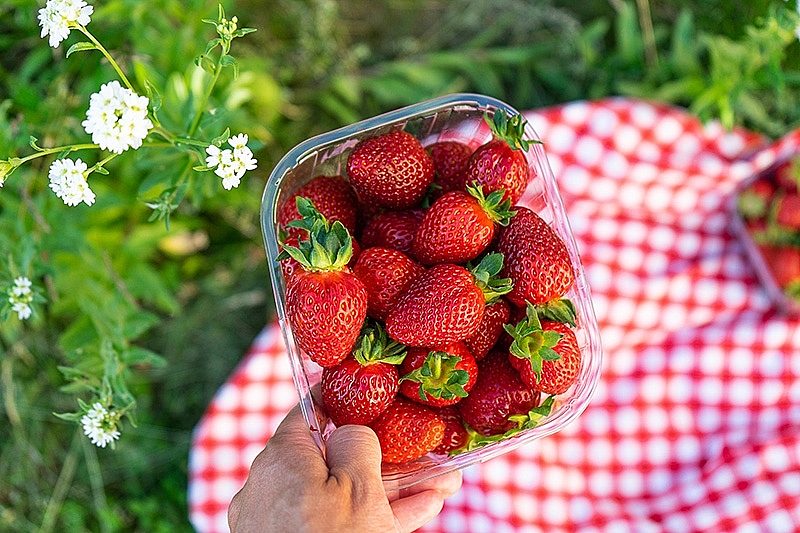 Pick berries on farms and in the wild during Norway's summer months © Visit Drøbak & Oscarsborg
Sample local, seasonal food
With the warmer months comes an array of delicious, home-grown food in Norway. Though eaten all year round here, potato salad (made with pickles, pickle brine and dill) is especially popular in summer when new potatoes are in season. Various berries and fruits become ripe for the picking, including bilberries (part of the same family as blueberries), gloriously sweet strawberries and cherries, and cloudberries – all of which make great toppings for rømmegrøt, a rich, sour cream porridge commonly served at Midsummer.
Excited to explore Norway?