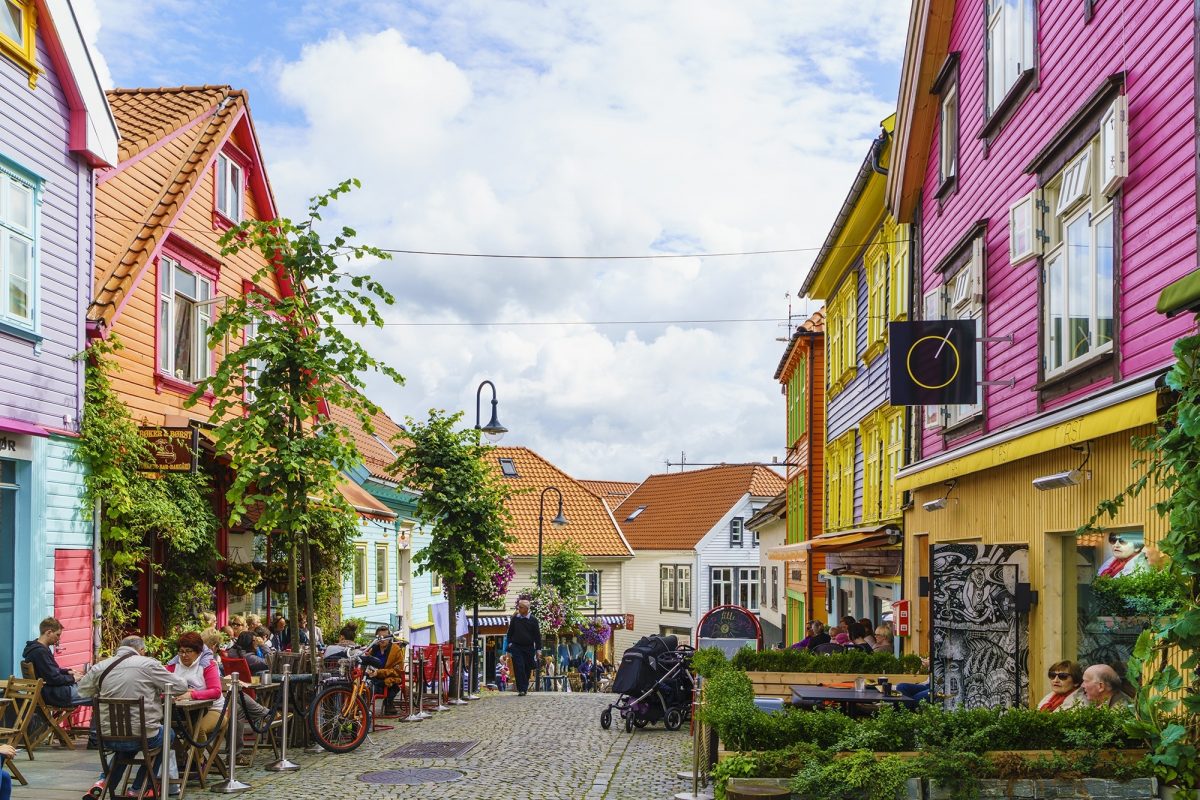 © Amanda Hall/Robert Harding
The best cities to visit in Norway
It's not just Oslo that offers serious city thrills in this Scandinavian country
Norway is an easy place to fall in love with. This beautiful country is known around the world for its staggering scenery and Oslo, its thriving, cosmopolitan capital. Less gets said about the other cities, however, and they provide some of the most incredible sights and experiences in the whole of Norway. Far from being anonymous concrete jungles, these cities are colourful, friendly places that often provide an entry point to some of that staggering scenery we mentioned, alongside their fair share of cutting-edge culture, first-rate food and drink, historical landmarks and architectural masterpieces. To prove that there's a whole world beyond Oslo, we've picked seven of the best cities to visit in Norway aside from the capital.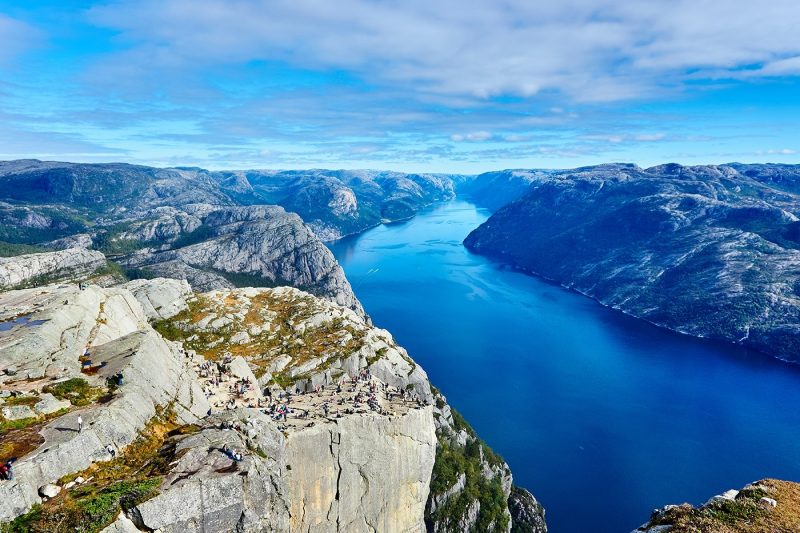 Pulpit Rock in Stavanger © Alexey Topolyanskiy/Unsplash
Stavanger
Stavanger is one of those effortlessly beautiful locations, so much so you'll be in awe – especially while wandering around Gamle Stavanger ('old Stavanger'), a historic region made up of around 8,000 wooden houses, alongside independent shops and local artists' galleries. But the landmark attraction will always be Preikestolen ('Pulpit Rock'), a mighty cliff 40 minutes outside the city, often touted as one of the world's best and most unique viewing platforms – as those views look out over the beautiful Lysefjord below. It's one of the unmissable Norway sights to see and the best way to get there is via a scenic hike, which you can do solo or as part of a Princess guided excursion.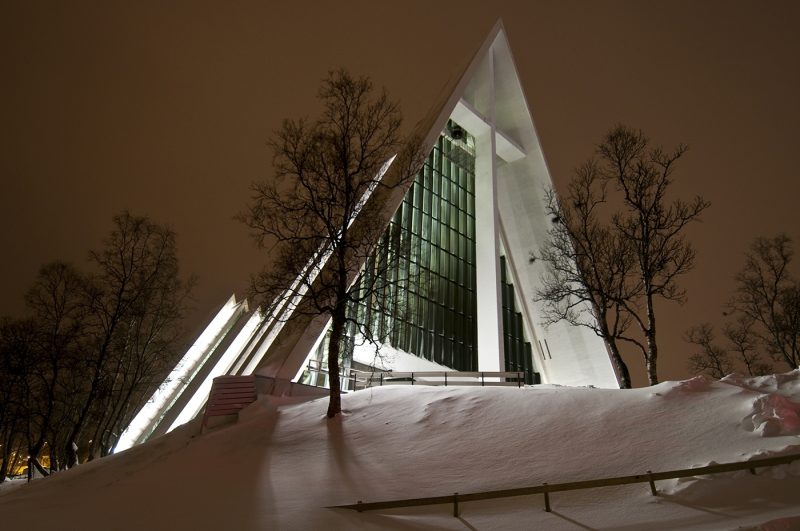 Tromsø's Arctic Cathedral © Gaute Bruvik / www.nordnorge.com
Tromsø
It's no surprise that a city nicknamed the 'Arctic capital' is one of Norway's best places to see the famed Northern Lights and the midnight sun. Experiencing either is reason enough to seek out Tromsø, but there's lots more to enjoy besides. Top attractions include the Arctic Cathedral – a striking modern architectural innovation – and The Polar Museum, which documents the city's status as a hub for explorers across the ages. Another must-do is take a ride in the cable car up to Mount Storsteinen, where you'll find amazing views across the city. For a real treat, why not see the sights from the sky as you soar above Tromsø in a helicopter?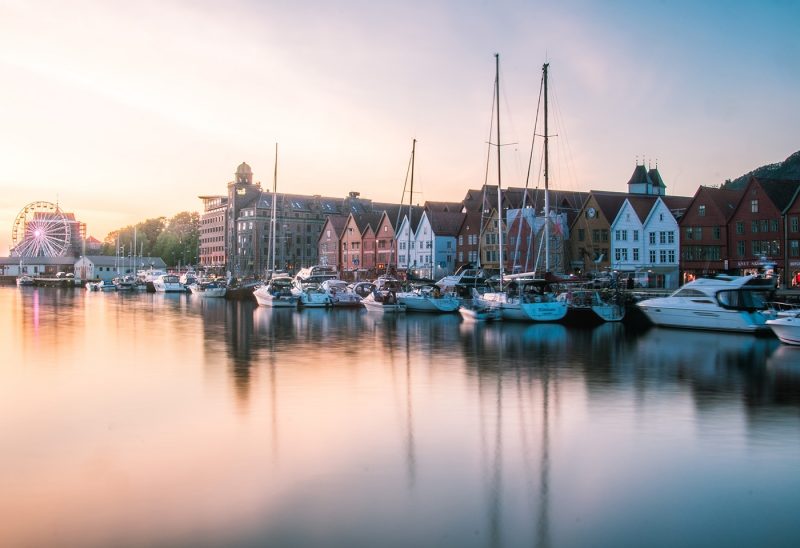 Beautiful Bryggen at sunset © Lachlan Gowen/Unsplash
Bergen
Bergen has just enough of everything to please everyone. As Norway's second-biggest city, there's a gentle buzz about the place, and tons of excellent restaurants, bars and coffee shops to indulge yourself at (exquisite coffee can be found at Kaffemisjonen), plus first-rate cultural institutions (try KODE for modern art and the Maritime Museum to learn about Norway's nautical history) and ample shopping opportunities for superb Scandi gifts. But just minutes away from all this is fantastic countryside – zip up Mount Fløyen in the Fløibanen funicular to find stunning views and numerous hiking trails. Whatever you decide to do, don't miss Bryggen, a historical area in the city centre full of colourful wooden buildings, which you can learn more about on a Princess guided walk.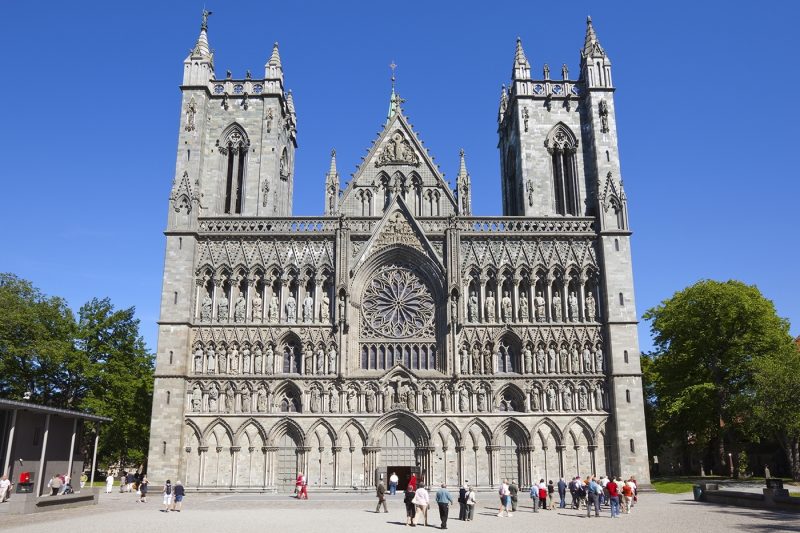 Trondheim's gothic Nidaros Cathedral © Douglas Pearson/Robert Harding
Trondheim
Trondheim may be Norway's third-largest city, but it feels like an intimate and utterly charming town. It was Norway's Viking capital for a few hundred years and this history still resonates today at sites such as Nidaros Cathedral, a marvellous example of Gothic architecture, which you can learn more about during a Princess excursion. The city certainly isn't stuck in the past, however, as you'll see at contemporary art gallery Kunsthall Trondheim and Rockheim, Norway's national museum for popular music. When it's time to eat, Trondheim is also known as a foodie hotspot thanks to its focus on local cuisine, so make sure you arrive with an appetite.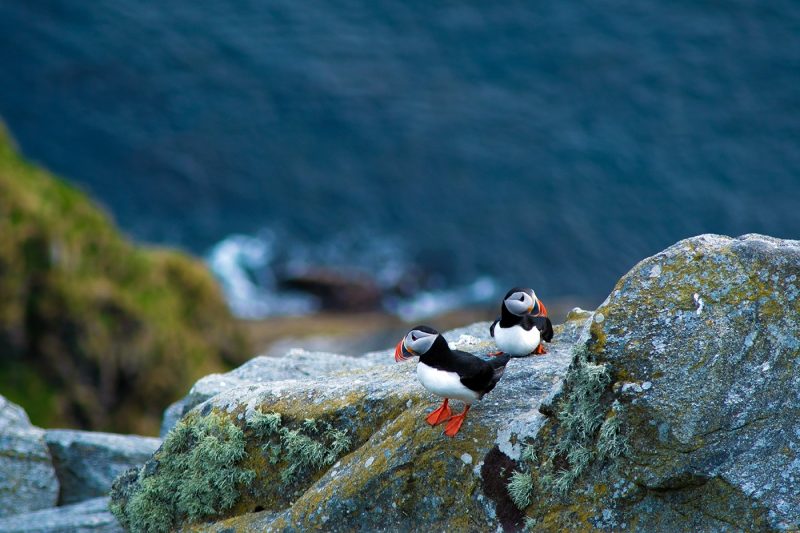 Captivating puffins on the island of Runde, Ålesund © Sophia Becker/Unsplash
Ålesund
Somewhere between a small city and a big town, Ålesund is a wonderful place, however you choose to classify it. Admiring its extensive Art Nouveau architecture (created after a fire destroyed hundreds of buildings in 1904) is the perfect excuse for leisurely strolling, but when you want even more impressive sights, Ålesund is also the gateway to some of Norway's finest fjords, including Hjørundfjord (which you can soak up on a Princess fjord cruise) and the UNESCO-approved Geirangerfjord. Also nearby is the remote and rugged island of Runde, a wildlife haven where you can spot seal colonies and puffins.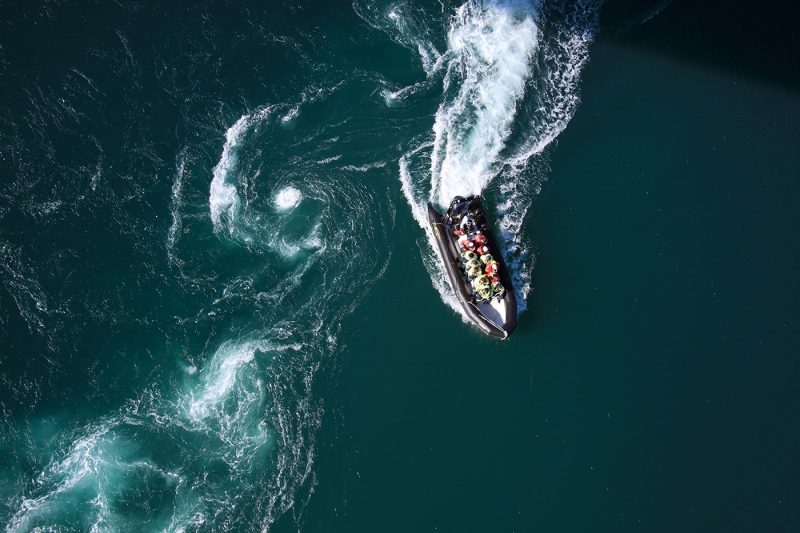 Saltstraumen, the world's strongest natural whirlpool in Bodo © Tommy Andreassen / www.nordnorge.com
Bodo
As the largest city in the Nordland county, Bodo is a great place to learn more about this fascinating region and its Arctic credentials. It's also another great spot for the midnight sun in summer months. But Bodo's most famous attraction is an unusual and captivating one: the city is home to Saltstraumen, the world's strongest maelstrom (a powerful whirlpool), which makes for quite a spectacle when you witness it whooshing and churning. Elsewhere, there are sea eagles to be spotted on sea safaris, mountains and forests to be explored just outside the city, and even an archipelago if you fancy island-hopping to hunt out more jaw-dropping scenery.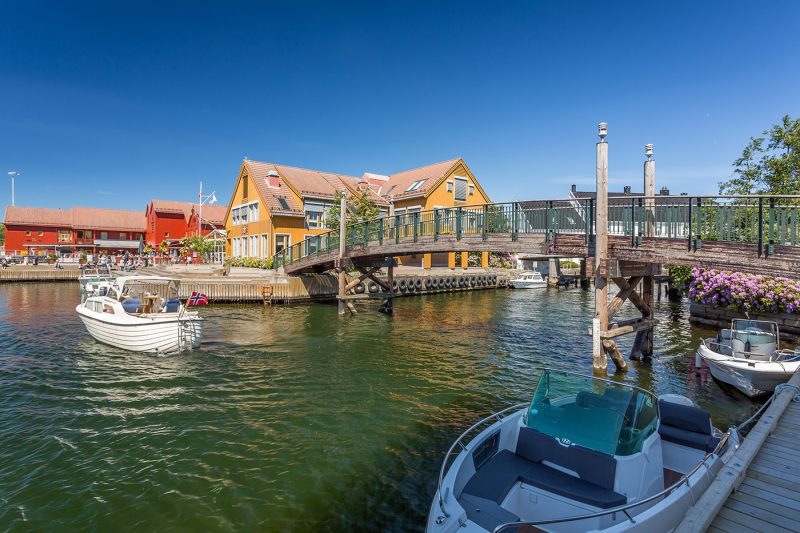 Be sure to visit the buzzing area of Fiskebrygga in Kristiansand © Shutterstock
Kristiansand
White sandy beaches and palm trees probably aren't the first things you associate with Norway, but Kristiansand has both at Bystranda, a cute city beach that offers a slice of tropical relaxation. If it's not sun-bathing weather, you can still enjoy a beach-style atmosphere at Aquarama, a spa and waterpark with an outdoor pool next to the beach, heated year-round to a toasty temperature. Kristiansand is also known as a cultural hub, boasting a rich musical scene focused around the immense Kilden Performing Arts Centre, plus a clutch of great modern art galleries and museums. Also set aside time for Fiskebrygga, a former fish market redeveloped into an atmospheric pocket of restaurants, cafés and shops.
Excited to explore Norway?