The top ten things to do in Norway
Be sure to tick off the best bits of this magnificent country
It's difficult to pick just ten things to do in somewhere as all-encompassing as Norway. In fact, it would be difficult to narrow it down to 100 or so, such is the wealth of what's on offer. For starters, Norway is pure heaven for anyone interested in the natural world: glaciers, waterfalls and fjords are everywhere you look, and there are opportunities to see phenomena such as the Northern Lights. There's also cutting-edge art and culture to be found in the many museums, galleries and sculpture parks, plus culinary greatness from Michelin-starred cuisine to Scandinavian pastries and world-class coffee. In short, there's not much you can't find here. As a place to start, here's our pick of the best places to visit in Norway, with unforgettable sights and experiences from around the country.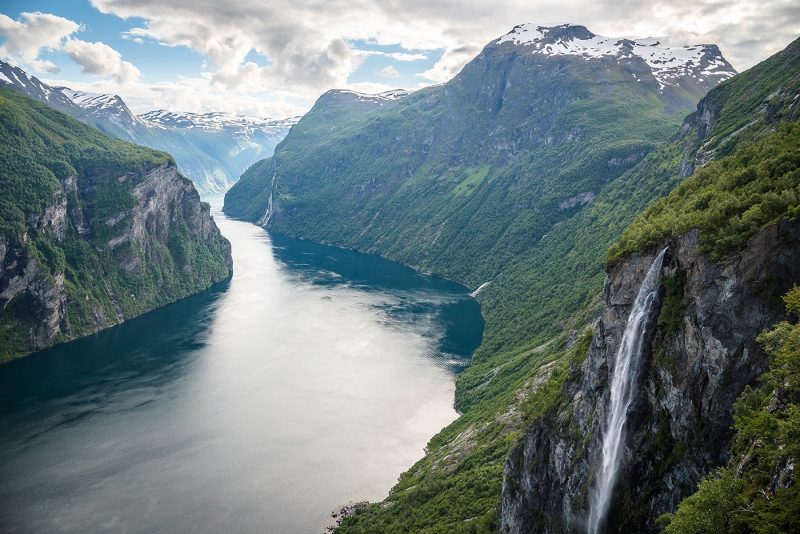 Norway Geirangerfjord © Matt Lamers/Unsplash
Cruise through Geirangerfjord
You're never short on choice in Norway when it comes to fjords, but this marvellous example is probably the country's most famous. You'll understand why after you hop on a ferry that weaves through the area's breathtaking landscapes. Dramatic mountains tower over you, waterfalls appear at every turn and lush greenery gives everything a verdant glow. You'll feel like you're on another planet – and a very calm and tranquil one at that.
See eye-catching outdoor art
Vigeland Park in Oslo is the largest sculpture park in the world to exhibit works by a single artist, Gustav Vigeland. It's also one of the most popular attractions in Norway, with people visiting from around the globe to get a look at the artist's thought-provoking take on life. There are some brilliantly unique and eccentric creations to discover dotted around the park's 80 acres, including The Monolith, a 17-metre-high tower carved from one stone block into 121 human figures. Find out more about Vigeland's sculptures on a Princess guided walk of the park.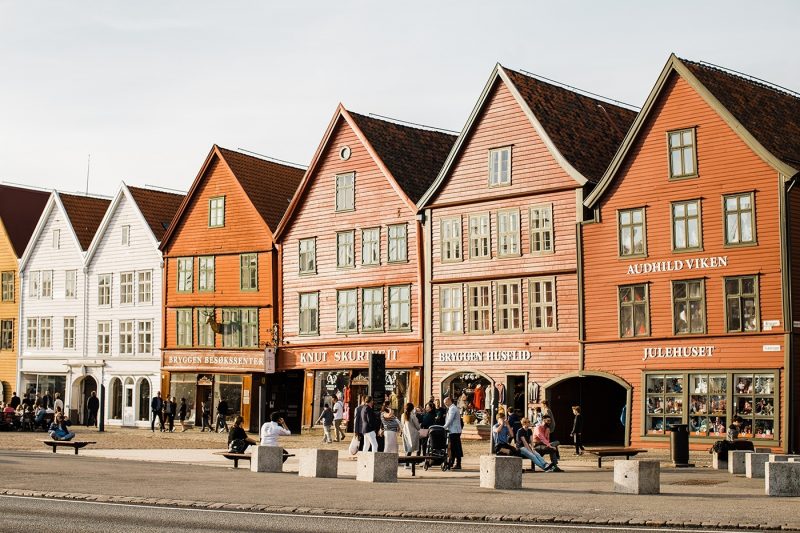 The quaint wooden shopfronts in Bryggen, Bergen © Millie Olsen/Unsplash
Explore bohemian Bergen
You may hear it referred to as 'Norway's second city', but there's nothing second-rate about this handsome place. Maritime history runs deep throughout Bergen, which can be seen on a visit to Bryggen, the city's former wharf, with its colourful wooden houses. But Bergen is also a thoroughly modern city offering numerous shops, top-notch art galleries, Scandi-cool coffee shops, and first-rate restaurants and bars. Catch the highlights on a Princess half-day tour covering the best of the city.
Hunt out the Northern Lights
If you're visiting Norway during autumn, winter or early spring, take advantage of your timing to try to catch a glimpse of this incredible natural phenomenon. The regions and islands around northern Norway, including Tromsø, Helgeland and Lyngenfjord, are your best bet for spotting the Northern Lights, which fills the skies with swathes of swirling colours.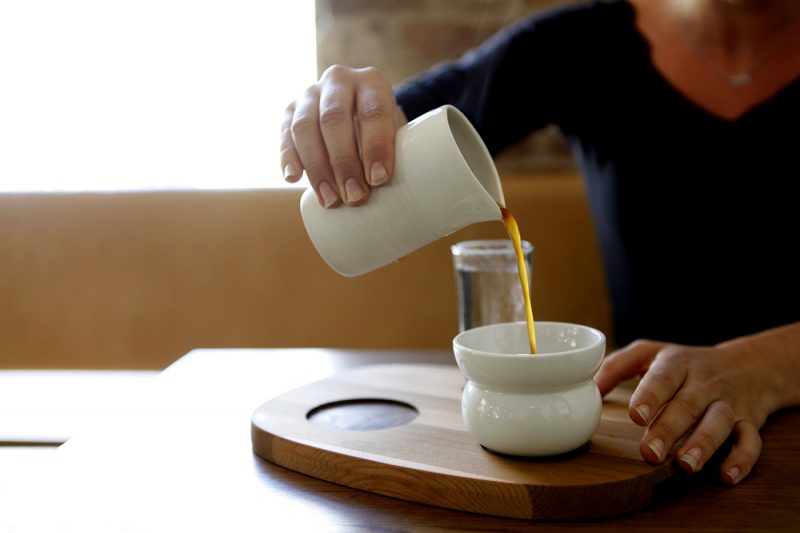 Perk up at Tim Wendelboe coffee house © Dorothee Brand
Sip some of the world's best coffee
Norwegians take their coffee very seriously, so it's no surprise that the capital, Oslo, is filled with fantastic cafés. If you want to sample something truly special, head to Tim Wendelboe, a cosy, super-stylish café where the coffee is hailed by some industry experts as the best on the planet. Former World Barista Champion Tim Wendelboe knows a thing or two about java and has created some exceptional brews that every coffee lover should try before leaving Oslo.
Combine nature and city style in Stavanger
Although it's Norway's fourth-largest city, Stavanger also boasts an amazing array of natural wonders. The imposing Lysefjord is nearby, and overlooking it from 604 metres above is the famous Preikestolen ('Pulpit Rock'), which provides unrivalled views across the region. Enjoy both sights from the sky on a Princess helicopter tour, before investigating Stavanger's other charms. These include some of Norway's best beaches, Michelin-starred dining and excellent cocktail bars, where you can relax after all that outdoor sightseeing.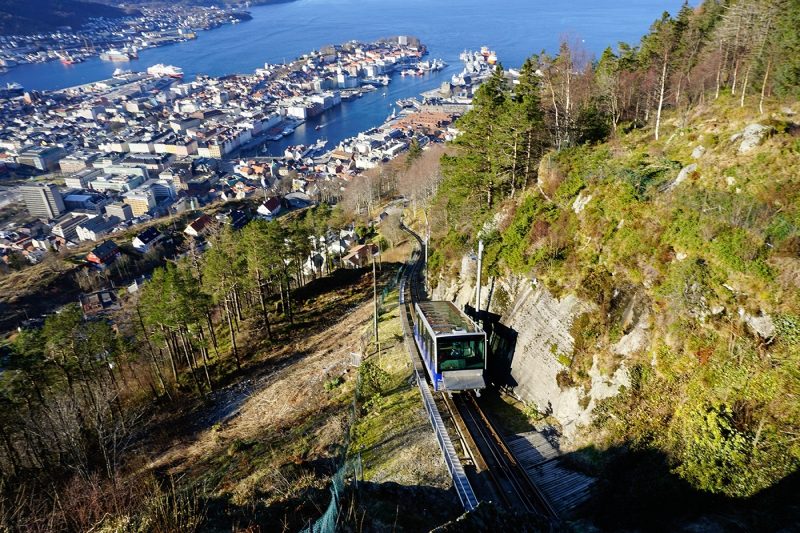 Admire the views of Bergen from atop Mount Fløyen © Robert Harding/Robert Harding
Take in the views from Mount Fløyen
One of the many great things about Bergen is its mini-mountain, Mount Fløyen, which offers fantastic views across the city and beyond. It's easily reached from the centre via a hike through forest paths if you fancy stretching your legs, or simply hop in the Fløibanen funicular to zip right up to the top in just six minutes. Once you're there, reward yourself with coffee and a heavenly baked treat from the mountain café, while the kids can run riot in the adventure playground. For further exploring, there are plenty of walking trails from the summit, which you can do on a Princess guided hike.
Go chasing waterfalls
Norway is a total heavyweight when it comes to waterfalls that wow. At 275 metres, the mighty Vettisfossen is the country's highest protected waterfall and it makes for a striking sight, particularly if you hike through the Utladalen valley to see it from above. Langfoss, at over 600 metres, is another gem and it is often cited as one of the most beautiful waterfalls in the world. Take in the mesmerising cascade as part of a Princess tour through scenic Åkrafjorden.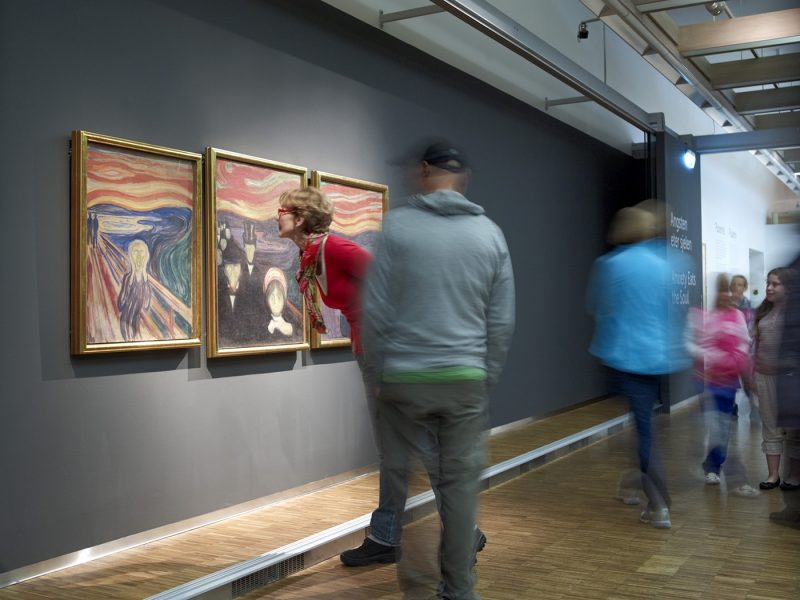 See more than just The Scream at the Munch Museum © VisitOSLO/Munchmuseet
Get cultural at the Munch Museum
There is more to Norway's most famous artist than just his iconic work The Scream, as you'll discover at the extensive Munch Museum in Oslo. Learn how Edvard Munch led an often troubled life but still achieved artistic feats by experimenting with photography, sculpture, film and drawing alongside his painting. The museum also houses the collections of Norwegian painter Amaldus Nielsen and writer and art collector Rolf Stenersen. In total, it has more than 42,000 objects, including almost 28,000 artworks. Make the most of all that Munch on a Princess day trip that takes you directly to the museum.
Drive over the sea
Not all roads are created equal, as you'll find out on the Atlantic Ocean Road (Atlanterhavsveien in Norwegian). This winding five-mile stretch was named as Norway's 'Engineering Feat of the Century' and is thought to be one of the most stunning drives around, thanks to the dramatic ocean scenery. Needless to say, the best way to experience it is to let someone else do the driving (easily done on a Princess excursion from nearby Åndalsnes) while you gaze at the views.
Excited to explore Norway?