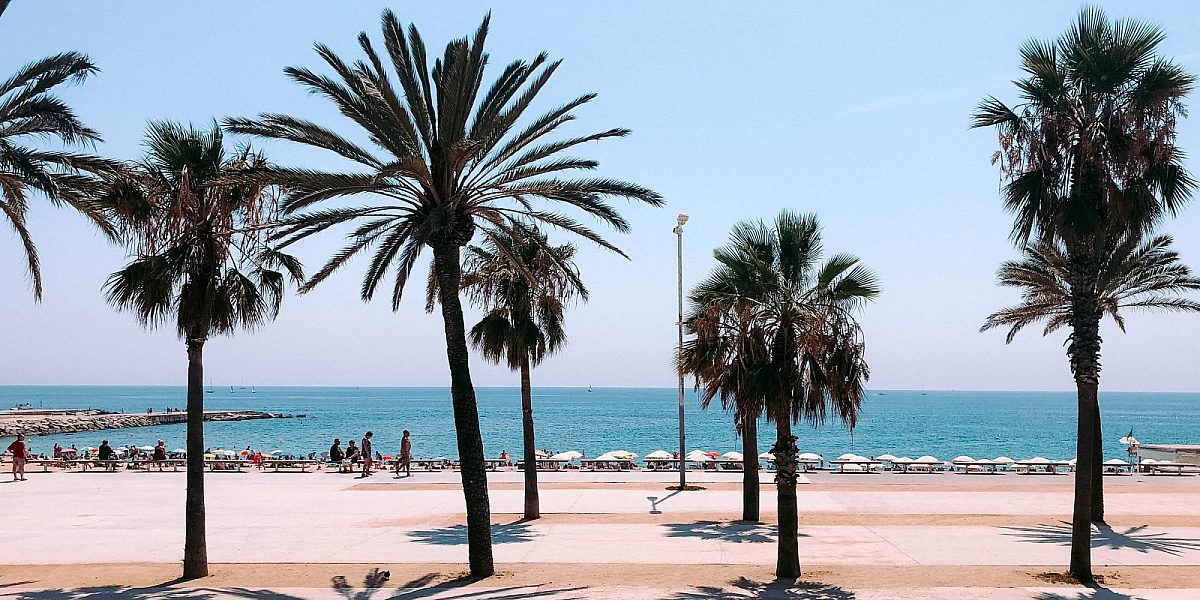 © Lucrezia Carnelos/Unsplash
Seven brilliant beaches in Spain
When it's time to hit the beach, Spain has more than its fair share of stunning spots – from dreamy, secluded retreats to buzzing city beaches
There are many reasons to visit Spain – for its art museums, ancient history, delectable food and drink, and for its exceptional beaches. If you're looking for a seaside sojourn, take your pick from countless slices of pristine coastline across the country, not forgetting its show-stopping islands, too. In fact, the sheer number of beaches that Spain's blessed with means there's something for everyone: watersports, beach parties, a family-friendly day out, gastronomy, sightseeing… But where to start? Here are seven of the best beaches in Spain that shouldn't be missed.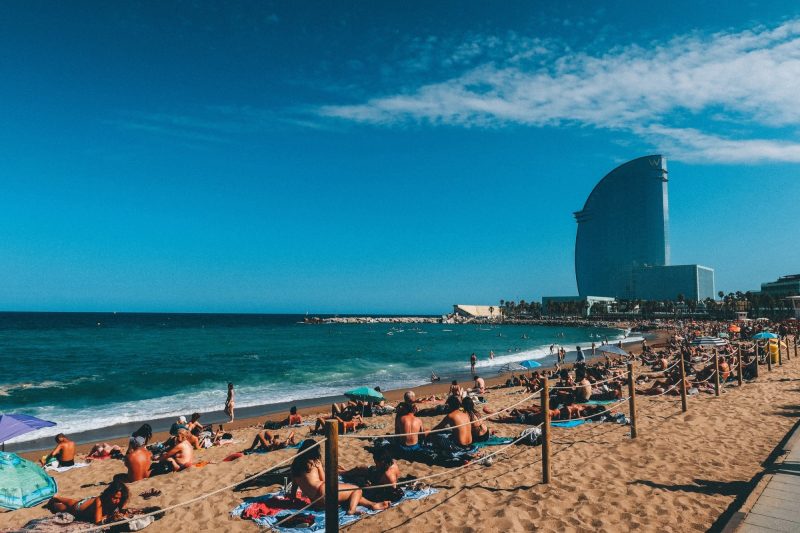 Be a part of the action while sunbathing at lively Barceloneta © Marc Fanelli Isla/Unsplash
Barceloneta, Barcelona
Best for: An electric atmosphere
Constantly bubbling with life and activity, Barcelona's hugely popular Barceloneta is more than just a beach: it's a place to meet friends, a place to party and a place to be seen. As well as lounging on the sand and soaking up the sun, you can get sporty with facilities for volleyball and table tennis, though many people come here primarily to eat, drink and be merry, courtesy of Barceloneta's numerous chiringuitos – small, casual beach restaurants and bars (found all around the Spanish coast) dishing up excellent tapas and cocktails.
Visit Barcelona on our 7-Day Mediterranean with Greek Isles and Italy itinerary, sailing in 2022 and 2023.
Peñón del Cuervo, Málaga
Best for: Escaping the crowds
Málaga has plenty of hustle and bustle, but if you want to see a different side of the city, make the short journey out of the centre to this beautiful spot, which provides a peaceful counterpoint to Málaga's livelier side. It's a popular destination for photographers, who love the chance to snap the huge, striking rock formation peering out of the sea, making a dramatic focal point. There aren't any restaurants or bars to be found here, but that just means it's a quieter, more tranquil affair, and you'll often find locals barbecuing down on the sand.
Visit Málaga on our 14-Day Spain, France and Portugal itinerary, sailing in 2022 and 2023.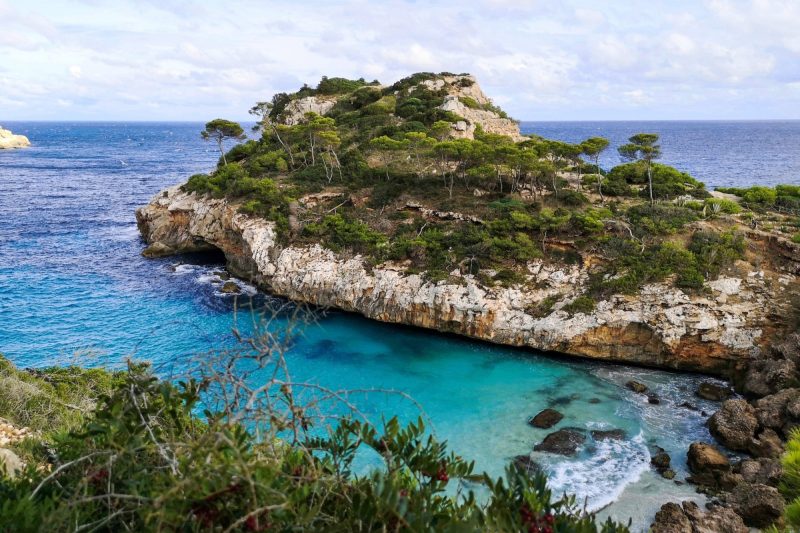 Sand, snorkelling and verdant scenery on the island of Mallorca © Alexandra Nez/Unsplash
Cala Llombards, Mallorca
Best for: Snorkelling
The gorgeous Balearic Island of Mallorca is awash with top-notch snorkelling spots, but the small, blissful cove of Cala Llombards is one of the best. It's relatively secluded and the layout means the waters are calm and crystal clear, making it perfect for glimpsing all sorts of colourful marine wildlife. When you're done with underwater exploring, simply enjoy bathing on the powder-like sand and taking in the tropical greenery covering the cliffs around you.
Visit Mallorca on our 10-Day European Explorer itinerary, sailing in 2022 and 2023.
Samil, Vigo
Best for: Families
A long promenade traces this sandy arc that stretches along Vigo's west coast, and it's full of family-focused amenities, including several children's playgrounds and a swimming pool just for kids. The beach itself also has showers, changing facilities and lifeguards, plus numerous sports facilities, like a basketball court and a skate park. When it's time to refuel, you'll have a vast choice of nearby restaurants and cafés at your disposal, too.
Visit Vigo on our 12-Day Canary Islands itinerary, sailing in 2022 and 2023.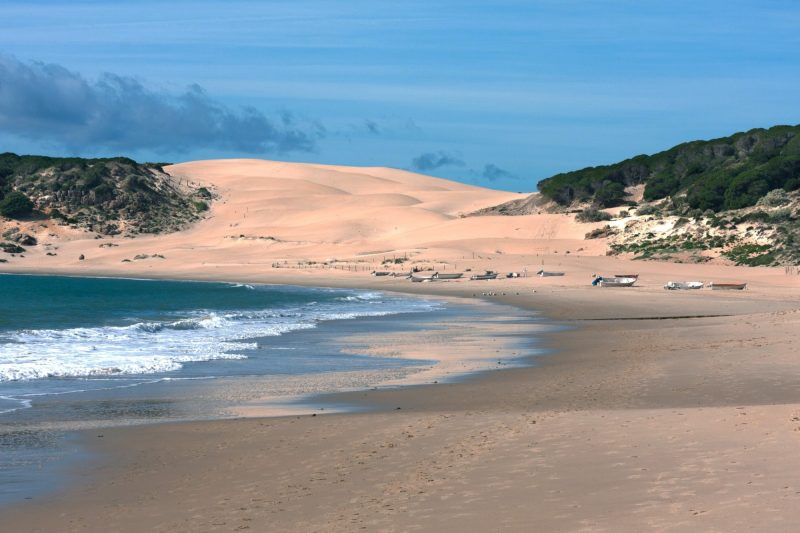 See the beach and one of Spain's natural monuments, Duna de Bolonia, from Cadiz © Quino Al/Unsplash
Bolonia, Cadiz
Best for: Sights and sand dunes
Want a bit more from your beach than just sand and sea? Bolonia (roughly an hour-long drive from the port of Cadiz) can deliver, specifically with an archaeological site based around the wonderfully preserved ruins of Roman town Baelo Claudia. On top of that, Bolonia is also home to one of Spain's natural monuments, Duna de Bolonia, a sand dune that stands at 200 metres wide and over 30 metres high. When it comes to the actual beach here, it's a rugged and wild wonder, situated on the edge of the sprawling El Estrecho Natural Park and boasts amazing scenic views.
Visit Cadiz on our 14-Day Mediterranean Adventurer itinerary, sailing in 2022 and 2023.
Las Arenas, Valencia
Best for: An urban beach experience
Las Arenas may only be a few kilometres from Valencia city centre (accessible on a Princess cruisetour), but thanks to palm trees, uninterrupted ocean views and a surprisingly spacious stretch of sand to enjoy (over one kilometre long and 130 metres wide, in fact), it feels a world away. There are plenty of sunloungers and umbrellas for hire, sports facilities and numerous places to eat on and around the beach, from small shacks serving fresh fruit juice, all the way to high-end restaurants offering sophisticated takes on the regional dish, paella.
Visit Valencia on our 13-Day Highlights of Spain cruisetour, sailing in 2022.
Arrietara, Bilbao
Best for: Surfing
One of several small beaches in Sopelana, a small town north of central Bilbao, Arrietara is a paradise for surfers, thanks to the consistent waves that grace its shores. There's a surf school if you want to learn the skills from scratch (and the coastal conditions are great for beginners) and some great beach bars to hunker down in after a day in the sea. If you prefer to get your adrenaline fix up in the sky, there are paragliding opportunities nearby as well.
Visit Bilbao on our 7-Day Spain and France itinerary, sailing in 2022 and 2023.
Excited to explore more of Spain?
Discover more beach holiday inspiration