Eight must-do activities on a Canada and New England cruise
If you're embarking on an east coast adventure, don't miss out on these unmissable experiences
From the port of Southampton, not only can you depart on spectacular cruises around Europe, but you can also set sail to more far-flung destinations, such as Canada and New England. Our just-announced 24-Night Canada and New England 2023 itinerary, departing from Southampton on Sky Princess, immerses guests in some of Canada's most beautiful and historical destinations, as well as two very different but equally unmissable US hotspots – Boston and Bar Habor, Maine. Whether you'll be joining us onboard for that specific cruise or another of our many itineraries in the same region, discover the best things to see and do when on a Canada and New England cruise.
Taste local tipples in Boston, Massachusetts
The famous and historical US city of Boston is packed with enough activities, scenery, restaurants, bars and museums to keep all visitors happy. For a boozy adventure around Boston, raise a glass on the Princess Cruises Boston beer and spirits tour. On this half-day shore excursion, you'll delve into the city's globally acclaimed beer scene by visiting craft breweries, enjoying a sample at each venue, before moving on to an artisan distillery, tracing the history of Massachusetts as a key exporter of rum and other spirits. Cheers to that!
Explore Acadia National Park from Bar Harbor, Maine
Long known as a fashionable destination for US holidaymakers, pretty Bar Harbor in Maine is never short on show-stopping scenery, but its status as the gateway to the mighty Acadia National Park will always be its biggest draw. There are various ways to explore the park, including on foot or via horse and carriage, but seeing it by bike, which you can do on a Princess shore excursion, is especially thrilling. Cycle through forest and around stunning lakes, keeping one eye out for the likes of deer, porcupines, rabbits, bald eagles and peregrine falcons.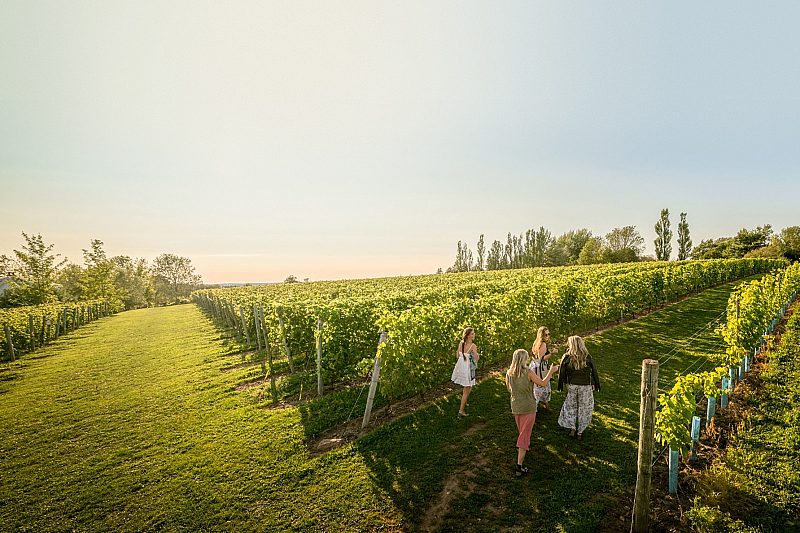 Enjoy a tour of Grand Pré Wines in Annapolis Valley, Nova Scotia © Patrick Rojo
Visit the verdant vineyards surrounding Halifax, Canada
The buzzy coastal city of Halifax, in the Canadian province of Nova Scotia, has a lot to boast about. Its thriving arts scene (showcased in numerous contemporary galleries), energetic bars and cool cafés announce themselves as soon as you arrive, as does the famous boardwalk leading around the city's waterfront. But don't miss out on seeing the wider Nova Scotia area, which you can do on a Princess shore excursion to Grand Pré Wines, a winery in beautiful Annapolis Valley. You'll be driven through jaw-dropping scenery before arriving at the winery to learn how the region's lush terrain helps produce superb vino, which you can sample for yourself, of course.
Hear sweet music in Sydney, Canada
Sydney has wonderful coastal scenery and tons of history to discover, but one of the most fun things to tick off in Cape Breton's largest city is the world's biggest fiddle. This eye-catching sight, which stands tall on the waterfront, is over 18 metres high. The fiddle is a tribute to the region's Celtic communities and Sydney's strong connections with Celtic culture, which is very much evident in the local music. Hear for yourself on a Princess shore excursion that explores the sounds of Cape Breton through a Celtic music performance in the Joan Harriss Cruise Pavilion, a brilliant event space that sits next to the giant fiddle.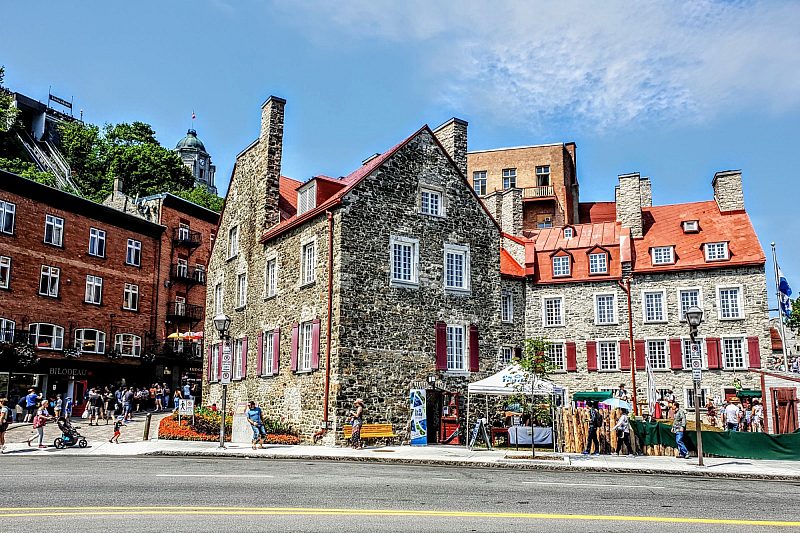 Take in the beautiful buildings found in Old Québec © Benoit Debaix/Unsplash
See the many sides of Québec City, Canada
There's so much to see in vibrant Québec City, so it's handy that our 24-Night Canada and New England 2023 itinerary docks overnight here. One of our More Ashore destinations, Sky Princess arrives in port early afternoon and doesn't depart until the following evening. Daytime highlights include wandering the picturesque neighbourhood of Old Québec, which was awarded UNESCO World Heritage status in 1985, and visiting the magnificent Montmorency Falls. At 272 feet in height (100 feet taller than Niagara Falls), you can admire the cascading waterfall from its bottom pools or head to the top via cable car as part of a Princess shore excursion. In the evening, we recommend settling in for some live jazz in the cosy bar at Hôtel Clarendon – one of the city's renowned musical hotspots.
Take to the water in Saguenay, Canada
With fantastic scenery and a peaceful atmosphere, there's lots to recommend in picturesque Saguenay, but we suggest that no visitor misses the stunning Saguenay Fjord National Park. Experience this natural wonder by getting up-close to the landmark which gives the park its name – Saguenay Fjord – on a kayaking trip as part of a Princess shore excursion. Afterwards, you'll carry on paddling to Cape Trinity, a mighty rock mount that's home to the locally famous Notre-Dame-du-Saguenay statue.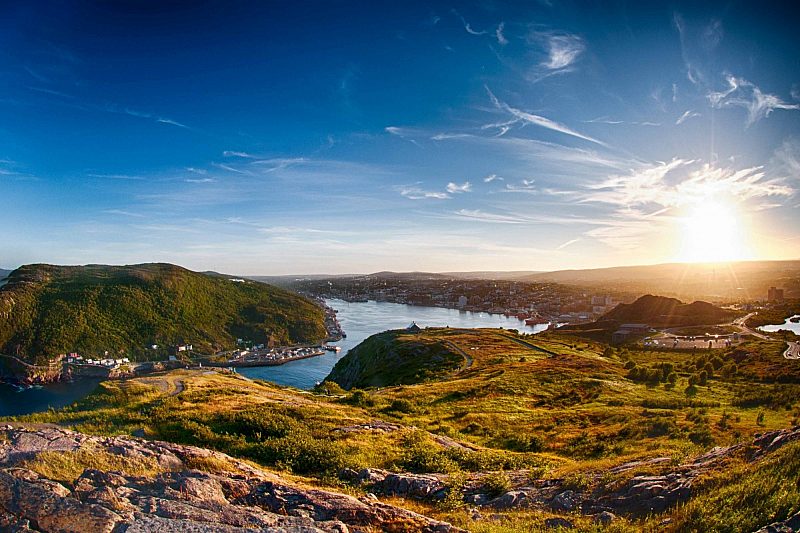 See stunning views of St John's from its surrounding hills © Jeff Smith/Unsplash
Head for the hills in St John's, Canada
Facing onto the Atlantic Ocean, the city of St John's (one of North America's oldest and most easterly) in the province of Newfoundland is a joy to explore, not least because of the pockets of colourful houses that light up the harbour and the rugged scenery that skirts around it. Nature enthusiasts and keen ramblers can get to know the surrounding area, which brims with hills, bays, lakes and rivers, on a Princess guided hike. Beginning at the top of Signal Hill, which offers fantastic panoramic views, you'll journey across rugged terrain, learning about the region's diverse array of flora and fauna, as well as uncovering the history of Newfoundland.
Perfect your photography in Charlottetown, Canada
The capital of Canada's Prince Edward Island may be a small city geographically, but don't let that fool you. Charlottetown is a cultural hub that's positively packed with arts and entertainment, rich history, stunning scenery and a thriving restaurant scene. To help capture memories of the city, embark on a photography masterclass led by a local professional photographer. This five-hour Princess shore excursion will equip you with the skills you need to take professional-looking pictures, with Charlottetown's colourful streets, beaches, lighthouses and national parks acting as the ideal subject.
Excited to explore Canada and New England?