Your first-time cruise questions answered
Everything you need to know to ensure smooth sailing on your first cruise holiday
While embarking on a cruise is one of the best and most exciting things you'll ever do (even if we are biased!), we realise that if you've never done it before, you'll have many questions on how some parts of the holiday work. That's why we've gathered a list of the most common first-time cruise questions, to answer all your cruise-related queries and make sure you feel well-prepared ahead of your holiday. After digesting the FAQs below you'll feel ship-shape and ready to set sail.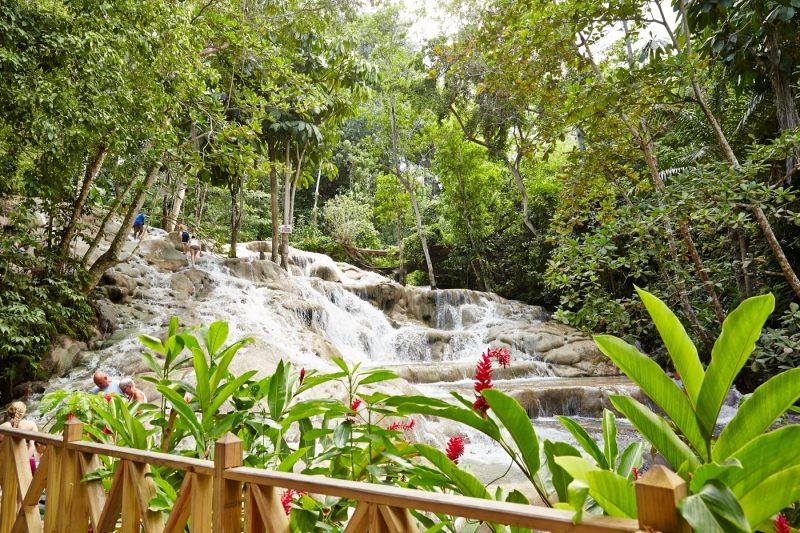 The breathtaking Dunns River Falls in Ochos Rios, Jamaica, as mentioned below © Princess
What are port stops and shore excursions?
Cruises call and stop at different ports as part of the journey, giving you the chance to visit and explore some of the most exciting and beautiful places in the world. Shore excursions are special trips organised by your cruise company in each of the port destinations, covering a range of interests, activities and sights that offer something for everyone. Why not paddle through part of the Dunn's River Falls waterfall in Jamaica when you're cruising the Caribbean? Or enjoy a pub lunch in a quaint Cornish village near the beautiful Lizard Peninsula on a British Isles trip? When it comes to shore excursions, the choice is almost endless.
Do I have to get off the ship at every port stop?
No, it's entirely up to you how often you leave the ship. For example, if you're on a Mediterranean cruise and you've already visited some of the stops on previous holidays, feel free to stay onboard and make the most of the brilliant range of facilities (see below) and a quieter ship.
What is there to do onboard the ship?
Where do we begin? Choose from seeing show-stopping entertainment in the theatre, watching Movies Under the Stars out on the deck, finding your way out of an escape room, browsing the onboard boutiques, working up a sweat in a Zumba class, dipping in and out of the outdoor pool and hot tub, wine tasting, or doing absolutely nothing in the Lotus Spa. In fact, you needn't choose: you can do them all onboard a Princess cruise ship.
Do I need to wear formal clothes every night?
When it comes to packing, recapping your itinerary is the best place to start. Cruises of five days or longer will include at least one formal night requiring smart dress in the main dining room, but on other nights when you go to dinner, just aim for something approaching smart-casual. And during daytimes, feel free to wear what you're comfortable in – you're on holiday, after all! Just remember to dress for the climate(s) you'll be in, bringing something warmer for cooler evenings and lighter choices if you're heading into the heat.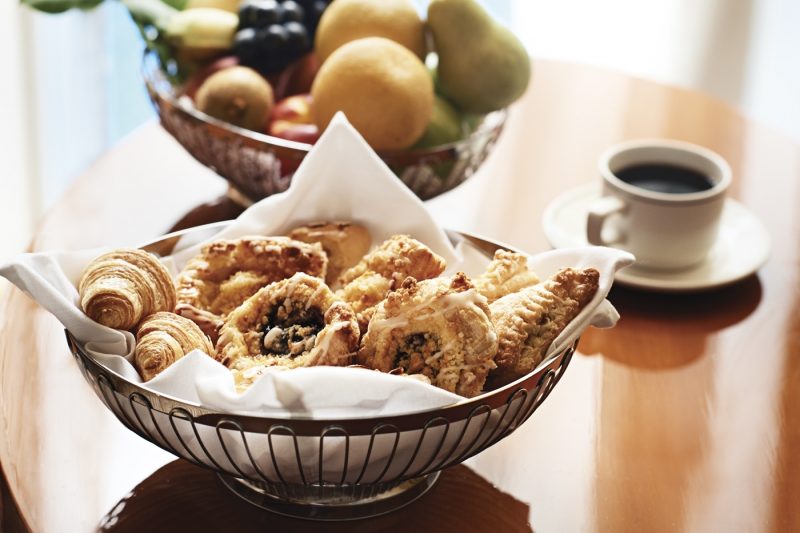 Fresh breakfast pastries in your stateroom © Princess
Can I really order food at any time of the day or night?
Make the most of Princess' 24-hour room service or pay a visit to the International Café, which serves up sandwiches, salads, soups, pastries and other tasty snacks 24 hours a day. Whatever time it is, it's never difficult to track down something delicious for a sugar craving or midnight snack.
What is included in my cruise fare?
Lots! Your fare includes your accommodation, a huge variety of food and drink that covers meals throughout the day and evening, plus 24-hour room service. It also includes all kinds of entertainment, such as special activities themed around your ports of call, like chatting to a lumberjack as you head towards Alaska or learning to play the ukulele as you sail to Hawaii. Any added extras included in your fare, such as flights, gratuities and premium alcohol, will be specified when booking.
How do I pay for anything extra that I want to buy onboard?
On embarkation day you'll be given either a Cruise Card or, if travelling Princess MedallionClass, one of our OceanMedallions. With these, you can use them to purchase anything while onboard. They're both incredibly simple to use and allows every member of your party (such as older children) to make purchases around the ship.
Looking for even more information on your cruise?