Why Sun Princess offers an incredible family holiday
Whether you're sailing with toddlers, tweens or teens, our first-ever Sphere Class ship will wow them all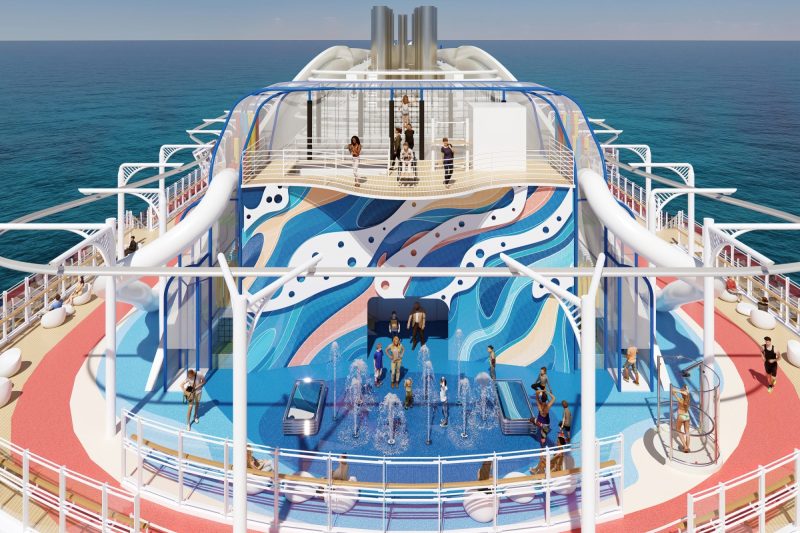 The Lookout and Splash Zone, as part of the new Park19 activity area © Princess
The brand-new Park19 activity zone
Sun Princess debuts in February 2024, as does Park19, our brand-new family activity zone. Located on the top decks of Sun Princess, Park19 will feature nine different outdoor activities for everyone to enjoy.
The innovative space includes Sea Breeze, the first-ever rollglider on a cruise ship, where guests can whizz along a suspended electric zipline, taking in views of the ocean and ports. The Coastal Climb enables guests to ascend from decks 19 to 20 through a series of obstacles and reach The Lookout open-air observation, where you can take in 360° views from the highest accessible point on the ship.
Harnessed above deck 19, The Net challenges you to trek across unstable bridges, balance beams and cargo nets, while Infinite Horizon has tilted walls that extend out over the side of the ship, allowing guests to peer out to sea and below to other decks.
There will also be a relaxing hammock area, the Splash Zone filled with water jets, a jogging track and a spacious area for activities such as ping-pong, shuffleboard, fitness classes and meditation sessions.
Park19 was 'tailored based on guest feedback for more family and group-activity spaces', says John Padgett, Princess Cruises President.
A variety of kids' clubs
You'll find youth centres located on decks six and seven on Sun Princess, where guests aged from six months to 17 years are welcome. Firefly Park (for those aged six months to seven years old) offers a programme of art and crafts, themed parties and group games along with dedicated crawl and play zones for the very little ones.
Neon Grove and The Underground are two separate areas for tweens and teens to hang out and socialise. They're both packed with comfy sofas, gaming consoles, air hockey tables, foosball and much more. Group activities include ship scavenger hunts, movie nights and dance parties.
And while the younger members of the family are off having the time of their lives, it's the perfect excuse for the grown-ups to make the most of Sun Princess' many terraces, bars and brand-new two-storey Lotus Spa. It'd be rude not to…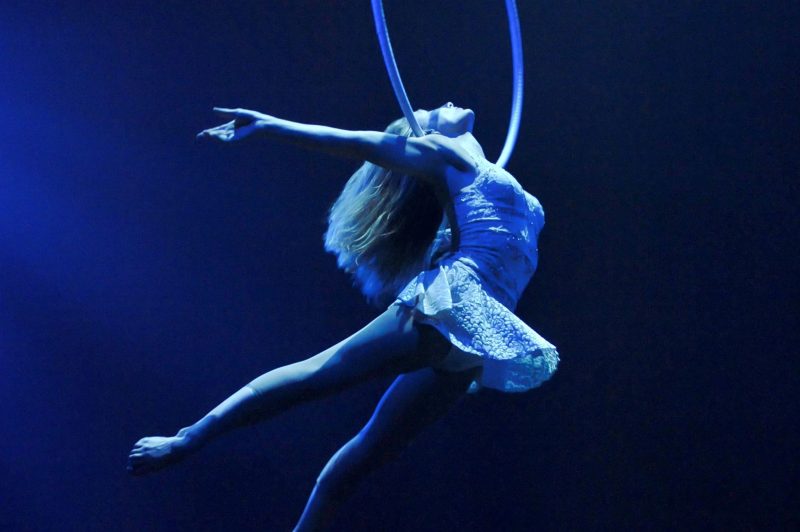 Catch performances from the incredible Cirque Éloize on Sun Princess © Princess
Mesmerising entertainment
As on all our ships, there'll be incredible entertainment onboard Sun Princess – and at some brilliant new venues too. The Dome, a towering glass-enclosed multi-purpose space, will play host to dazzling shows under the stars, including performances by the renowned circus artists Cirque Éloize. The Piazza will be a new-look version of our much-loved live music and dancing space, while our traditional theatre has evolved into the Princess Arena. Our most technologically advanced performance space yet, the Princess Arena can transform into different designs and shapes to suit all our new productions. There really is something to impress all members of the family!
Dining options for every appetite
Sun Princess boasts eating and drinking options that will keep happy. The spectacular Horizons Dining Room will have different dining spaces for different levels of formality, which is ideal for casual early dinners with littles one as well as more formal dinners for couples. On top of that, there'll be Alfredo's pizzeria serving up hand-stretched wood-fired pizza with a whole host of toppings; World Fresh Marketplace covering the usual, delectable spectrum of global cuisine; Crown Grill offering succulent steaks and seafood; Sabatini's Trattoria for bowls of freshly rolled pasta and modern Italian dishes; and an authentic gelateria to please those family members with a sweet tooth.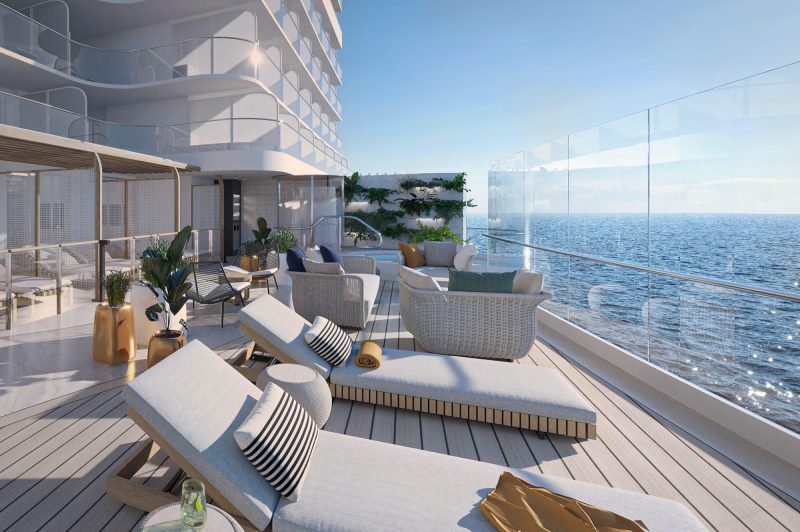 Enjoy your own deck space with our Reserve Collection Cabana Mini-Suites © Princess
Accommodation to suit your needs
However big your brood or whatever your sleeping requirements, Sun Princess offers our biggest selection of accommodation yet. Debuting on Sun Princess, there will be Reserve Collection staterooms, which include premium location Mini-Suites and Cabana Mini-Suites. Our Cabana accommodation features a balcony, private cabana with outdoor furniture and an extra-large private lounge space, perfect for spending time alone as a family.
Alongside that, there will also be Signature Collection accommodation. In addition to premium stateroom amenities, Signature Collection Suites include access to the Signature Restaurant, Signature Lounge and private Signature Sun Deck, an exclusive area of the Sanctuary. Signature Sky Suites, our largest accommodation (sleeping up to five guests), include an expansive stateroom featuring two bedrooms, two bathrooms (one with a tub and separate shower), a seating area, a sofa bed and a spacious balcony.
Other accommodation includes balcony, interior and wheelchair-accessible staterooms. The choice is nearly endless…
Excited to join us on Sun Princess?