Catching up with Commodore Nash
Having been given the title Commodore in late 2020, we check in with Nick Nash, currently Captain of Enchanted Princess
Back in the autumn of 2020, Captain Nash was officially presented with the title of Commodore, an honour bestowed upon the most senior captains with an exemplary service record, representing the highest rank attainable of a Princess Cruises mariner. In his new role, Commodore Nick Nash has assumed the responsibility of representing the interests of all Princess ships and their captains.
Commodore Nash, who grew up in Penzance, Cornwall, has been a Princess Cruises crew member for 33 years. He first joined us in 1989 and was promoted to Staff Captain in 1997. In 2002, he became Captain and has since been at the helm of many Princess vessels. In addition to his various roles at Princess, Commodore Nash served as President of the Nautical Institute and now serves on its council. And not only has he received the United Kingdom's Merchant Navy Medal for meritorious service, but he's also been awarded as a Chartered Master Mariner, a Fellow of The Nautical Institute, The Royal Institute of Navigation, The Royal Geographical Society and a Younger Brother of Trinity House.
In celebration of Commodore Nash's new title, a special ceremony was held onboard Enchanted Princess. A traditional ceremonial sword was presented to him as a permanent reminder of his accomplishment, a tradition that dates back to the 17th century.
Since then, we caught up with Commodore Nash to ask if his role at Princess has changed at all and where he's keeping his sword...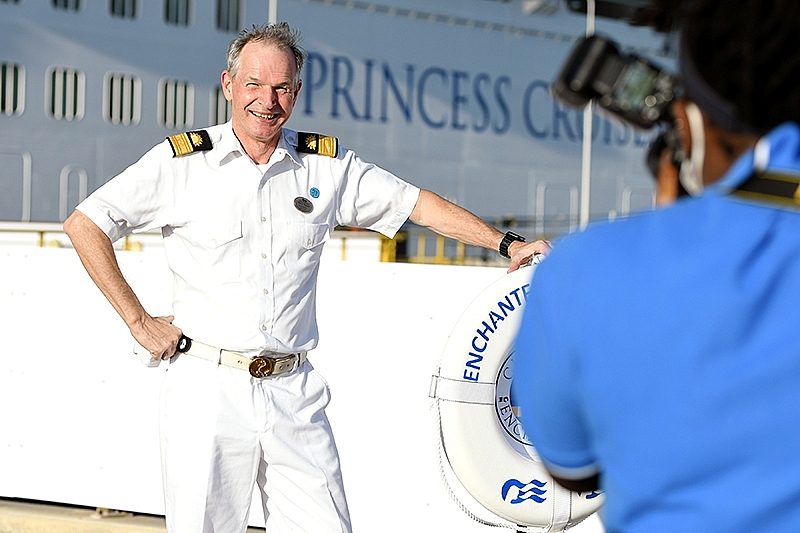 Proud as punch: Commodore Nick Nash © Princess
What does the rank of Commodore mean for you in practical terms?
'Being Commodore means being the Captain of The Captains, as well as commanding my own ship. I am the interface between our marine and shoreside teams, and I assist in training and procedure development across the Princess fleet.'
What ship are you currently in command of?
'I'm currently Captain of Enchanted Princess, which means I'm responsible for the safe and efficient running of the ship, ensuring passenger and crew safety and manoeuvring the ship in and out of ports around the world. As Captain, there are also certain onboard social duties, which can include marrying couples at sea.'
The ceremonial sword sounds interesting! What is it and where do you keep yours?
'It's a Royal Naval officers' sword and features a hand-sculpted 24 karat gold-plated lion's head pommel, a 24 karat gold-plated basket (bearing the Naval insignia) and a traditionally dyed and age-dried ray-skin hilt. The scabbard is handmade from black buffalo rawhide and fitted with three 24 karat gold-plated mounts. I keep mine in my office, along with my old dinky toys, ship models and marine logbooks!'
You live in Penzance, the place where you grew up. What do you love about it there?
'Penzance is the best place in the world – and I've seen it all! I like the fact that Penzance is a transport hub for the Scillonian Ferry, GWR trains and reinstated helicopter flights. It's also a great town and has great beaches, cliff walks and pubs.'
Do you miss Cornwall when you're away at sea?
'You always miss home, no matter how long you've been doing the job. My family live in Penzance and I can keep in contact with them a lot more easily nowadays. At the beginning of my career, I would have sent letters and had a very occasional (and expensive) trunk phone call from a calling station abroad. I also watch old episodes of Wycliffe to remind me of home!'
What's been your favourite destination you've visited with Princess?
'I've travelled the world with Princess in my 33 years with the company and I would say my favourite destination is being at sea. At sea, you can forget land worries and just live for the moment. I love travelling at a bicycle pace across the ocean at the behest of the wind and tide with a backdrop of magical sunrises, twilights and star-lit skies. The "office" view changes daily, of course!'
Keen to come onboard Enchanted Princess?