Four ways to make the most of your balcony
Use your private outdoor area to its full potential and create more everlasting memories on your cruise holiday
If you're thinking about upgrading your interior or Oceanview stateroom to a balcony one, then you've come to the right place, as we round up some of the best reasons to opt for sleeping quarters with your own private alfresco area.
If you've already booked a balcony stateroom for your next cruise, then be sure to know that you're making the most of it. With its peaceful seclusion, impressive sailaway views, plus our special dining packages, moments spent on your Princess balcony will be some of your holiday's most unforgettable.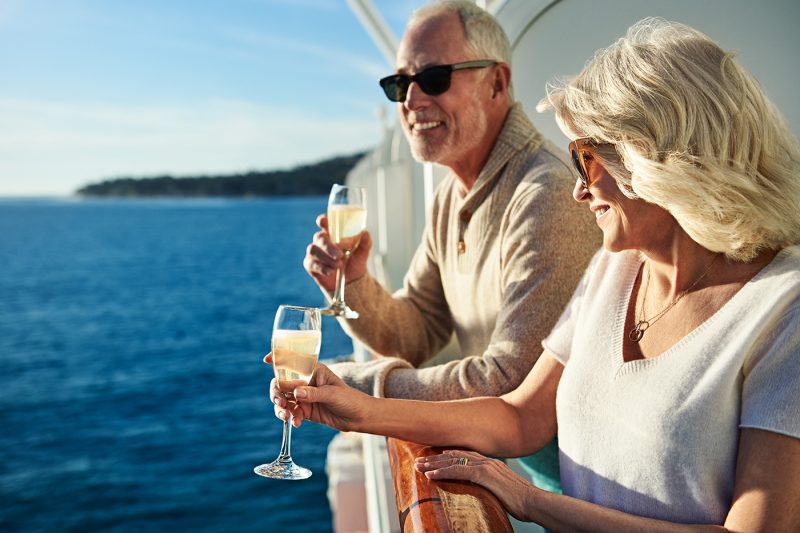 Enjoy the sailaway with a glass of champagne on your balcony © Princess
1. Celebrate the sailaway
While you can catch views of the ship's arrival into port and of its sailaway from any public deck onboard, nothing beats taking in some of the world's most breathtaking panoramas from the comfort of your own balcony – drink in hand, camera at the ready. Admire the waterways and rust-coloured roofs of Venice and the white-washed houses and rolling hills of Santorini as you sail off to the next port of call. Or wave hello to the mist-covered mountains in Kotor as you arrive in Montenegro, and even Sydney Opera House if you dock in the Australian city. Consider your balcony your personal viewing platform.
2. Sit back and relax...
While there are many peaceful nooks located around all of our ships, having a private space in which to kick back and switch off to the sound of the sea is unrivalled. Whether you fancy a mid-morning read of your book, sipping on a cappuccino delivered straight to your stateroom from the OceanNow app, or would prefer to wind down at the end of each day with a glass of wine in hand and wafts of fresh sea air in your face, your balcony is your very own tranquil haven.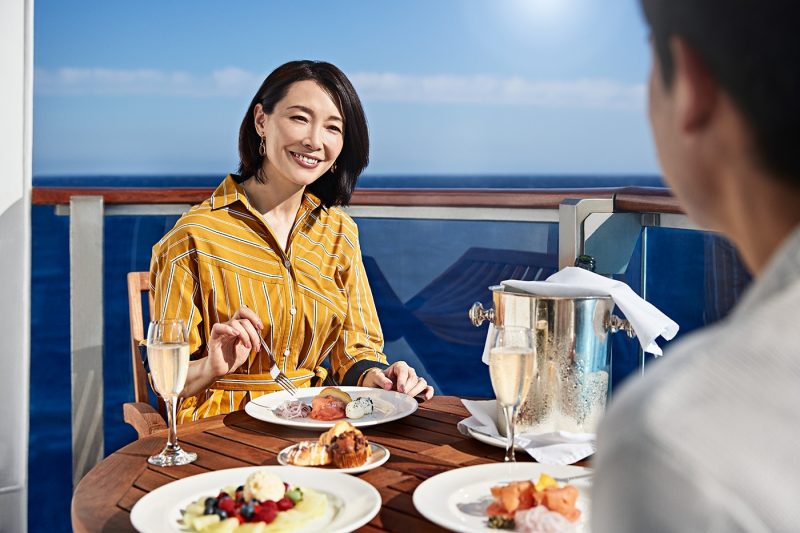 Enjoy a unique feast on your balcony with the Ultimate Balcony Dining experience © Princess
3. Prepare for a feast
Don your best suit or dress for an evening of fine food and drink out on the balcony, with Princess' Ultimate Balcony Dining experience. For your special meal, you'll have dedicated waitstaff arrive to set up the table, dress it with fresh flowers and then pour you a cocktail or glass of champagne. Drinks will be followed by an indulgent four-course meal including succulent lobster tail or steak (or both!) alongside other delectable dishes.
If you want to kick-start your day with a romantic feast instead, waitstaff will serve you pastries, fresh fruit, smoked salmon and other treats along with chilled sparkling wine. We'll drink a toast to that!
4. Catch the sunset
After a long day exploring onshore or working your way through the sprawling programme of onboard activities, return to your balcony to watch the sunset – one of the most beautiful sights to be seen from a cruise ship. Take in the incredible views (and take a few snaps to send home), all the while sipping on a cocktail brought directly to your balcony using the OceanNow app. Early birds can also catch the sunrise each morning, too – and without having to change out of their pyjamas!
Excited to book your next cruise holiday?