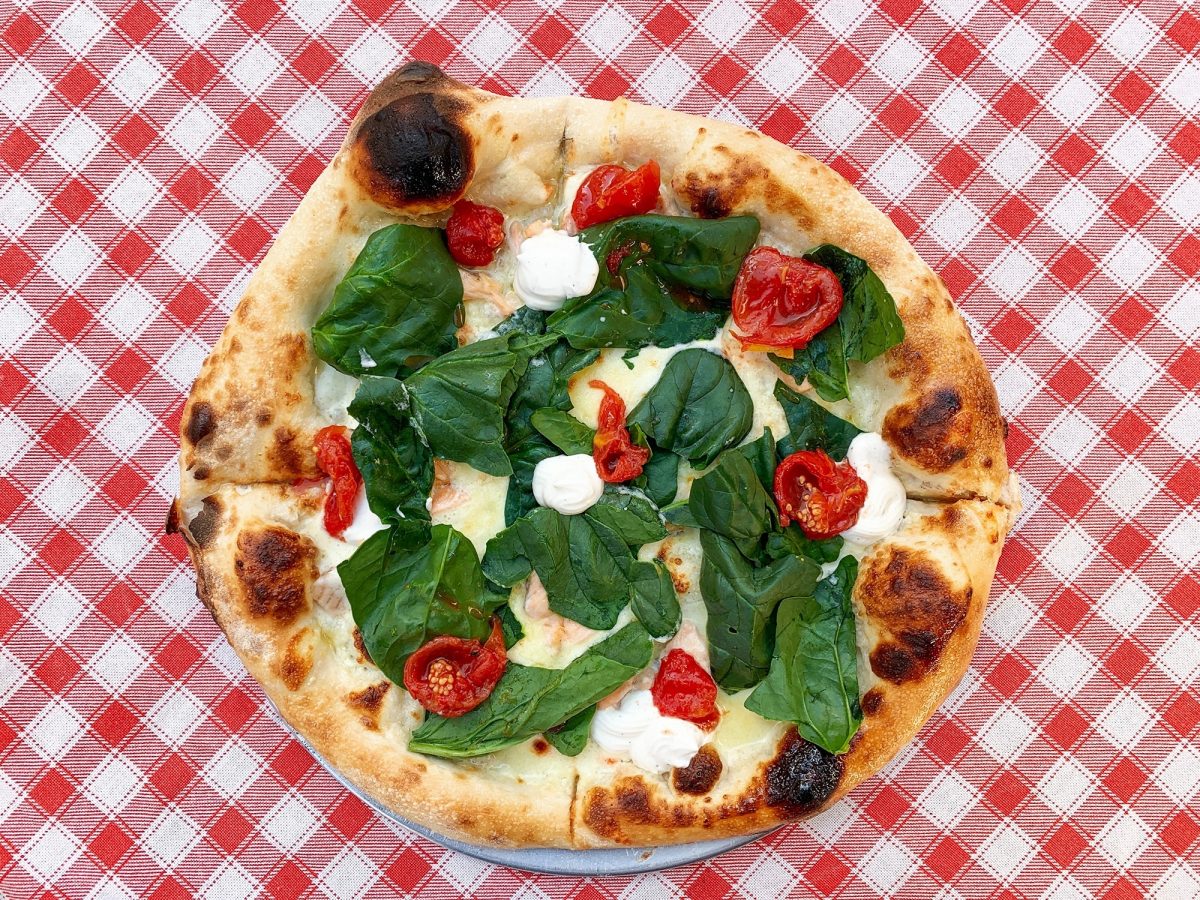 Anastasiia Chepinska/Unsplash
Where to find the best pizza in Naples
Discover five spots serving up superlative slices in the birthplace of pizza itself
In Naples, pizza isn't an occasional treat for when you don't want to cook – it's a way of life, woven into the city's culinary and cultural heritage. The doughy stuff has been feeding Neapolitan people from all walks of life since the 18th or 19th century (depending on exactly how you define pizza) and the process of Neapolitan pizza-making was in fact recognised by UNESCO in 2017.

The Italian city is still seen as the pizza capital of the world and you'll never have to look too far to find a decent example. But where to go for the truly amazing stuff, you ask? We've pulled together a list of where to find the very best pizza in Naples. We recommend visiting more than just one of the below venues during your visit, because when the pizza's this good, there's always room for another slice…
If you're craving a slice of the action while onboard, you can enjoy hand-tossed, Neapolitan-style pizza (which has been touted as the 'best pizza at sea', just to add) on all of our ships. And if you're at home, make your own with our signature margherita recipe.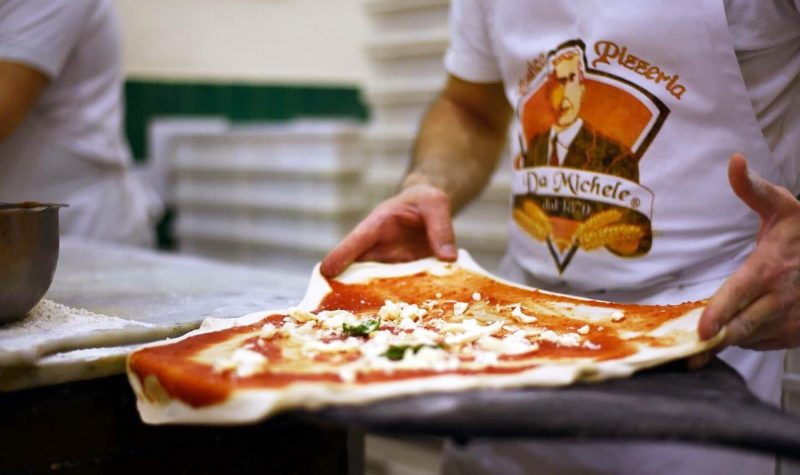 A margherita being hand-stretched © L'Antica Pizzeria da Michele Naples
L'Antica Pizzeria da Michele
Opened by the Condurro family in 1870, this spot has become the stuff of legend over the years, with its pizzas being labelled as the best in the world by some. It's a place for purists, as it serves only two pizzas: the margherita and the marinara (simply tomato, oregano, garlic and oil), as these, Michele Condurro claimed, are the only two pizzas you need. Its stripped-back approach also extends to the no-frills décor – this is a place to eat, not admire wall hangings. But once you taste that hand-stretched, heavenly dough, you won't care where you are. Da Michele also found fame after featuring in Eat, Pray, Love, where Julia Roberts's character munches down a slice before declaring, 'I'm in love; I'm having a relationship with my pizza.' That says it all, really.
Pizzeria de' Figliole
It's common for pizzerias in Naples to serve pizza fritta (fried pizza), but at this tiny, family-run restaurant it's the only thing on the menu. As such, Figliole has become known as the city's best spot for it. The pizzas here are a little like fried calzones (folded pizza pockets), so they're heavier than your standard marinara, but still a wondrous thing to eat. Pizza fritta is a snack that's old-school Naples through and through, having been a favourite street food in the city for over a century. Figliole is located outside of Naples' centre and away from tourist hotspots, but it still fills up quickly with locals – what better sign of quality is there?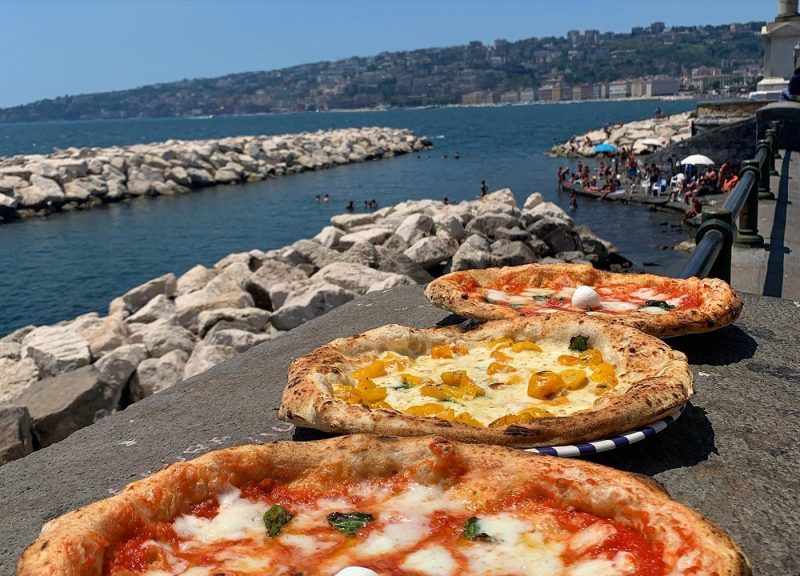 Choose from a very delectable line-up of dough at Sorbillo © Sorbillo
Sorbillo
Led by Gino Sorbillo, who many consider to be the best pizza chef in the city, Sorbillo is a true Naples institution. There's a focus on local produce from around the Campania region and Gino isn't afraid to bulk out the traditionally minimalist Neapolitan pizzeria menu with all manner of toppings. But the key characteristic of all Sorbillo's pizzas is their size – big, verging on huge – and texture: gloriously sloppy, making them delightfully messy to eat. You'll probably have to queue to get into the cosy, bustling restaurant, but rest assured that it's worth the wait. And for a taste of just how good that regional Campanian produce can be, take a day trip to Sorrento (which overlooks Naples) and sample local specialities paired with local wine.
50 Kalò
Pizza in Naples is unavoidably steeped in history and tradition, but that hasn't stopped pizza perfectionist Ciro Salvo from applying modern science to the craft. Years of research led him to create a 'super-hydrated dough' with a lower protein concentration. The resulting pizzas are somehow both doughier yet lighter than your typical Neapolitan pizza – and utterly delicious, need we add. Again, grabbing a simple marinara is the way to go here in order to truly appreciate the painstakingly crafted dough. 50 Kalò also isn't afraid to go a little more contemporary with its look, reflected in a cool, smart and modern interior – the ideal setting for a scientifically spot-on pizza.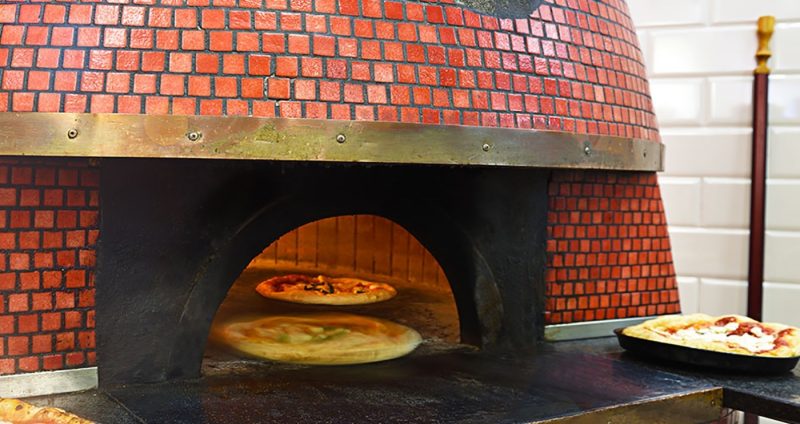 The pizza oven in action at much-loved Starita © Pizzeria Starita Naples
Starita
Dating back to 1901, this historic pizzeria is now run by its fourth generation of the Starita family. And if it's good enough for Sophia Loren (the 1954 film, The Gold Of Naples, starring the Hollywood icon as a pizza-seller, made the pizzeria famous), then it's good enough for us – and for the countless locals who flock here, too. Stepping through the unassuming facade reveals a restaurant that's warming, comforting and reliable – much like the pizza itself, in fact. In a departure to many Neapolitan pizzerias, Starita offers its creations in a dizzying range of varieties, plus starter-style bits to nibble while you wait for the main attraction – the fried courgette flowers and arancini come highly recommended. Aficionados can continue their pizza feast at pudding, too, with the sweet angioletti, fried pizza dough strips doused in chocolate sauce. Bellissimo!
Excited to explore more of Naples?