The Caribbean: Islands of Inspiration
The breathtaking beauty and stimulating culture of the Caribbean has inspired everything from world-famous film to thought-provoking street art. We take a tour of the islands via the art they've produced
If every great work of art reveals a story, then every artist, musician or writer must first be inspired to tell it. Creativity is the ability to break from traditional ways of thinking and develop new ideas; a process often kick-started when our surroundings stimulate our senses and imaginations. With its calm coastlines, volcanic peaks and exotic greenery, it's no surprise the Caribbean has long provided inspiration for countless masterpieces in film, literature, art and music.
Indeed, for years, creative minds have found the islands' natural beauty, lively local culture and tranquil beaches let them feel at one with the landscape and reflect on their thoughts. Being surrounded by glistening turquoise water and the endless azure sky of the Caribbean may help, too, with one study suggesting the colour blue itself boosts creativity. Research from the University of British Columbia showed it actually improved invention and imagination by almost twice as much when compared to red, perhaps explaining why the Caribbean has such a vibrant cultural scene.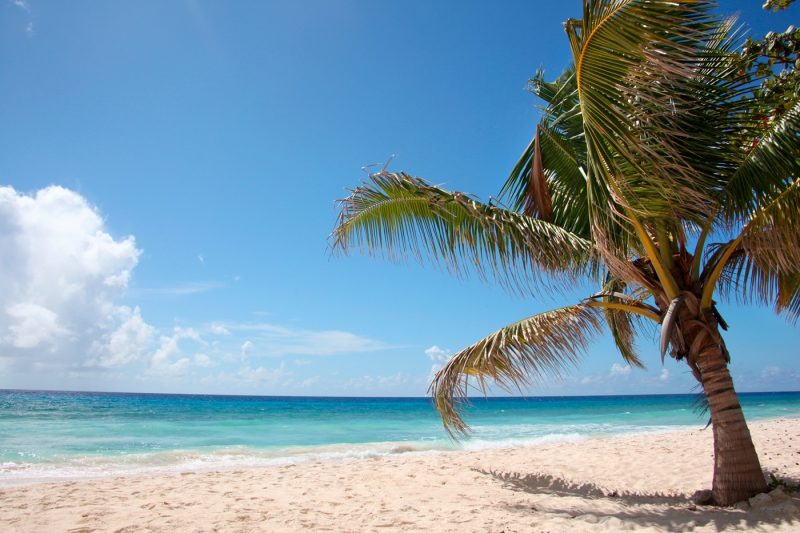 Shutterstock
But the postcard-perfect beaches are only one of the Caribbean's stimulating features. The wild natural beauty of the islands evokes stories of adventure, romance and intrigue and makes them the ideal place to escape the ordinary and be moved to create. From the dense verdant rainforests to the thundering waterfalls, secret lagoons and vast fields of elegant sugar cane, inspiration is all around, inviting us to retreat from reality and experience a tranquil, mysterious world where suddenly anything seems possible. Join us as we explore the great works – and the many creators – who have already been struck by island inspiration…
Lights, camera, action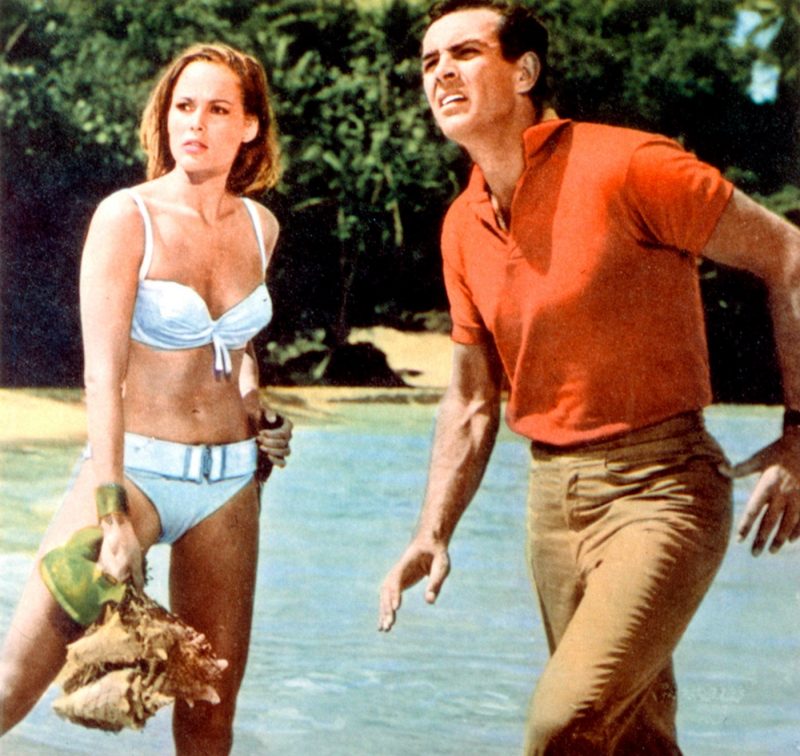 Alamy
When Hollywood demands paradise, there's no need to build a film set. With miles of vanilla sand and dazzling seas fringed with palm trees, the Caribbean is as photogenic as any A-list star it shares screen time with. No wonder it's the destination of choice for directors looking to recreate castaway islands, romantic beach scenes or glamorous getaways fit for James Bond himself. In fact, Bond creator Ian Fleming loved Jamaica so much he moved to the island and went on to write all the Bond books at his Goldeneye estate, now a luxury resort. Live And Let Die was later filmed in Jamaica and Daniel Craig is currently filming the latest instalment of the spy series there. Princess guests can see the spot where Ursula Andress was filmed in her famous white bikini for Dr. No on the shore excursion to Dunn's River Falls (below), one of the most stunning spots on the island.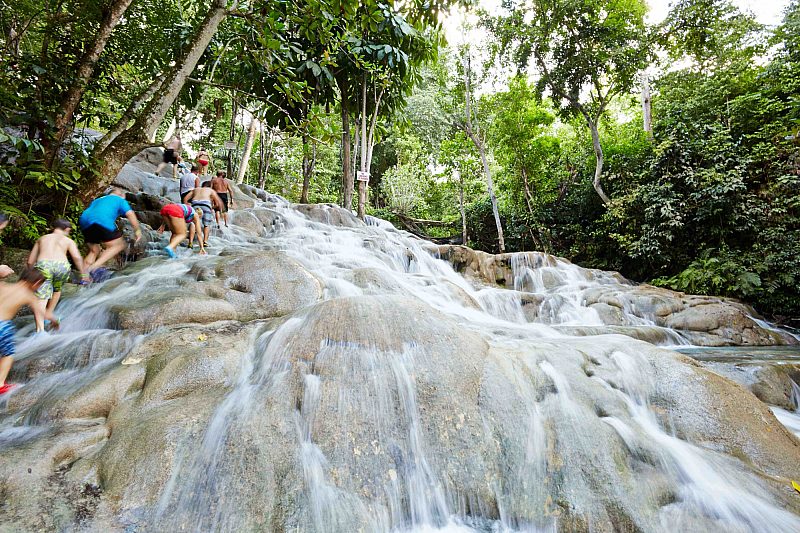 Princess
Close to Ocho Rios, this spectacular waterfall is truly unique as it constantly regenerates itself from deposits of travertine rock (which come from precipitation of calcium carbonate from the river) as it flows over the falls. A genuine living phenomenon, it is one of very few travertine waterfalls in the world that empties directly into the sea, and is also said to be the location of the 1657 battle between the English and Spanish over ownership of the island. Around 55 metres high and 180 metres long, the iconic waterfalls are terraced like giant natural stairs making them perfect to climb for sure-footed thrill seekers.
Explore Dunn's River Falls with Princess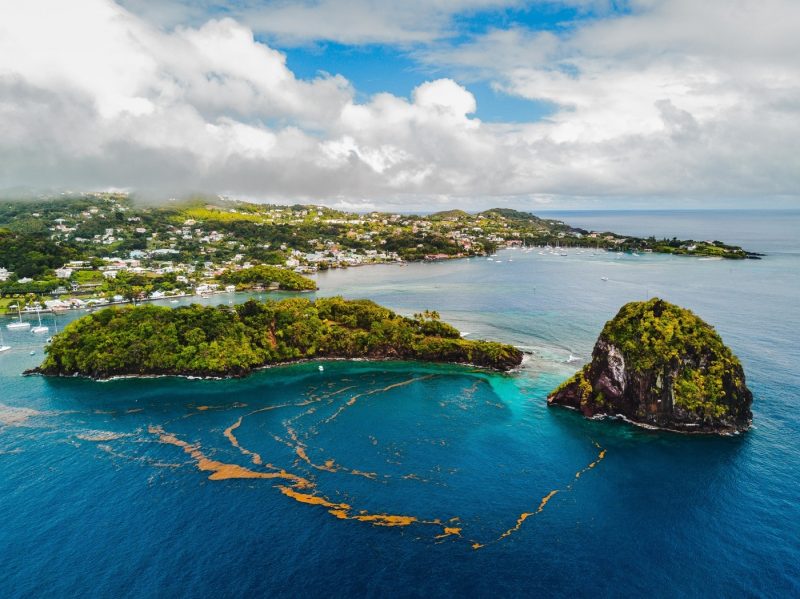 George Apodaca/Unsplash
Of course, the Caribbean's action-packed history has also inspired one of the most famous franchises to be filmed there. Puerto Rico, Dominica, the Bahamas and the Dominican Republic have all been used as locations for the hugely popular Pirates Of The Caribbean movies, but St. Vincent and the Grenadines is the one you should not miss. With its dense rainforests, commanding volcano and tranquil waterfalls, the natural beauty of this unspoilt string of islands served as the perfect setting for Jack Sparrow's on-screen antics. It's not hard to imagine pirates taking refuge on these exotic islands, where cacti-topped cays give way to volcanic black-sand beaches, colonial fortresses stand guard over dazzling coral gardens and a rugged coastline reveals hidden islets and secret coves – perfect, one might argue, for stashing treasure.
I no have education. I have inspiration.
Jamaican-born Bob Marley
To follow in the footsteps of Johnny Depp, head to one of the film's locations at Black Point, an eerie tunnel carved through the rock by slaves in 1815 to help transport sugar from the mills of Grand Sable Estate to the wharf at Byreau. Visit Wallilabou Bay afterwards, which appeared in the opening scenes of the very first Pirates film. All-day restaurant Wallilabou Anchorage is a great spot to grab lunch, enjoy views over the bay and see an extensive collection of props used in the movie itself.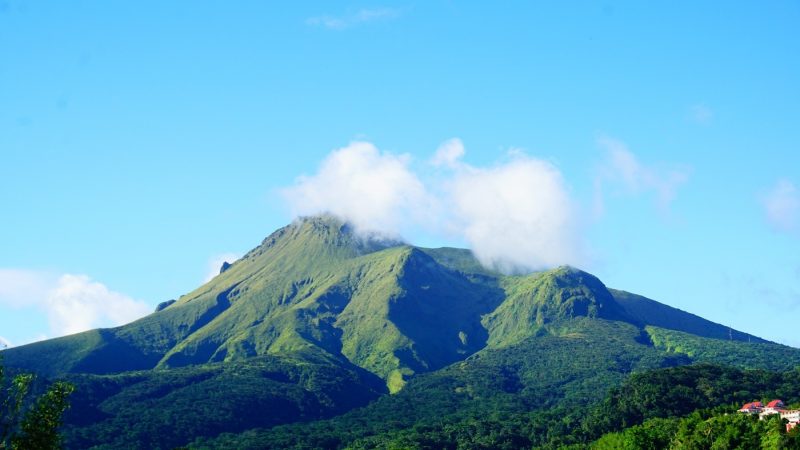 Your Germany/Unsplash
Read all about it
With its enchanting underground caves, thick jungle, mysterious volcanoes and history rich with stories of pirates, battles and sea voyages, it's no wonder the Caribbean has proved the perfect inspiration for so many works of literature.

Its enthralling history and unspoilt, natural landscape have stirred the imagination of everyone from Dominican writer Jean Rhys to Robert Louis Stevenson, Agatha Christie and Ernest Hemingway, who lived for a time in the Bahamas and set his novel Islands In The Stream there. Ann Vanderhoof even lived out all our fantasies in her book An Embarrassment Of Mangoes, which describes how she set sail for the Caribbean on a two-year adventure that saw her visit 47 individual islands. For some writers, the pace of life itself in the Caribbean provides as much inspiration as the tropical surroundings, giving them an opportunity to slow down, find a story they want to tell and the time to write it.
Would these books have been born if I had not been living in the gorgeous vacuum of a Jamaican holiday? I doubt it.
Ian Fleming
Indeed, for anyone with a novel lurking deep within, a trip to the Caribbean is the perfect time to explore the islands for inspiration. Steeped in history, culture and vegetation, fascinating Martinique is the birthplace of the famed poet Aimé Césaire and influential writer Édouard Glissant, so clearly has plenty to stoke the imagination. Between Dominica and St. Lucia, it is an island of contrasts where the idyllic rainforest, towering mountains and still-smouldering volcano of Mount Pelée merge into the bustling capital of Fort-de-France (below) – where miles of powder-soft beaches are lapped by aquamarine sea and fringed with stately palm trees along with candy-coloured colonial buildings.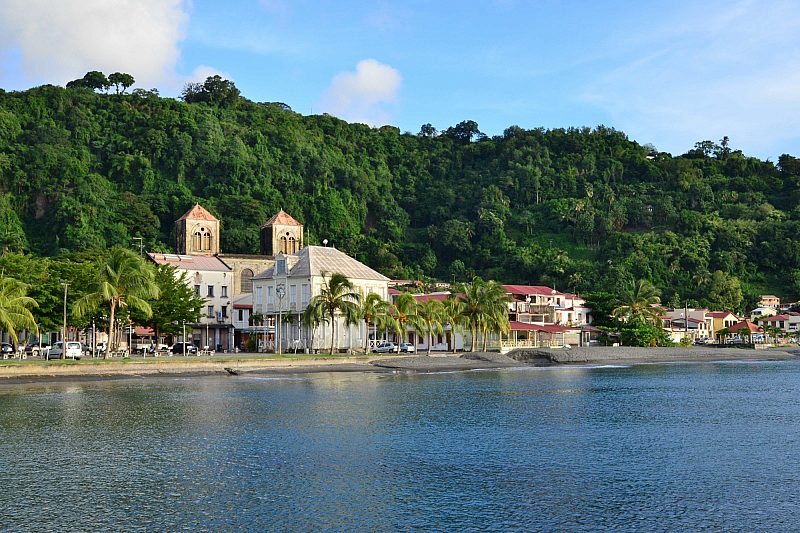 Shutterstock
Described by Columbus as the "most charming land in the world", the island is an overseas department of France with the euro as currency and its very own model of Paris' Sacré-Coeur Basilica in the beautiful Church of Balata. Visitors looking for more inspiration should soak up the island's vibrant Creole culture, a distinct blend of French, Caribbean, African and Middle Eastern influences.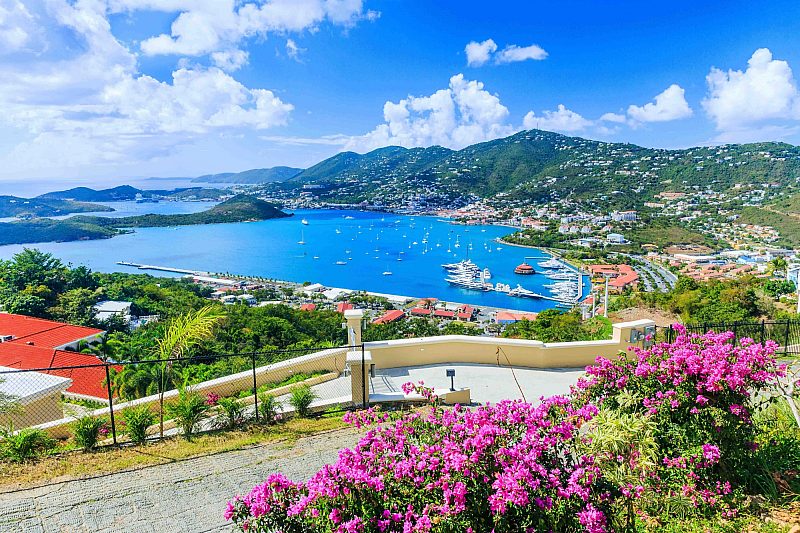 ThinkStock
Finding your own island inspiration
If you want to taste adventure and get a different historical perspective to get the creative juices flowing, St. Thomas in the US Virgin Islands (above) should fit the bill. Just 32 square miles in size, the island is paradise for beach-lovers with calm, clear waters perfect for scuba diving and soft, white sand framed by mountains blanketed in foliage and forest. But the peaceful beaches belie the island's vivid swashbuckling history, which is said to include lively stories of infamous pirate Bluebeard and explorer Sir Francis Drake.
Be inspired for your own tales of adventure by heading east from Charlotte Amalie to Bluebeard's Castle where legend says Eduard de Barbe-Bleue – otherwise known as Bluebeard – hoarded his treasure and watched approaching enemies from his tower. Then take in the view from Drake's Seat, rumoured to be Sir Francis Drake's preferred pirate lookout, before visiting the island's Pirates Treasure Museum, crammed with shipwreck artefacts, virtual-reality experiences and tales of legends gone by. You'll have written your first chapter in your head before you've even made it back to your cabin.
3 more ways to get creative in the Caribbean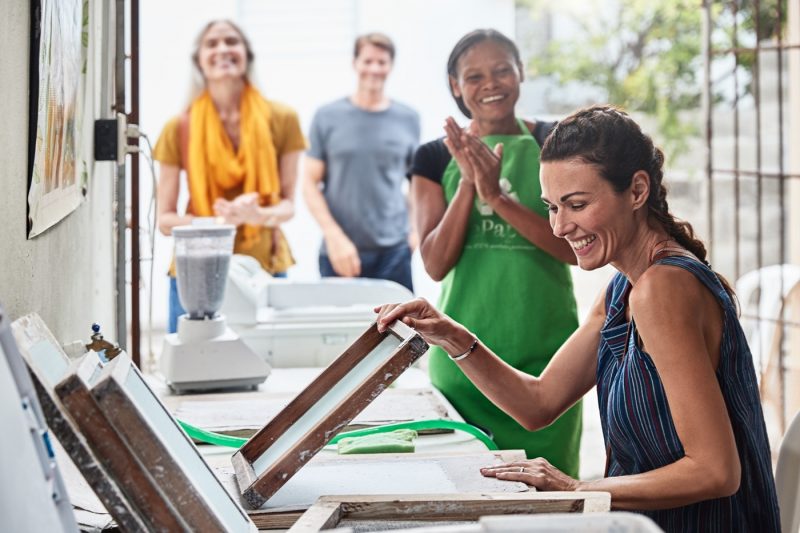 Princess
If you're crafty… In the Dominican Republic, join the fascinating Artisanal Paper With Purpose excursion to visit RePapel, a cooperative that began as a way to teach recycling to the community but blossomed into a women-run organisation that turns old recyclables into beautiful crafts which you can help make and buy.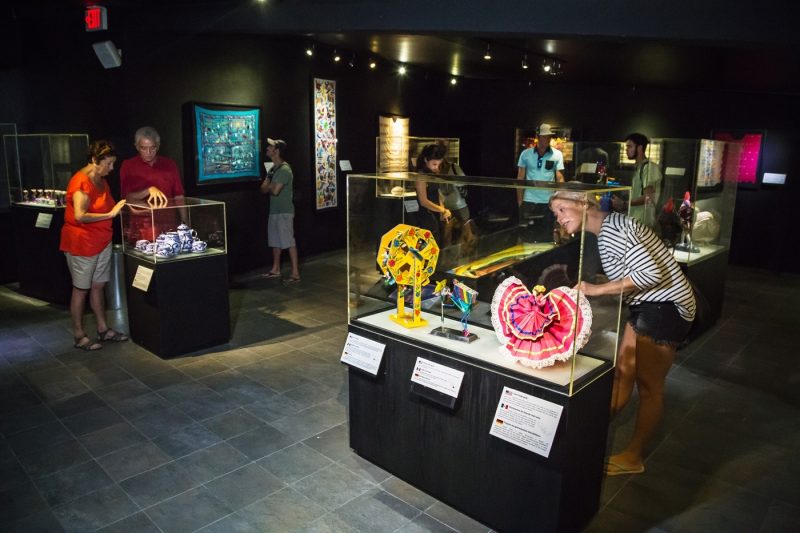 Discover Mexico Park Cozumel
If you love playing with paint… On the self-guided shore excursion to Mexico Park in Cozumel, Mexico, visitors can explore one of the most fascinating cultures in the park and tour the Museum of Mexican Traditional Arts, with work from the best artists. Visit the Alebrije Atelier Room to make and paint a traditional Mexican sculpture.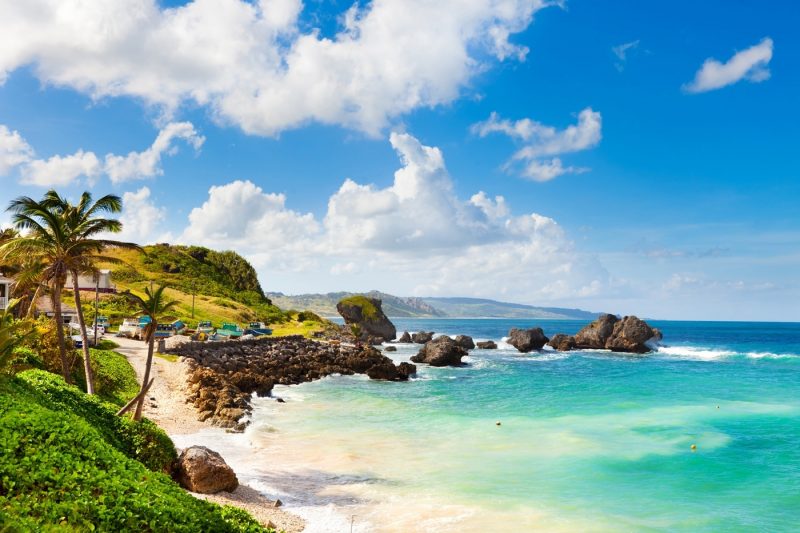 iStock
If you love snapping photos… With its velvet sands, rugged landscape and brightly painted rum shops, Barbados is the ideal backdrop for photographers. The Princess Guided Photography tour, led by pro photographer Ronnie Carrington, takes in the wild, hilly expanse of the Scotland District before travelling to colourful Bathsheba, the most photographed area of the island. With Ronnie on hand for tips, this is the perfect chance to create your own Caribbean-themed artwork.
Experience the Island Inspiration for yourself