Seven of the most beautiful islands in Greece
Explore Greece like never before with our guide to the country's most jaw-dropping islands. Picturesque photo opportunities guaranteed…
Stunning scenery, delectable food, oodles of culture and history, incredible beaches… There's not much the Greek islands don't serve up, and it's no wonder so many of them are cited as some of the best places to visit in Europe. Deciding which to visit can be tricky (there are so many to choose from), so let us steer you towards the best of the best with our pick of the most beautiful islands in Greece. These are the real stunners, boasting heavenly beaches, breathtaking historical sites, whitewashed villages and sunset spots to write home about.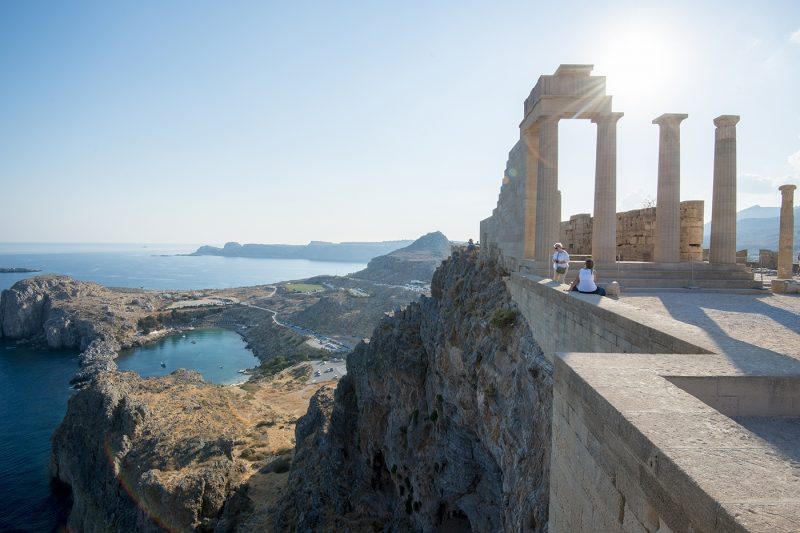 The breathtaking view from the Acropolis of Lindos in Rhodes © Jo Hunt/Robert Harding
Rhodes
Arriving on the largest of the Dodecanese islands is also to step back in time, as handsome Rhodes is shrouded in reminders of an ancient civilisation. Perhaps the most dramatic – and impressive – historical remnant here is the Acropolis of Lindos, a magnificent archaeological site that overlooks the village of the same name, which you can explore on a special Princess excursion. Rhodes' impressive Old Town is also a must-see, offering further glimpses into the history of the island.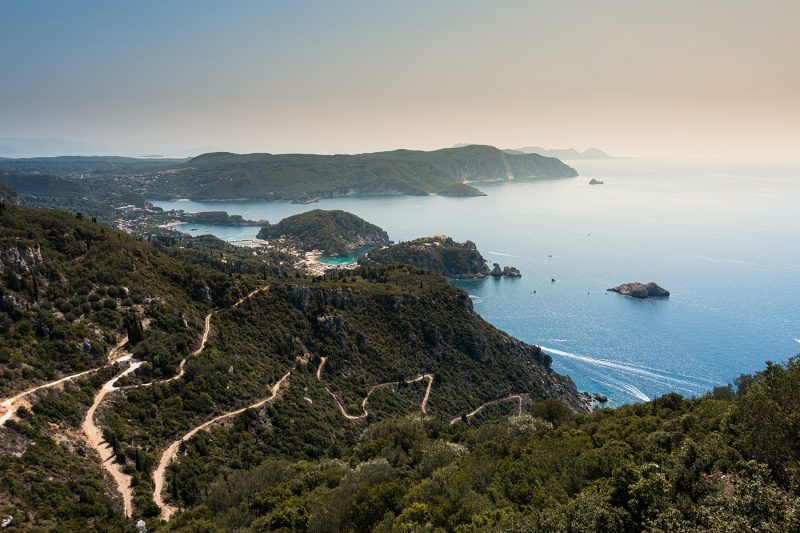 One for the camera reel: the panorama from Angelokastro © Pascal Debrunner/Unsplash
Corfu
For a contrast to Greece's many stretches of golden sand, head to Corfu, which is known as the greenest of the Greek islands, thanks partly to the countless olive groves that engulf parts of its land. Along with luscious greenery, Corfu has an old-world charm, which you'll see in abundance when walking the winding streets of the Old Town, a designated UNESCO World Heritage Centre. In addition to the beaches here, find time to visit Angelokastro, a Byzantine castle that offers panoramic ocean views from its rocky outcrop.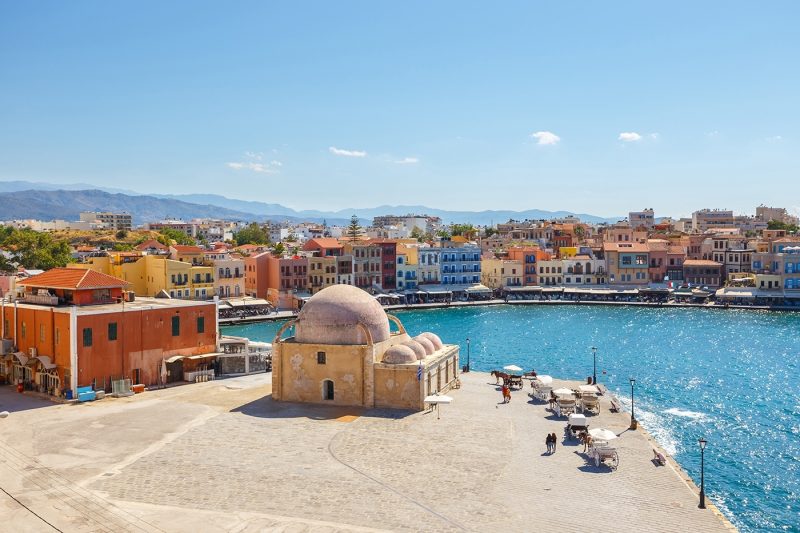 Bright and beautiful Heraklion in Crete © Shutterstock
Crete
The biggest of all the Greek islands has, unsurprisingly, much to write home about. There's a bustling, cosmopolitan city in the capital, Heraklion, but also traditional island highlights elsewhere, including sleepy fishing villages, rocky coves and clusters of colourful townhouses. For the ultimate holiday photo, head to Elafonisi, a tiny island set just off Crete's south-west coast, which is home to truly stunning beaches, some of which have an otherworldly glow thanks to their baby-pink sands.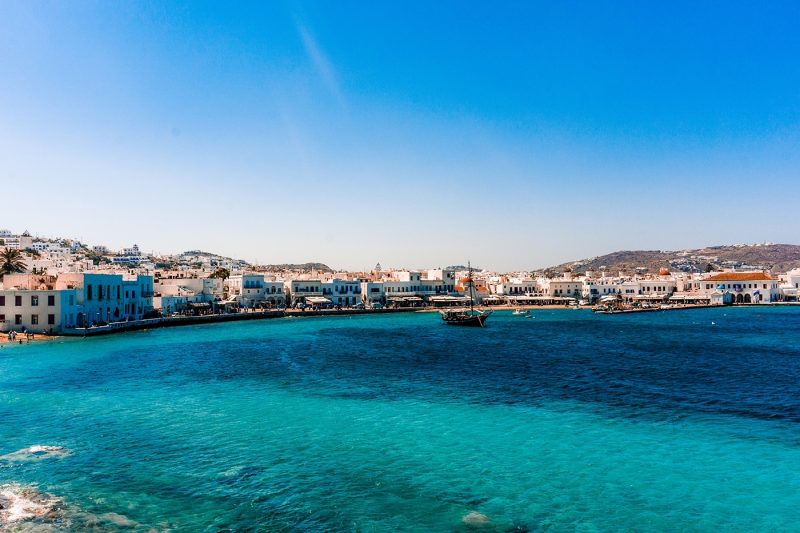 Looking at bustling Little Venice in Mykonos from a distance © Pexels
Mykonos
Often thought of as a smaller, chicer Ibiza, Mykonos does indeed have an undeniable energy. The stylish bars and classy restaurants of Mykonos Town are a must for foodies and wine-buffs – particularly the cocktail bars that overhang the seafront area known as Little Venice – but it's not all about the lively atmosphere here. Track down the marvellous sights that give an insight into the island's rich history, such as the quaint windmills standing tall on the hillside, the exquisite Paraportiani church and the Panagia Tourliani Monastery (all of which can be admired on a Princess island drive). The raw beauty of Mykonos will stay with you long after visiting.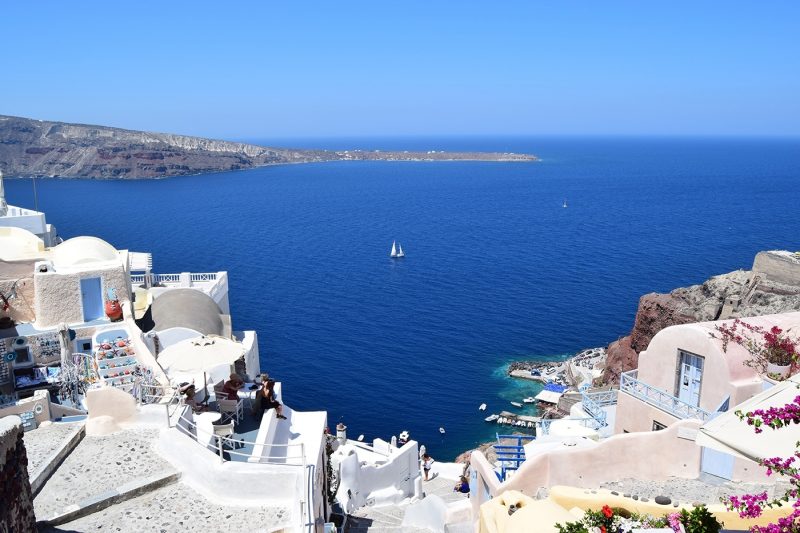 Hill-top vistas from the village of Oia in Santorini © Matthew Waring/Unsplash
Santorini
There's a reason Santorini is so often touted as one of the best places to go in Greece. Parts of the island are simply glorious, particularly in the white houses and sapphire-blue domes of the coastal town, Oia. This is the place to catch the sun setting (a bucket-list experience, which you can enjoy as part of a Princess day trip) and wander winding streets lined with tempting boutiques and souvenir shops. Discover more of the island on the popular, scenic hike between Oia and the island's capital, Fira, too. Do not forget to pack your camera!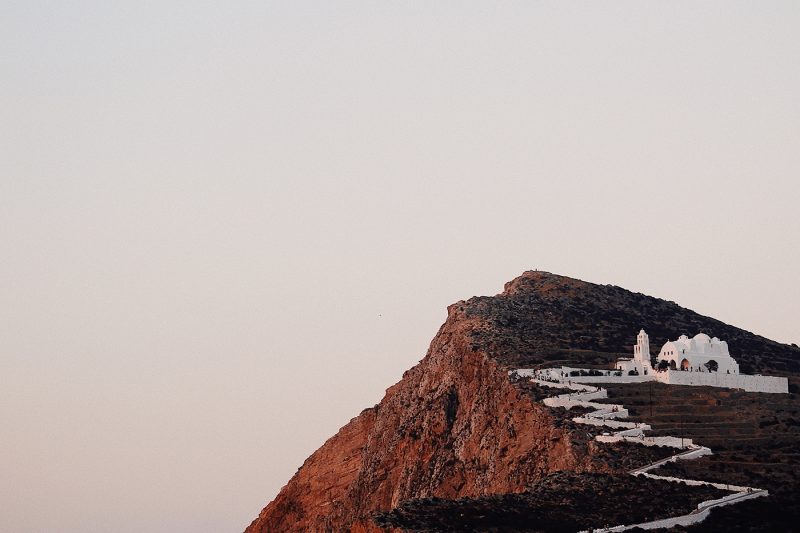 Take a hike along the hills of Folegandros © Chris Ouzounis/Unsplash
Folegandros
This tiny, beautiful island in the Cyclades has become a bit of a hotspot in recent years. Its three villages are calm and serene, while there are fantastic beaches to be explored (some of which can be reached from the island's well-trodden hiking trails). When it comes to wining and dining, the utterly pretty main town of Chora comprises of a few dinky streets brimming with inviting bars, cafés and restaurants.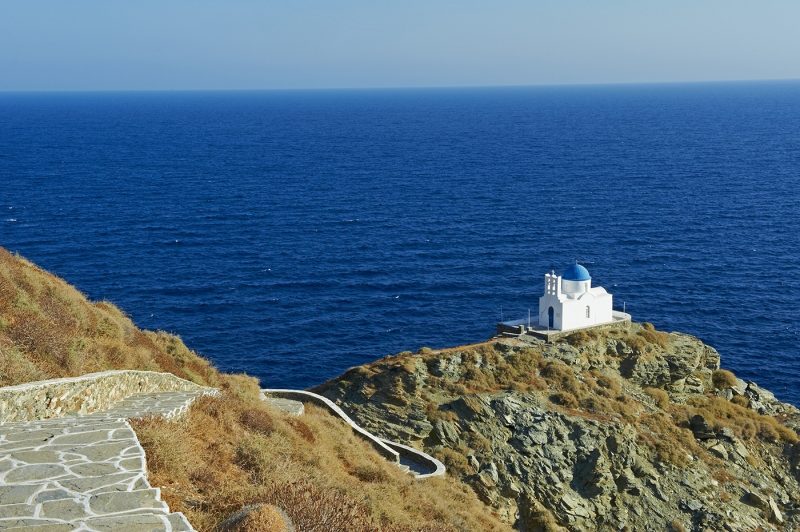 The stunning church of Seven Martyrs in Sifnos © Tuul/Robert Harding
Sifnos
Perhaps the biggest draw on the island of Sifnos is Kastro, a gorgeous medieval village untouched by time, and home to the Church of the Seven Martyrs, which perches dramatically on a cliff overlooking the ocean. That alone is a sight you won't forget in a hurry. Plus, Sifnos is a blossoming foodie haven. Be sure to try local specialities such as herby, deep-fried chickpea balls and revitha, a simple chickpea stew slow-cooked in a clay pot, which is deceptively rich in flavour.
Excited to explore the Greek islands?