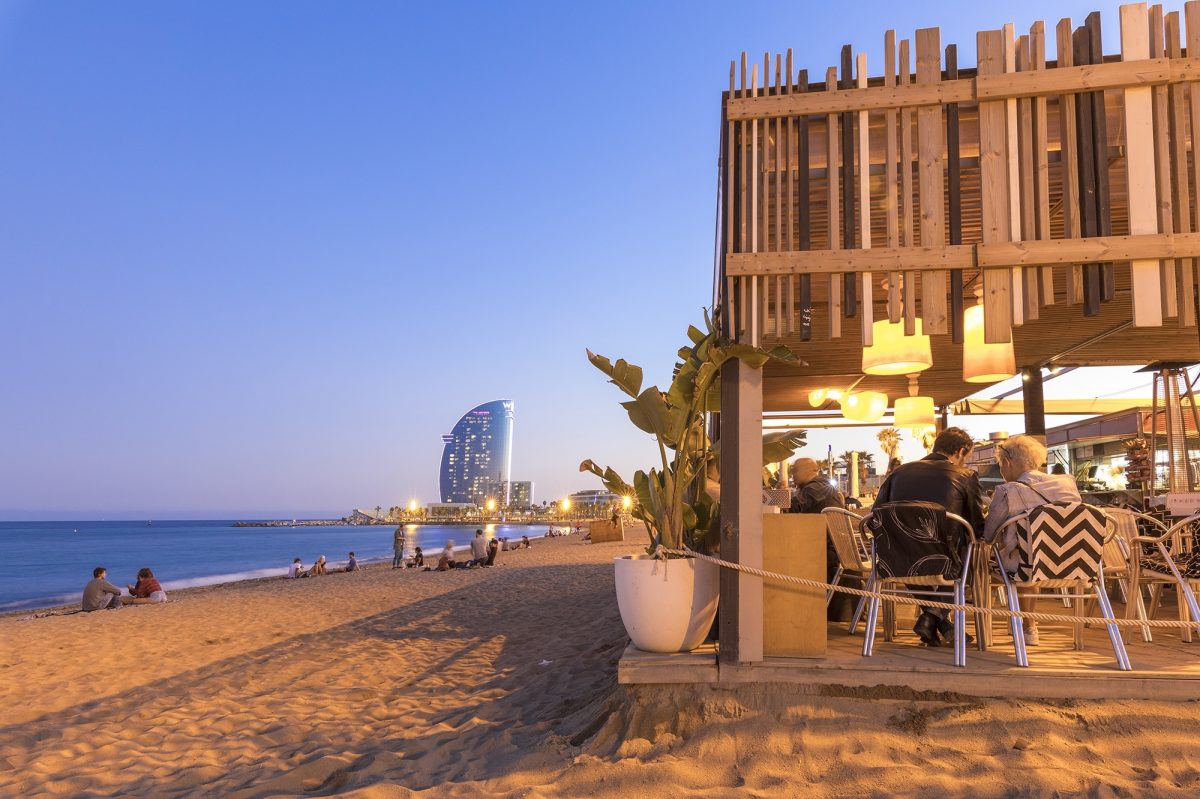 © Roberto Moiola/Robert Harding
Seven of the best restaurants in Barcelona
There are thousands of restaurants in Barcelona but head straight to the great ones with our gastronomic guide to the Catalan capital
When you think of food in Barcelona, you're most likely visualising plates of tapas and cuts of jamón hanging from the corners of every café. And while you can indeed track down exquisite tapas and paella, there's also so much more to the city's culinary palate, as you'll discover in our pick of the best restaurants in Barcelona. From fine-dining to family friendly spots, you'll find it all here, whether you're after a sensational Spanish feast or simply a quick hit of churros and chocolate.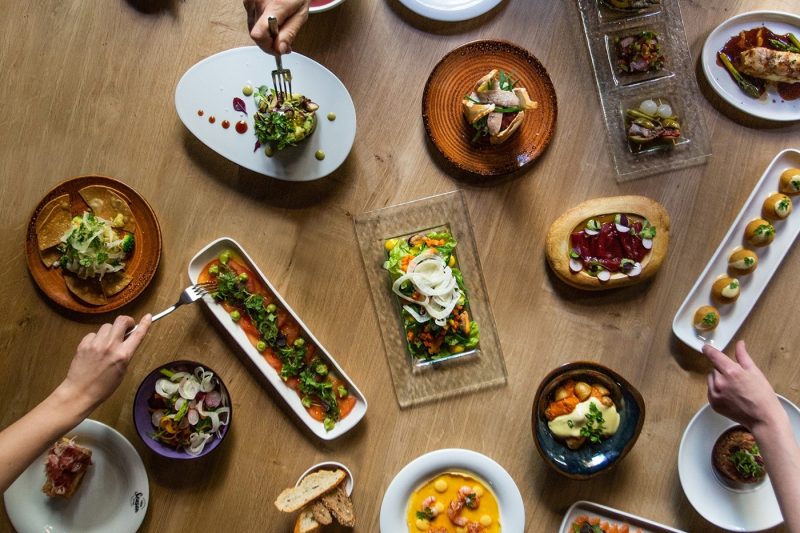 Tuck into some of Barcelona's best tapas at Season © Season
Season
Best for: top tapas
It's easy to find tapas in Barcelona. It's not easy to find great tapas, however. Thankfully, that's exactly what you'll discover at Season. The dishes at this under-the-radar treasure are based around seasonal ingredients and mix traditional flavours with a little contemporary flair. The menu is small enough for the chefs to put their all into each dish, yet there's something for everyone, regardless of diet. You can also pair your tapas with bespoke cocktails, which are mixed to match your meal. For a taste of more traditional Spanish cuisine, consider booking on to an evening excursion that chaperones you to a paella restaurant before treating you to another great Spanish tradition, a live flamenco performance.
El Menjador
Best for: splashing out
Choose between three exquisitely crafted nine-course tasting menus at acclaimed chef Xavier Pellicer's fine-dining restaurant, El Menjador. The menus cover vegetarian, vegan and omnivore selections and all showcase the chef's focus on creative vegetable dishes. It's high-end, high-quality cooking all the way here, and well worth splurging on for a special occasion. But make sure you book ahead, as the restaurant's capacity is only 20 people. For something more informal – but just as delicious – step next door into Xavier Pellicer, which offers more tables and a larger choice.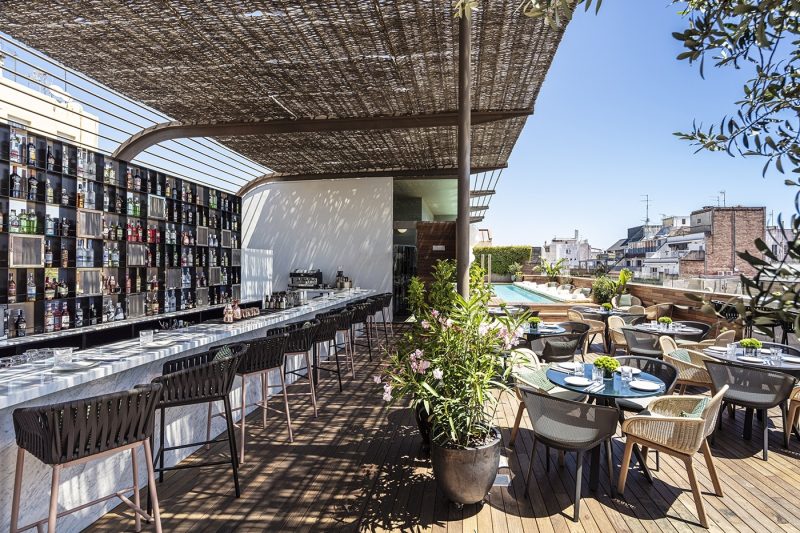 Soak up the sun on Sir Victor's rooftop © Sircle Collection
The Rooftop at Sir Victor
Best for: dreamy views
Combine lunch with sightseeing at this gorgeous rooftop restaurant, where you can soak up views of the iconic La Sagrada Família and the marvellously modernist Casa Milà building, two masterpieces by Catalonia's architectural prodigy Antoni Gaudi. As you admire the vista, work your way through light bites and tapas (including the always welcome Barcelona staple, pan con tomate) on the bar snack menu, plus a few of Sir Victor's brilliant cocktails. We recommend the Umami Old Fashioned made with whisky, shiitake mushrooms and dark beer.
La Nena
Best for: sublime sweet stuff
You could argue that this neighbourhood institution is more of a café than a restaurant, but once you get inside La Nena and start eyeing up the heavenly baked goods and the famous churros, you won't care that tapas don't make an appearance on the menu. There are various breakfast and lunch choices if you're craving something savoury, but our recommendation is to dive head-first into the sweet treats, which include fresh crepes, fluffy pastries, moist cakes and the aforementioned churros, served with a mug full of chocolate sauce. It's also a lovely place to while away an afternoon, with board games to play while you munch treat after treat.
Pudding
Best for: family feasting
If the kids aren't quite sold on tapas, keep them – and yourself – sweet at Pudding, one of the most family focused eateries in Barcelona. The venue looks more like an enchanted woodland or a Harry Potter set than a restaurant, but the fun doesn't stop once you're seated, as there's also a huge range of arts, crafts, games and books for little ones to get stuck into. If you can tear them away, there's a selection of homemade sandwiches, salads, breakfast options and delicious cakes to keep the whole brood fuelled.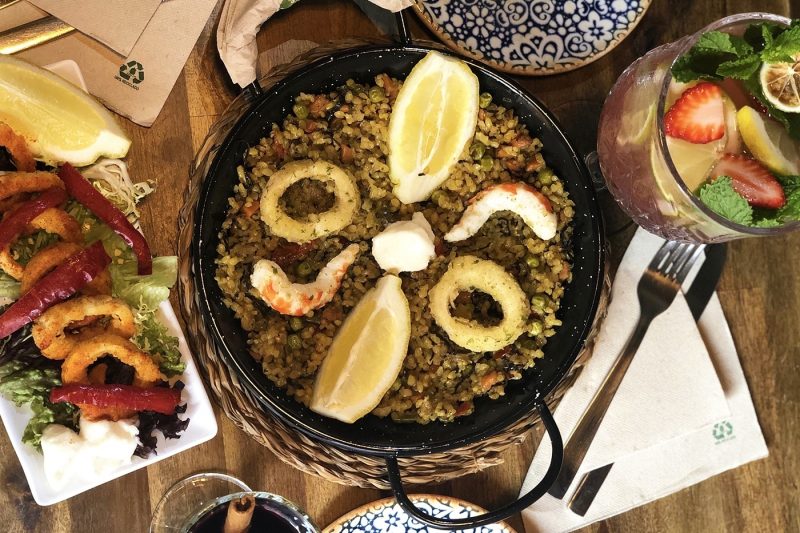 BarCeloneta's 100% plant-based version of traditional paella © BarCeloneta
BarCeloneta
Best for: vegan eats for all
With so much queso, jamón and pescado around the city, Barcelona might seem a little tricky for vegans and vegetarians, but scratch below the surface and you'll find that there are tons of great meat-free and wholly vegan eateries. One of the best and most accessible is BarCeloneta, a lively gem near the beach. It offers plant-based versions of Spanish classics like paella (with soy-based prawns, see above), fried calamari and croquettes, washed down with your pick of eight different homemade sangrias or artisan vermouth, wine or beer.
Mosquito
Best for: a tasty trip to Asia
Go global while on your Barcelona gastronomic pilgrimage and duck into this small, popular venue, which offers up all kinds of Asian dishes served tapas-style. There's dim sum, pho, gyoza, noodles, salads and much more on offer at Mosquito and, thanks to the owner's passion for craft beer, you'll find an excellent selection of quality brews to sip.
Excited to explore Barcelona?