A foodie's guide to Ocho Rios, Jamaica
Travel writer Angelina Villa-Clarke on finding the true flavour of this Caribbean island – through its foodie scene of course
All about life with a laid-back, joyful vibe, Ocho Rios, on the north coast of Jamaica, has to be my favourite Caribbean town – a world away from the urban hustle of Kingston and the big touristy resorts lining Montego Bay. To get under the skin of the place, try a plate of authentic jerk chicken with rice and peas. Scotchies (found just 10 minutes from Ocho Rios' port) serves some of the best jerk on the island. Little more than a roadside hut, you eat perched on revamped oil drums, under a thatched-raffia umbrella. The spiced meat is cooked on open-fire grills and served with a line-up of traditional accompaniments, such as bammy (a cassava flatbread) and festival (a sweet, fried dumpling). If you dare, add a dollop of the home-made pepper sauce – made liberally with marinated scotch bonnet peppers. Be warned: it's hot, hot, hot.
Tracks & Records, meanwhile, on Main Street, is headed up by another famous Jamaican export – Usain Bolt. Inspired by the home-cooked flavours of Jamaica, its curried shrimp and plantain will have you putting the restaurant on a culinary pedestal all of its own.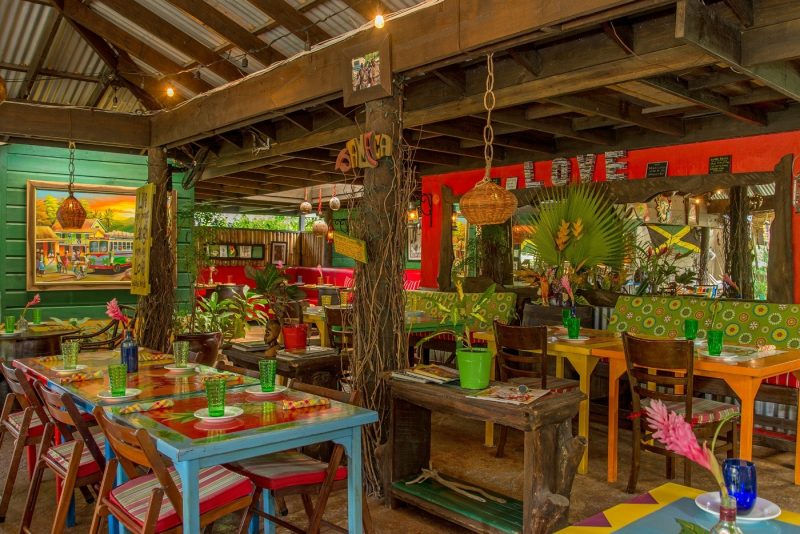 Miss T's Kitchen in Ocho Rios
The vibrant Miss T's Kitchen (above), just off Ocho Rios' main street, has a soundtrack of old-school reggae in a colourful dining room. Run by Anna-Kay Tomlinson, it puts at its heart the island's rustic country cooking – from lobster rundown (cooked in coconut milk and herbs) to veggie dishes, like pumpkin stew or chickpea stack (in honour of the Rastafari, some of whom are vegetarian).
Sail and unwind island style on a Princess Caribbean cruise
Once you've sated your appetite, you'll find that Ocho Rios also satisfies the soul with its huge range of things to do and see. The Reggae Xplosion Museum (found in the Island Village shopping centre) celebrates the island as the birthplace of reggae and traces the history of the genre back to its African roots. Adrenaline junkies can 'tube' along three miles of the dramatic White River or zipline over Dunn's River Falls – the 600 ft cascading waterfall. As Jamaicans would say, 'It's totally irie'.