The ten best things to do in Guernsey
Blissful beaches, hiking, cycling, artisan gin tastings – this Channel Island won't fail to impress
It may be less than 100 miles from England's southern coast, but once you arrive at this charming Channel Island you'll feel worlds away from anywhere else. Guernsey has everything you could wish for in a holiday: the pretty capital of St. Peter Port exudes a real Mediterranean feel, while there are luscious public gardens to wander, modern art galleries to explore and an array of historical wonders to marvel at. This small but perfectly formed island is one of the best places to visit in the UK for couples, families, solo travellers and for old friends reuniting. But where to start? Here's our pick of the ten best things to do in Guernsey.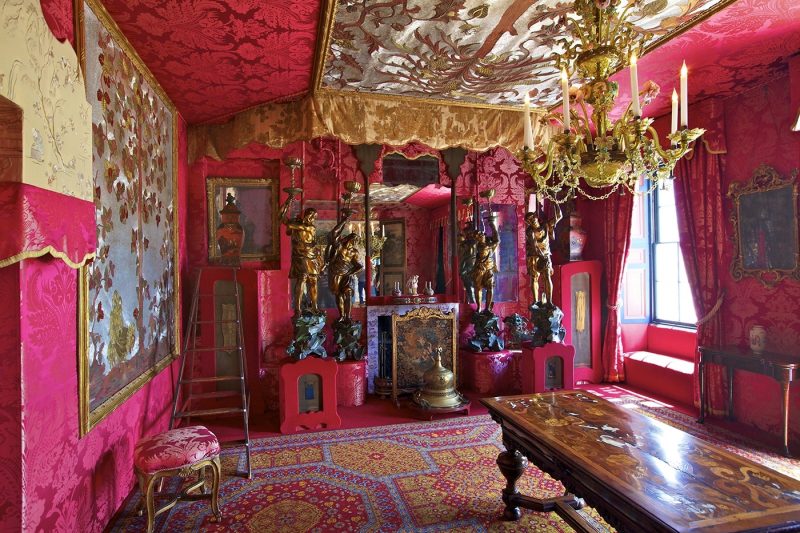 The grand Red Drawing Room at Hauteville House © Neil Farrin/Robert Harding
Enter the mind of a literary genius at Hauteville House
You'd hope the home of Victor Hugo, one of France's most important writers, would reflect his wildly creative personality. Thankfully, it does just that, and then some. Hugo lived at Hauteville for 14 years and wrote some of his masterpieces here, including , but he also found time to decorate the house in a suitably eccentric and colourful style, making for an eye-opening tour experience.
Become a gin genius
The Bella Luce Hotel has a lot going for it, not least its on-site distillery in the cellar, where local tipple Wheadon's Gin is made. Learn while you sip in the Gintroduction Experience, which gives an overview of both the distillery and the history of gin, or swot-up on your botanicals in an hour-long tasting session. Chin-chin.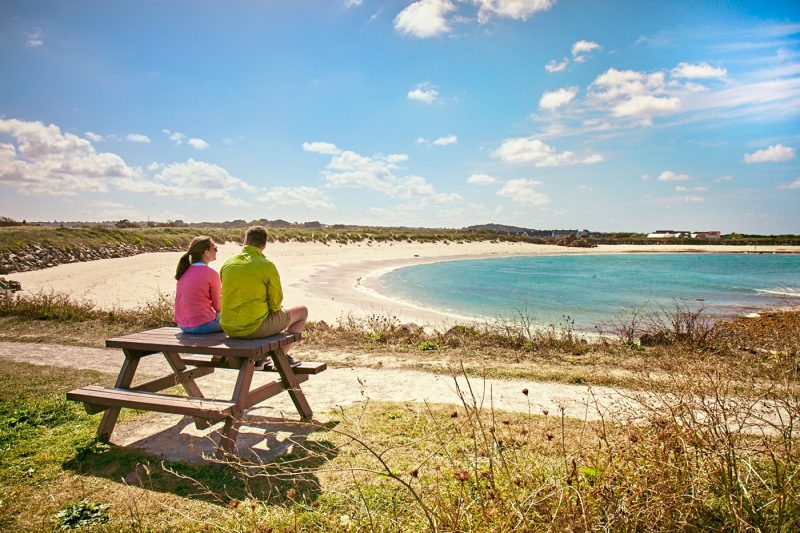 Be sure to stop off at Port Soif Beach © Images courtesy of VisitGuernsey
Hit the beach
Guernsey is blessed with truly superb beaches, so make sure you spend some time on at least one of them. We recommend the white sands of Port Soif and the tucked-away Moulin Huet, which has great views of the surrounding rocky coast. Even if summer is but a distant memory when you arrive here, Guernsey's beaches are stunning all year round and provide the perfect opportunity for a bracing winter walk.
Get back to nature on two wheels
Guernsey is home to all sorts of fascinating species of birds, and both kids and adults will love hopping on a bike and looking out for them on a guided cycle tour. You'll ride through a nature reserve and to Lihou Island (look out for the striking orange bills of oystercatchers here), plus visit some of Guernsey's top sights and hidden beaches along the way.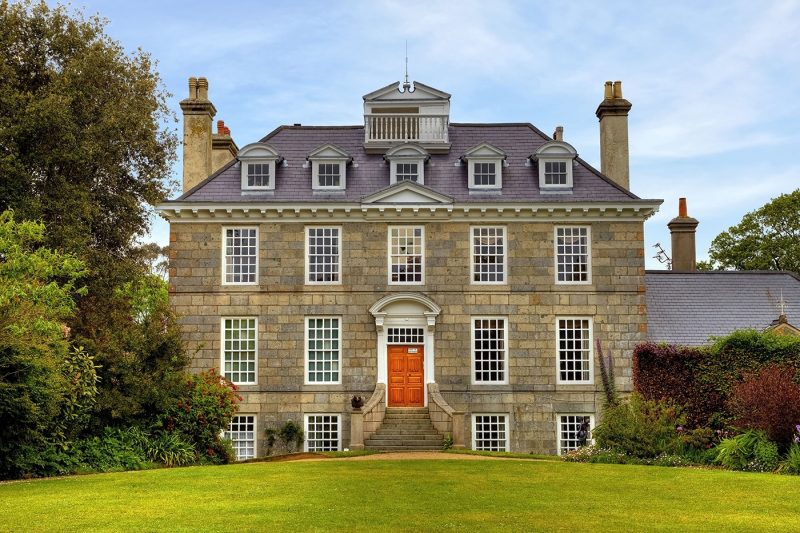 Sausmarez Manor offers fun for all ages and interests © J. Kruse/Robert Harding
Explore history and horticulture at Sausmarez Manor
Guernsey's only stately home is a fine place to while away a day. As well as the house itself, which gives a glimpse into the lives and art of the Sausmarez family, the beautiful grounds are also a must-see, particularly the exotic subtropical gardens. Regular events take place here, including farmers' markets and tours of the eclectic sculpture park, which exhibits works from different artists every year.
Pamper yourself at a day spa
You're on holiday, so indulge yourself at one of Guernsey's most luxurious venues, St Pierre Park Hotel. Set amidst verdant grounds, the hotel houses a magnificent spa complex, featuring a swimming pool, a sauna made of volcanic stone, a marble steam room, treatment rooms for massages, facials, pedicures and polishes, plus an outdoor hot tub. You'll float back to the ship after a day spent here.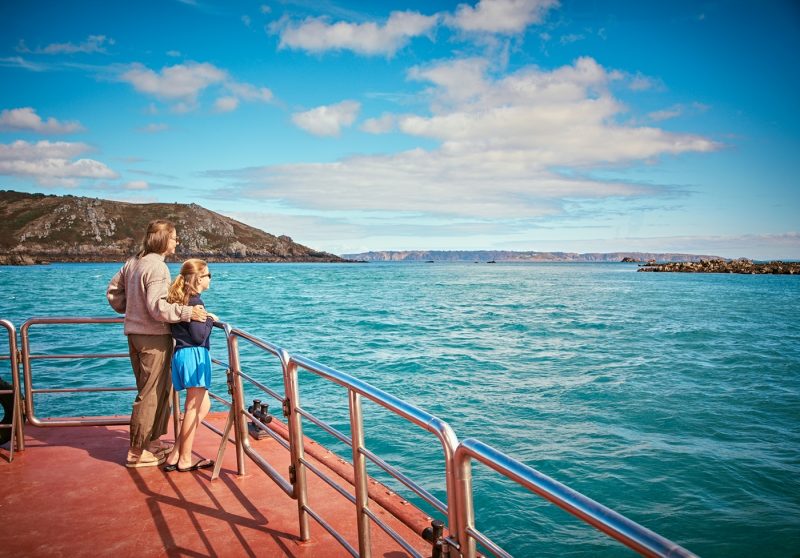 Jump on the ferry to beautiful Herm Island © Images courtesy of VisitGuernsey
Be charmed by Herm
A short ferry ride away from Guernsey's capital, St. Peter Port, is Herm, a beautiful and peaceful island (thanks to its 'no-car' policy) that's ideal for a guided half-day jaunt. Herm is home to excellent beaches (Belvoir Bay is popular with families and offers great snorkelling), hiking trails, quaint gift shops and plenty of opportunities for eating and drinking. Try the locally loved Mermaid Tavern for hearty pub grub served with sea views.
Grab a photo by The Little Chapel
The name doesn't lie: believed to be the world's smallest consecrated chapel, this famous, miniscule wonder was built by a French monk, Brother Deodat Antoine, and is often noted as one of the best attractions in Guernsey. Built partly from colourful china and pebbles painstakingly collected by Deodat, it's a hugely impressive feat and an essential photo-stop when on the island. Visit as part of an excursion that also takes in some of the island's most dramatic scenery, too.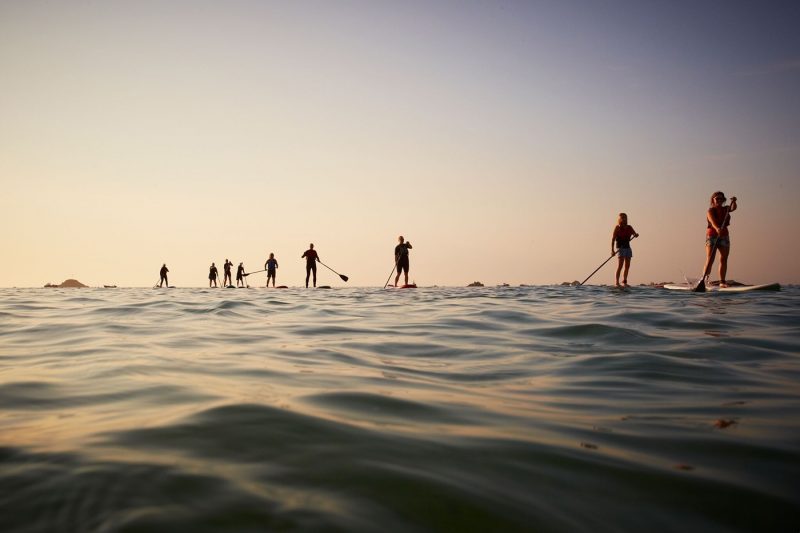 Dare to give paddle boarding a go in Guernsey © Images courtesy of VisitGuernsey
Find your sea legs
Guernsey loves its aquatic activities, so why not join in? Kayaking is a great way to see some of the island's best spots, including tucked-away coves and caves, and there's even a chance to spot puffins from March to July on kayaking trips from Herm island. There's stand-up paddle-boarding for those wanting to try something new, or you can satisfy a need for speed on a jet-ski safari, where you'll zip to and from various points around the Bailiwick of Guernsey coast.
Do a culture crawl
Guernsey's accessible size means that culture-seekers can easily visit a clutch of galleries and museums, even if you're only on the island for a few hours. We recommend Coach House Gallery – found in a beautiful old building and showcasing contemporary art from local and international names – and Guernsey Museum (in the beautiful Candie Gardens) for an insight into local life. The Guernsey Museum is also a great place to bring the kids, thanks to The Discovery Room full of games and puzzles, and interactive activities throughout various rooms.
Excited to explore more of the British Isles?