Why a Princess cruise offers incredible value
Our all-inclusive packages, bumper-packed cruisetours and abundance of free onboard entertainment make for brilliant value holidays
Visiting numerous destinations in one single trip, luxurious onboard food, drink and facilities, and the ease of having someone else take charge of your itinerary are some of reasons that tempt many people onto our ships. But did you know that a cruise holiday can also be excellent value for money?
Now, more than ever, people are having to think carefully about finances and are looking for maximum bang for their buck when planning a trip away. Along with our all-inclusive family cruises, discover more reasons why a Princess holiday can be brilliant value…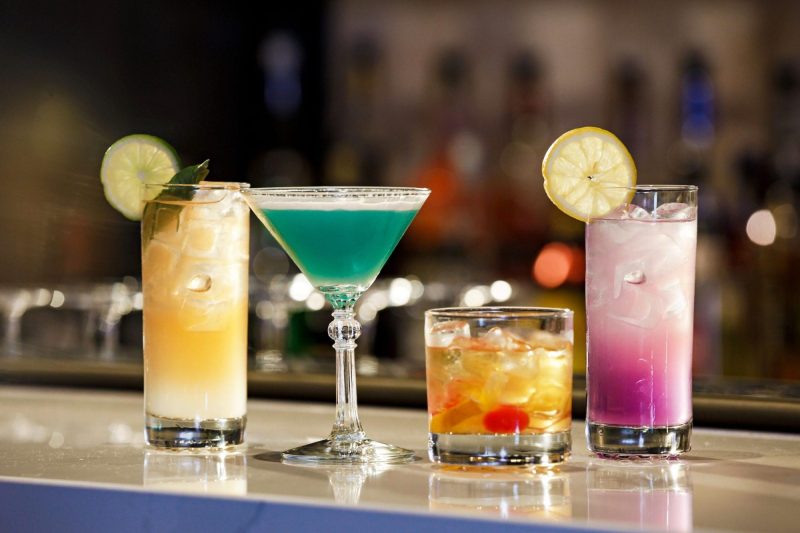 Enjoy drinks with our all-inclusive packages, Princess Plus or Princess Premier © Princess
Our all-inclusive packages make things simple
Knowing the total cost of your holiday before you've even left home can offer huge comfort if you're budgeting, so our all-inclusive packages – Princess Plus and Princess Premier – which are paid for upfront, are a great option.

For just £40 per guest, per day, Princess Plus includes crew appreciation, unlimited Wi-Fi for one device and a Plus Beverage Package on top of accommodation, entertainment, standard dining and the innovative MedallionClass experience. Princess Premier is our top-tier package and includes all the above but with a Premier Beverage Package and unlimited Wi-Fi for up to four of your devices, as well as two meals in our speciality dining restaurants and a photo package. This is only £60 per guest, per day.

Our Princess Standard fare, which includes accommodation, standard dining and all your entertainment, is still great value, however alcohol, premium drinks and staff incentives aren't included and are paid for at the end of your sailing.
You can avoid international flights
Sail on one of our round-trip itineraries from the port of Southampton and you can avoid the cost of international flights on top of your cruise fare. It's easy to travel straight to Southampton cruise port by car, taxi or public transport, such as coach or train, and owing to no air travel, you won't be restricted by airline baggage rules. There are no baggage limits with Princess, so you can arrive on embarkation day with as many suitcases as you like.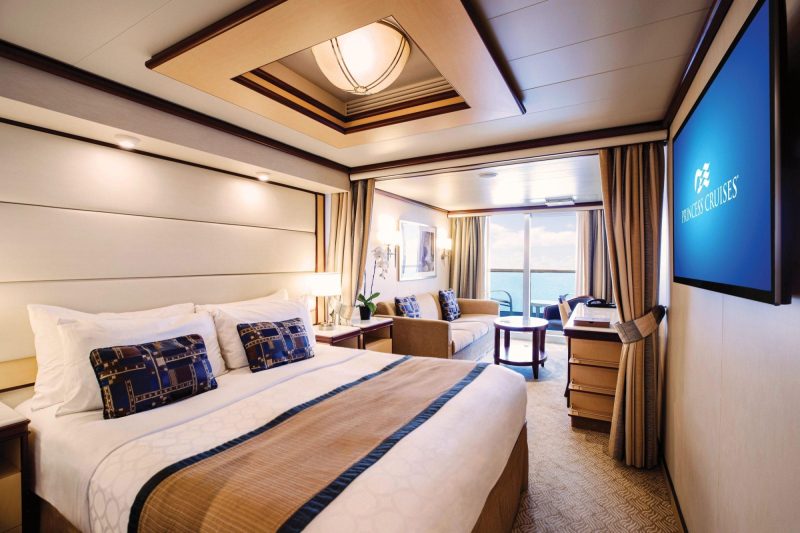 Extra beds can be added to a selection of our staterooms, including our Mini Suites © Princess
Our staterooms are spacious
If you're cruising with children or in a large group, many of our staterooms can accommodate extra beds, easily making room for a third or fourth person. Requesting for sofa beds to be made up in our Suites and Mini-Suites or choosing a stateroom with Pullman beds (which fold from the wall or ceiling), as opposed to booking extra staterooms, can reduce the price of your trip all while ensuring a comfortable journey for everyone.
You get more destinations for your money
By its nature, a cruise most often takes in multiple destinations, meaning it's easy to visit a whole host of wonderful places on one single holiday. This is incredibly good value for money when compared to paying for individual travel tickets, transfers and possibly foreign visas all separately. Travelling via a cruise also eliminates the hard work of organising all the above!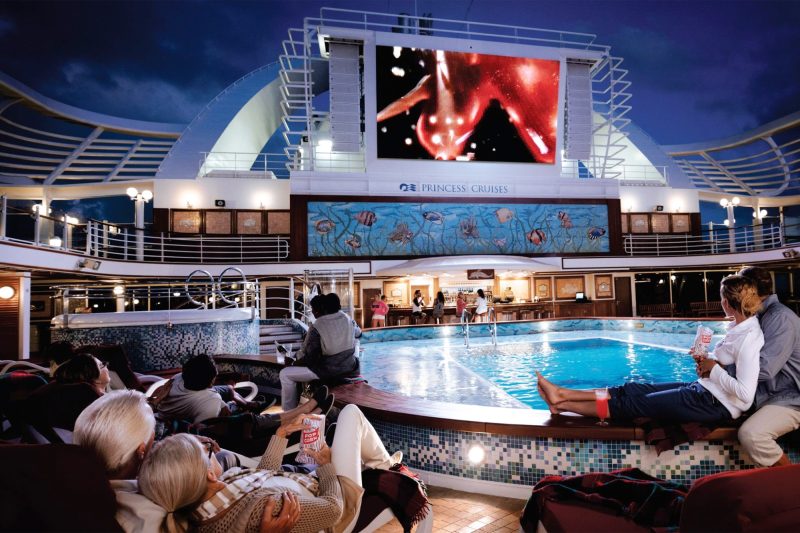 Sit back and relax out on the top deck with Movies Under the Stars © Princess
The best things onboard are free
There's so much to do onboard a Princess ship: take a dip in one of many hot tubs and swimming pools, watch a movie literally under the stars, work up a sweat in the gym, laugh until you cry at live comedy gigs and get lost in the dancing, drama and high-end production of one of our many theatre shows. Even better – all of this comes as standard, whichever cruise fare you opt for.
Our cruisetours cover pretty much everything
If you're wanting to embark on a truly once-in-a-lifetime trip but are wary of spiralling costs at the same time, a Princess cruisetour is a smart choice. These jam-packed packages offer outstanding value by covering your entire cruise and on-land itinerary, all your accommodation and some main meals in one single price. What's more, our cruisetours provide a manageable (and luxurious) way of exploring all kinds of far-flung destinations. For example, you can head Down Under and explore the Outback's show-stopping landscapes on a 19-night Australian Outback cruisetour, or marvel at the splendour of wild Canada in an all-encompassing Heart of the Rockies cruisetour, all for a set booking price, keeping you in control of spending from the outset.
Keep an eye out for our hot deals, too…
Throughout the year, we run exceptional offers on our cruises and onboard packages, which include £1 deposit deals, stateroom upgrades and much more. Visit princess.com
to discover any current promotions.
Excited to book your next cruise?