The Journey photography competition
While you might not have added to your collection of holiday albums recently, we're giving you an excuse to scroll through your past cruise photos – taking you back to some of your favourite shore excursions and onboard memories, no doubt. We're launching our Journey photography competition, where one of your travel snaps could win you a luxury Tripp luggage set.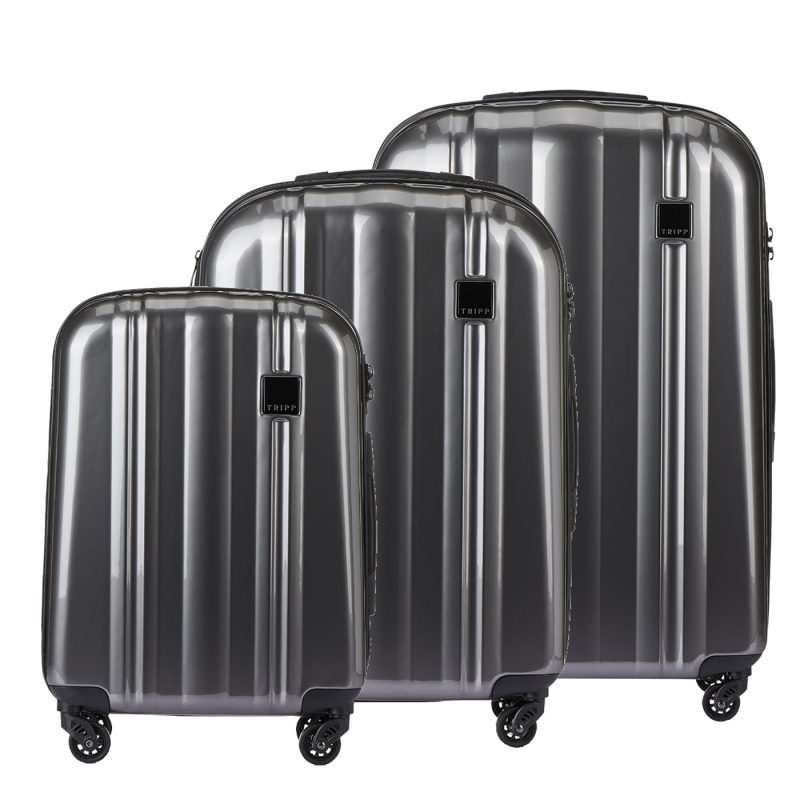 The prize: a three-part Tripp luggage set
This summer, we're looking for photographs in four categories. If you've taken an incredible picture on a Princess cruise that falls into one of the below, then be sure to enter it!
Getting to know nature
Beaches you've been dreaming of
Sunsets from deck
Sensational sailaway views
We'll be picking one finalist from each category and, from those four finalists, Princess ambassador Phillip Schofield will choose one overall prize winner. The prize winner will receive a three-piece Tripp luggage set, which includes a large, medium and cabin-sized suitcase (as pictured right).

Each finalist's photo will be showcased in our Journey winter issue, while our favourite photos from each category will feature in an online gallery on the Journey website.
A brilliant photo can transport you straight back to your happiest holiday experiences
Phillip Schofield, Princess ambassador
How to enter
You can submit your photo and complete our entry form below. Be sure to complete the submission form fully and correctly in order for your entry to be counted. Lastly, do note that photo submissions can only feature a person that is you and no one else. See the terms and conditions below for more information.

Note: all fields are required.
Terms & Conditions
Open to UK residents aged 18 and over. To enter, complete the competition entry form 'JOURNEY PHOTOGRAPHY COMPETITION' at princessjourney.co.uk in full, uploading a photo that only includes yourself (no other persons are permitted) as well as a short summary of the photo. Entries in the incorrect format will not be considered. The judging panel will comprise of personnel from The National Magazine Company Limited (trading as Hearst Magazines UK) and Carnival plc (trading as Princess Cruises) ("Princess Cruises") and will be led by Princess Cruises' ambassador Phillip Schofield. Four entries (one per category), will be shortlisted and one winner will be selected. The winner and shortlist entries (photo and full name) will be featured in the 2020 winter edition of Journey magazine and will be used in an online gallery on the Princess Cruises' Journey website. This competition is only open to Princess Cruises' guests/passengers and the images submitted must have been taken by the entrant while on a Princess cruise, confirmed by ticking the declaration box on the online entry form. Please note that only entries with this box ticked will be considered by the judges. Proof of travelling with Princess Cruises must be confirmed by entering your Captain's Circle membership number on the online entry form. Only entries with this box completed will be considered by the judges. All submitted photographs must be in the sole and exclusive ownership of the entrant and must not infringe on the copyright of any other party. By entering this competition, the entrant agrees to grant Princess Cruises and Hearst Magazines UK a non-exclusive perpetual licence to reproduce, publish, transmit and exhibit the entrant's submitted image. All rights ownership pertaining to any images submitted for consideration will be transferred to Carnival PLC and by entering this competition and ticking the transfer of rights box on the entry form you hereby assign to Carnival PLC all intellectual property rights including copyright, in the photograph, including all rights and remedies in respect of any infringement of such right and all rights relating to the exploitation, printing and distribution of the photograph for the full term of such rights. Please note that this agreement box must be ticked for the entry to be considered by the judges. There will be one winner. The one prize is a set of luggage (Tripp large suitcase, medium suitcase and cabin-sized suitcase). All elements of prize(s) are subject to availability and may be subject to change. Prizes are non-transferable, non-exchangeable and no cash alternative is offered. By taking part in this competition, entrants confirm their acceptance of these terms and conditions. The winner will be selected by a judging panel after the closing date from all valid entries received. This competition opens at midnight Wed 26th August and closes at midnight on Fri 16th October 2020. This competition is not open to employees of Carnival Corporation & PLC, their families or anyone associated with this draw, including the promoter's advertising agency and sales promotion consultancy, or anyone else connected with the creation and administration of the competition. Only paying passengers may enter therefore Influencers and press are exempt. Only one competition entry, fulfilling the eligibility requirements above, will be accepted per person. Once selected, only the winner(s) will be contacted personally by Mon 16th November 2020 by email using the contact details provided upon entry. The winner will have five (5) working days to respond in full or another winner will be selected. Princess Cruises' decision is final in every situation, including any not covered above and no correspondence will be entered into in respect of the validity of any such decision. Princess Cruises shall be permitted to exclude or disqualify any entrant at any time at its sole discretion. Princess Cruises reserves the right to exclude late, incomplete or multiple registrations, or registrations made by third parties or agents. Princess Cruises does not accept any responsibility for late or lost entries. Proof of sending is not proof of receipt. The name of the winner(s) will be available by sending a stamped addressed envelope to Journey, Princess Cruises, Carnival House, 100 Harbour Parade, Southampton, SO15 1ST indicating the name of the competition. No purchase is necessary. Once entered, entries cannot be returned/withdrawn. Spammers will be disqualified. Prizes must be taken as stated and cannot be deferred although Princess Cruises reserves the right to (i) cancel and/or withdraw this competition and/or (ii) amend these Terms, at any time without notice. We will use the information you supply to process your competition entry. To the fullest extent permitted by applicable law, in no event will Princess Cruises be liable, whether in contract, tort (including negligence), breach of statutory duty, or otherwise, for any loss, damage or injury arising under or in connection with this competition. These Terms are governed by English law, and entrants agree to submit to the exclusive jurisdiction of the English Courts in relation to all matters arising under or in connection with these Terms. The Promoter is Carnival plc trading as Princess Cruises, Carnival House, 100 Harbour Parade, Southampton, SO15 1ST. When you take up an offer featured in the magazine, the contract is with the supplier and not with Princess or Hearst Content Agency, Hearst Magazines UK. Further T&Cs may apply. Data protection: Personal data will be controlled by Carnival Plc, Carnival House, 100 Harbour Parade, Southampton SO15 1ST, and will be used only to administer the competition. For details of how personal data will be used, please see https://www.princess.com/legal... or contact privacy@carnivalukgroup.com.