The UK's best gin distilleries
We round up some of the best spirit-makers to be found on home soil
Gin is one of the UK's most loved drinks, with demand for the juniper-based tipple positively booming over the past decade. Thanks to the repeal of the Gin Act in 2008, which made small-scale productions of the spirit legal for the first time since 1751, the number of distilleries in the UK has more than doubled in the past five years, with The Wine and Spirits Trade Association reporting that over 80 million bottles of gin were sold in the UK in 2019.

If you've got a penchant for a cool G&T or a zingy Tom Collins, be sure to visit some of the best distilleries on our fair isles, where you can see how their gin is made and also sample a swig or two. From distilleries deep in the forest, at the foot of a Scottish fortress or with breathtaking sea views, there are plenty to drink your way around.
England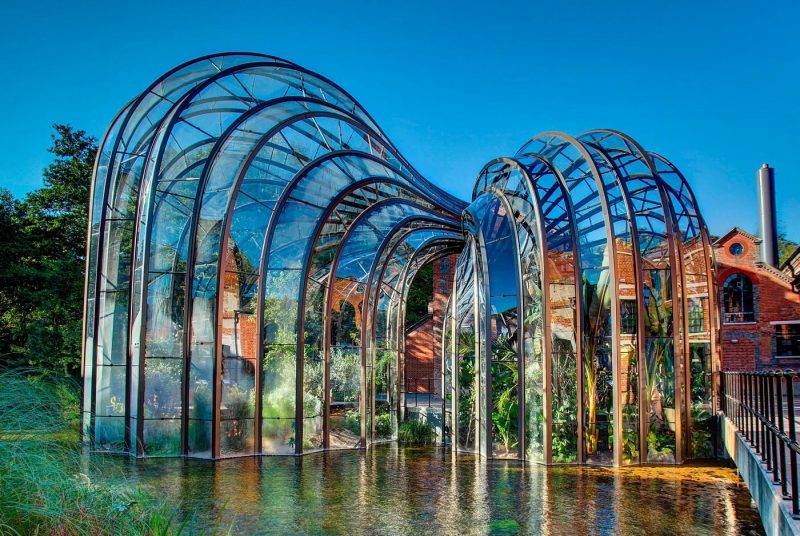 Bombay Sapphire Distillery's glasshouses designed by Heatherwick Studio © Bombay Sapphire
Bombay Sapphire Distillery
Its majestic blue bottle makes Bombay Sapphire recognisable all over the world, and the distillery where it's made is a beauty, too. Located in a conservation area alongside the River Test in Hampshire, botanicals are grown in glasshouses designed by Thomas Heatherwick's Heatherwick Studio (above).
Fancy a tipple? Enjoy Bombay Sapphire swirled with fresh raspberries and mint leaves in a balloon glass, topped with ice and tonic.
Fishers
Metres away from Aldeburgh's shingle beach in Suffolk and with unbroken views of the North Sea, Fishers distillery is possibly the closest in the UK to the coast. Unsurprising then that its gin captures coastal flavours in its profile.
Fancy a tipple? Mix Fishers Original Gin with Fever-Tree Mediterranean Tonic Water for a seriously refreshing drink.
The Lakes Distillery
Overlooking Bassenthwaite Lake in the Lake District, the gin here is infused with British wheat spirit and water from the surrounding area. Juniper, coriander and angelica provide the strongest notes of flavour, while the setting provides one heck of a view.
Fancy a tipple? For a bitter hit, enjoy The Lakes Pink Grapefruit Gin with ice and Fever-Tree Mediterranean Tonic Water.
Forest Distillery
At this distillery in the heart of Macclesfield Forest in the Peak District National Park, gin is blended with fresh spring water and flavoured with berries foraged nearby. With opening hours often affected by weather conditions, get in touch ahead of visiting for a tour.
Fancy a tipple? Make a Clover Club with 50ml Forest Gin, 25ml raspberry cordial, 25ml lemon juice and 1tbsp egg white, shaken and served over ice.
The Distillery
West London's The Distillery is not only a gin palace but the production house for Portobello Road Gin. Stop by to sample its Celebrated Butter Gin, a brew distilled with blocks of unsalted butter.
Fancy a tipple? Known as The Bees Knees, mix 50ml Celebrated Butter Gin, 20ml lemon juice and 10ml honey water (equal parts honey and water mixed).
Scotland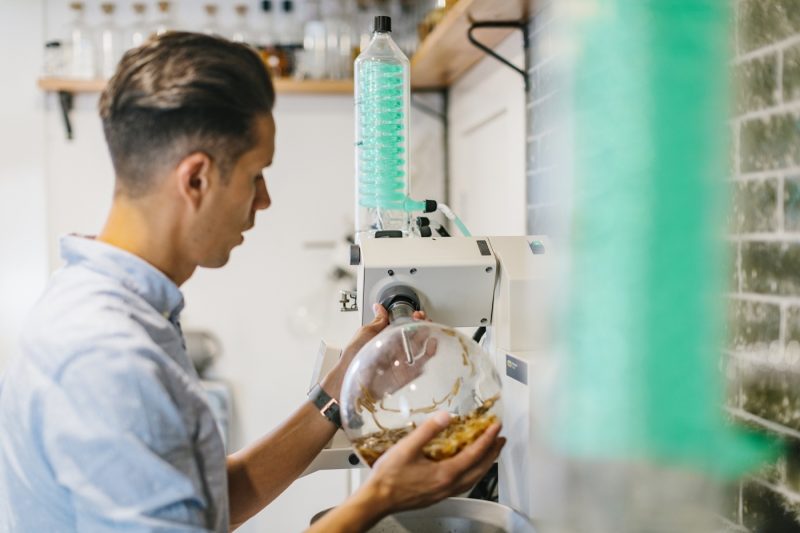 Gin being made at Porter's in Aberdeen, Scotland © Porters/Grant Anderson
Porter's Gin
The three friends behind Porter's turned the basement of their Aberdeen bar into one of the UK's most innovative microdistilleries. Its hand-built vacuum still distils at cold temperatures, meaning the botanicals in its gins retain their fresh flavours.
Fancy a tipple? Porter's Tropical Old Tom Gin is best served with tonic and fresh passion fruit.
The Orkney Distillery
One of the UK's most northerly gin makers, The Orkney Distillery produces Kirkjuvagr, three varieties of gin that all feature Angelica Archangelica, a botanical brought to the islands by Norsemen centuries ago. Its Beyla blend is named after the Norse goddess of bees because it features Orcadian honey.
Fancy a tipple? Mix 35ml Kirkjuvagr Beyla Gin with 25ml Chambord and 25ml raspberry cordial, and top it with lemonade over ice.
The Botanist
The Botanist's distillery is located in the middle of whisky country on the Hebridean isle of Islay – in fact, the gin here is even made in an old whisky still. Taste-wise, 22 foraged botanicals all contribute to its signature gin's flavour.
Fancy a tipple? Serve The Botanist Islay Dry Gin in a twist on a classic Tom Collins cocktail: 50ml gin, 20ml lemon juice and 15ml elderflower cordial, all topped with soda water.
BrewDog
BrewDog may be best known for beer, but its three LoneWolf gins are worth paying attention to. Produced in a microdistillery in Ellon, Aberdeen, it has the world's only triple-bubble still, plus the tallest rectification column in Europe, at 18 metres tall.
Fancy a tipple? Try the LoneWolf Cloudy Lemon Gin, which is macerated in fresh Sicilian lemon peel for seven days, with tonic for a citrussy G&T.
Stirling Distillery
Talk about a prime spot: this tiny distillery sits at the foot of majestic Stirling Castle, one of the largest and most historically important fortresses in Scotland. Inspired by mythologies and folk tales of the castle, the signature Stirling Gin is infused with hand-picked nettles from the local area – basil, lemon, orange peel, juniper and angelica root – producing a flavour that reflects the countryside of Stirlingshire itself.
Fancy a tipple? Simply pour a measure of Stirling Gin over ice and finish with a strip of fresh orange peel.
Wales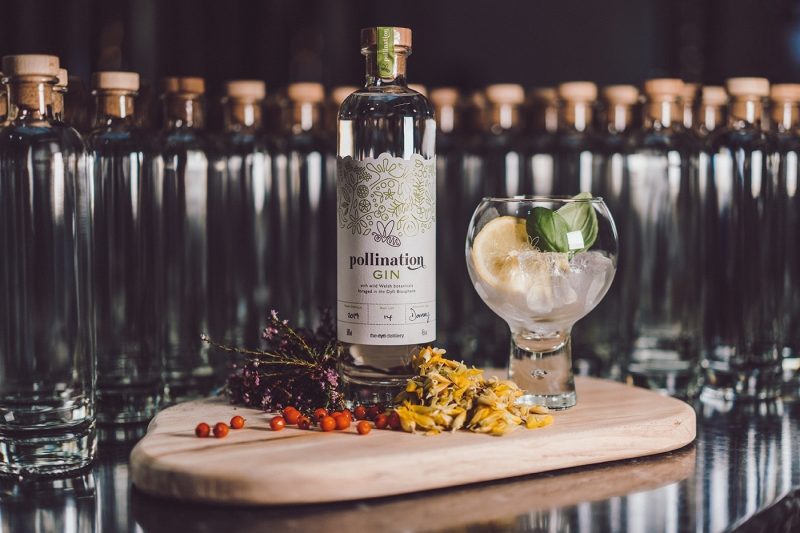 Dyfi gin is distilled in the Welsh Valleys © Dyfi
Dyfi Distillery
Located in the only Welsh valley recognised by UNESCO as a World Biosphere Reserve, the Dyfi Distillery sits in a truly unique setting, which is also captured in its gin's flavours. Its Pollination Gin features 29 botanicals and is described as a 'meander through a wildflower meadow'.
Fancy a tipple? Serve Dyfi Pollination Gin in equal parts gin, tonic and soda to really let the gin's distinctive flavour shine.
In the Welsh Wind Distillery
This west Wales distillery started life in a converted cowshed on the Cardigan Bay coast before upgrading to a purpose-built venue this year. Its Signature Style Gin is crafted in copper pot stills named Afanc and Meredith.
Fancy a tipple? Use the Signature Style Gin in a simple gin and tonic finished with a piece of citrus peel studded with a clove. This garnish injects a medicinal quality that awakens the gin's botanical notes.
Dà Mhìle Distillery
Pronounced 'da-vee-lay', Dà Mhìle is Wales' first-ever craft distillery. Dà Mhìle produces a range of organic spirits, but the Organic Seaweed Gin is a real showstopper. Inspired by the use of seaweed in traditional Welsh laverbread, the gin is infused with fresh seaweed for up to three weeks before bottling, giving it a distinct green hue.
Fancy a tipple? Stock up on some fine green olives, as Dà Mhìle's Organic Seaweed Gin makes an excellent dirty Martini.
Northern Ireland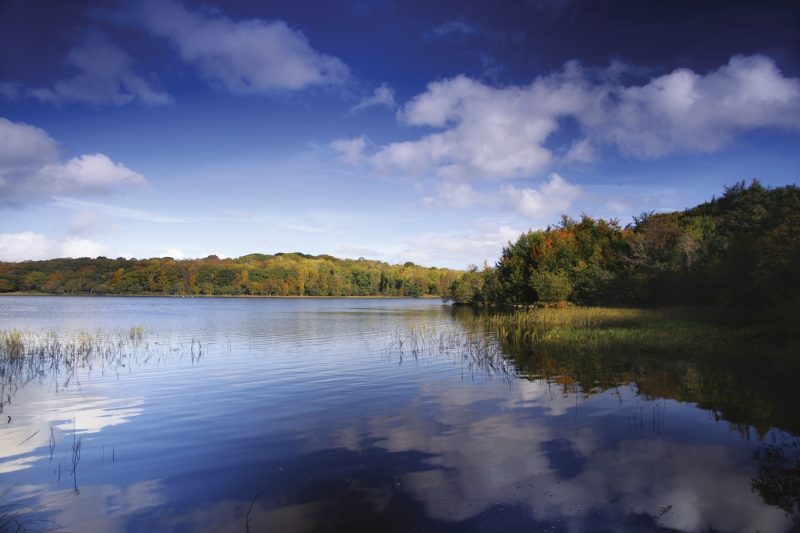 Lough Erne in County Fermanagh, Northern Ireland © Tourism Northern Ireland
Boatyard Distillery
On the shores of Lough Erne in County Fermanagh (pictured above), here's one of the first distilleries in the world to be accessible by both land and water. Its Boatyard Double Gin is a juniper-heavy recipe featuring sweet gale, a leafy plant local to Fermanagh.
Fancy a tipple? Serve 50ml Boatyard Double Gin with 25ml lemon juice and 15ml sugar syrup, then top with soda and garnish with lemon or orange peel.
Copeland Distillery
Historically, the Copeland Islands were smuggling points between Ireland and Scotland. Today, its name is given to this maritime-themed distillery, which creates a gin using sea pink maritima, a botanical found on the Irish Sea coast.
Fancy a tipple? Try Jones 1178 Navy Strength Gin with tonic, ice and a wedge of green apple.
Rademon Estate Distillery
Northern Ireland's first-ever gin distillery opened in 2014 on the historic Rademon Estate in County Down and the Shortcross gin crafted there makes a virtue of its locally grown botanicals.
Fancy a tipple? Enjoy Shortcross Classic Gin, which is distilled with elderflower, elderberries, apples and wild cloves, with elderflower tonic water, garnished with orange peel and mint leaves.
Excited to explore more of the UK and British Isles?