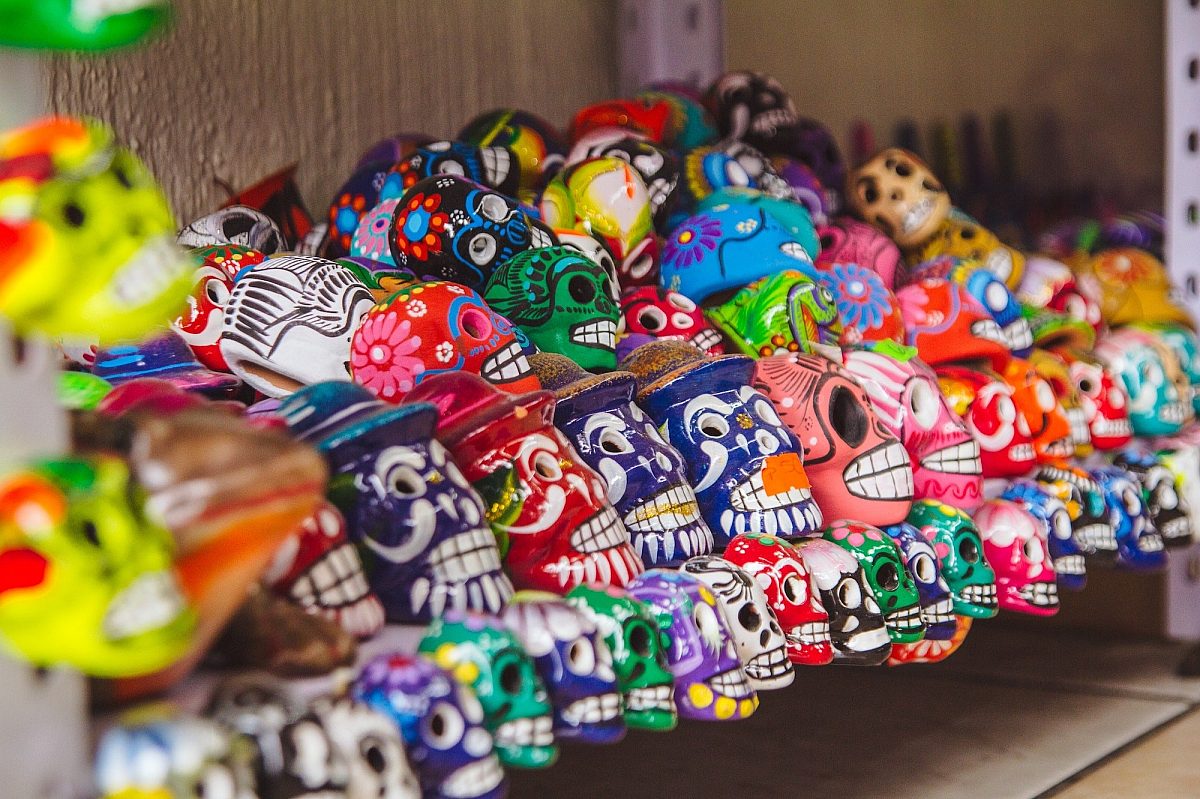 © Gadiel Lazcano/Unsplash
The best time to visit Mexico, by hobby
Hiking, surfing, cooking and even festival-going – pursuing your interests is much more fun when you do it in Mexico
A country as large and varied as Mexico has something to offer everyone all year round, which, while brilliant, can make deciding when to visit a little tricky. So, why not base your trip to Mexico around your hobbies? The country caters for a huge range of interests, offering wildlife excursions, culinary adventures, high-energy watersports and more serene beach bathing. Let us help you decide on the best time to go to Mexico based on your passions back at home…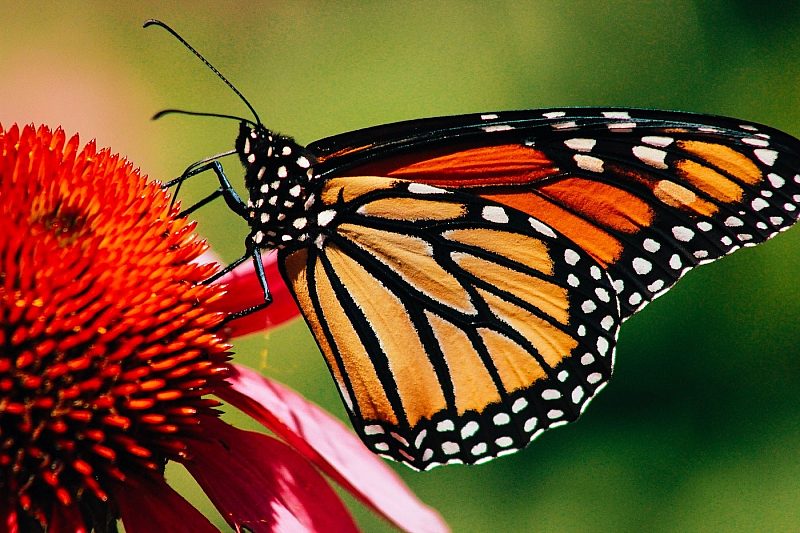 Admire pretty monarch butterflies, as they migrate to Mexico in winter © Erin Minuskin/Unsplash
Best for: Wildlife fanatics
Nature-spotters will love Mexico in January. Not only is it the best time to see migratory birds like ibises and the great blue heron, who head to Mexico to soak up the warmer climate, but it's also the peak of the monarch butterfly migration. This annual spectacle sees millions of orange-black monarch butterflies making their way from the United States and Canada to Mexico's oyamel fir forests in the Mariposa Monarca Biosphere Reserve, a designated UNESCO World Heritage Site. There are numerous tours operating here, allowing visitors to witness this incredible, colourful sight.
Best for: Avid hikers
Those hoping to give their walking boots an airing should visit Mexico in its drier months, from December through to April. Very little rain falls during this time and the relatively cooler weather in January and February means a more pleasant (though still warm) temperature for rambling or trekking. Mexico is brimming with hiking routes that take in some unforgettable landscapes, such as the Sierra de la Giganta mountain range in Baja California Sur, which you can admire on a guided canyon hike as part of a Princess shore excursion.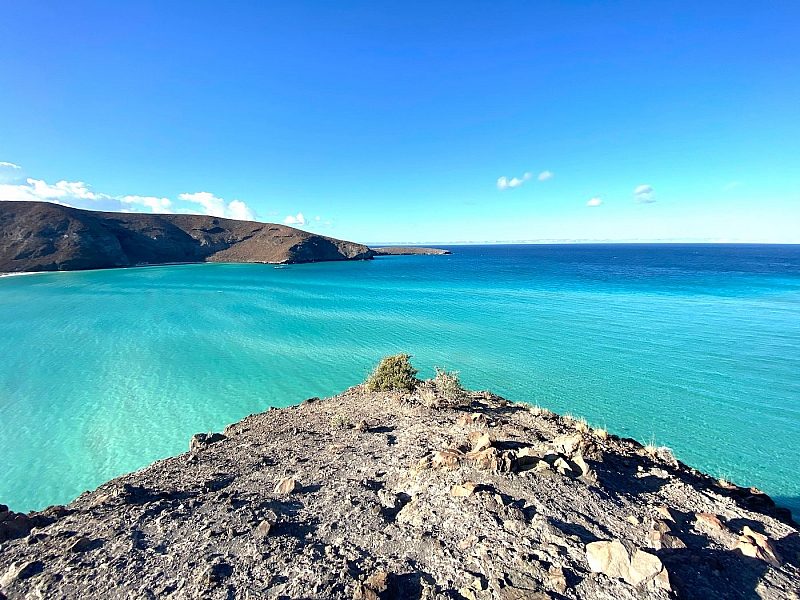 Partake in watersports at Balandra Beach, or simply admire the views © Samantha Velazquez/Unsplash
Best for: Watersport enthusiasts
Those who enjoy taking to the water (for more than just a quick dip) will love Mexico, where so much activity revolves around the ocean. Surfing in Mexico is a must, whether you're a first-timer or a veteran, and conditions can be favourable year-round, although the extended summer months between April and September will produce the best waves in most areas. Great surf spots can be found at Los Cerritos Beach (an easy drive from Cabo San Lucas) and the more bohemian Sayulita (reachable from Puerto Vallarta). If surfing's not your thing, paddle-boarding is possible on many beaches, as is kite-boarding, parasailing and kayaking. You can also try sea kayaking at dreamy Balandra Beach as part of a Princess shore excursion from La Paz.
Best for: Party animals
It's not just Brazil that knows how to throw a fiesta, as anyone who's been to a Mexican carnival will testify. Every year, carnivals take place across the country over several days before the beginning of Lent (usually around mid or late February, but dates will vary depending on when Easter falls in a given year). One of the largest Mexican carnivals happens in Mazatlán, backdropped by white sand beaches and packed with parades, brass bands, floats and dancers. Carnaval de Mazatlán is a vibrant and unique event everyone should add – and then tick off – their bucket list.
Best for: Marine-life buffs
From January until April, grey whales migrate from the frosty climate of Alaska to various waters near the Mexican coast, where the temperature is far more agreeable. For an up-close look at the majestic creatures, embark on a Princess whale-watching boat excursion from Magdalena Bay, which is accessible from the port of Loreto. Elsewhere, there's an array of tropical fish (such as angelfish, butterfly fish and parrotfish) and other underwater wonders to see when snorkelling along the coast, which can be done at any time of year. On a snorkelling excursion around Gaviota Island, just off the coast of La Paz, you'll spy the likes of black and white striped sergeant majors and California spiny lobsters.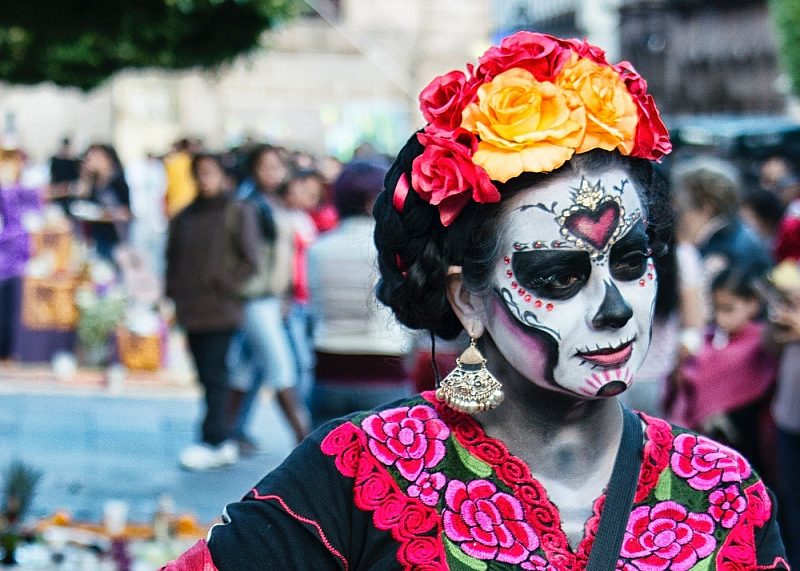 Traditional Day of the Dead dress in Mexico © Genaro Servín/Pexels
Best for: Culture vultures
Known around the world, Mexico's Day of the Dead (Día de los Muertos) festival takes place on 1st and 2nd November, celebrating and honouring deceased family and friends. In contrast to its name, the event is joyful and lively. It's full of live music, decorations and costumes, including plenty of people dressed as La Catrina ­– a skeletal figure closely linked with the festival since a Mexican illustrator created the character in the early 20th century. Day of the Dead is celebrated all around Mexico so, wherever you are in the country, there'll be plenty of festivities to join in with.
Best for: Foodies
Every November, Puerto Vallarta hosts Festival Gourmet International, a huge gathering of chefs from around the world that come together to showcase both Mexican and international cuisine. The programme includes cooking classes, chef talks and extravagant, multi-course feasts. And that's just for starters – extend your trip into December as well, and you can sample even more gastronomic delights at Sabor a Cabo, a similarly popular annual food event in Cabo San Lucas, which also features local wineries and tequila distilleries, plus live music performances from big-name international artists.
Excited to explore Mexico?