Sky Princess will feature in 'Cruising with Jane McDonald' this May
Follow the legendary cruise ship singer and television presenter as she sails around the Caribbean
If ever there was a time to escape to sunnier climes and palm-lined beaches via your sofa, it would be now. Tune into Channel 5 this Sunday and you can do just that, as much-loved former cruise ship singer Jane McDonald will be sailing around the Caribbean onboard Sky Princess.

The BAFTA-winning show, Cruising with Jane McDonald, will feature our wondrous Sky Princess in two episodes, one airing on Sunday 9th May at 9pm and the other airing at the same time on Sunday 16th May.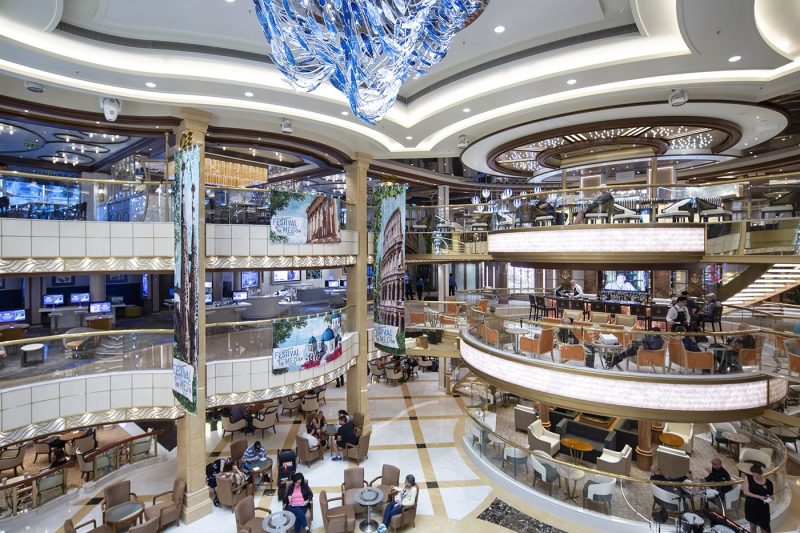 The heart of the ship: Sky Princess' beautiful Atrium © Princess
The episodes follow Jane as she travels throughout the Caribbean on a 14-night itinerary, filmed before the global pandemic. Jane's cruise takes her south-east from Fort Lauderdale in Florida towards Princess' private resort, Princess Cays, on to the Virgin Islands and St. Thomas, the island of St. Maarten and to Grand Cayman, to list just a few of her port stops.

Our private resort at Princess Cays sits on more than a half-mile of white-sand shoreline at the southern tip of Eleuthera island in The Bahamas. While it's a natural paradise, there are opportunities for watersports, shopping in boutiques and at the local craft market, plus feasting at the beach barbecue.

The stunning waters of the Virgin Islands are perfect for swimming, snorkelling and diving, St. Maarten offers high-octane activities like lagoon kayaking and a 4x4 buggy safari, while in Grand Cayman you can go horse riding on the beach or meet stingrays.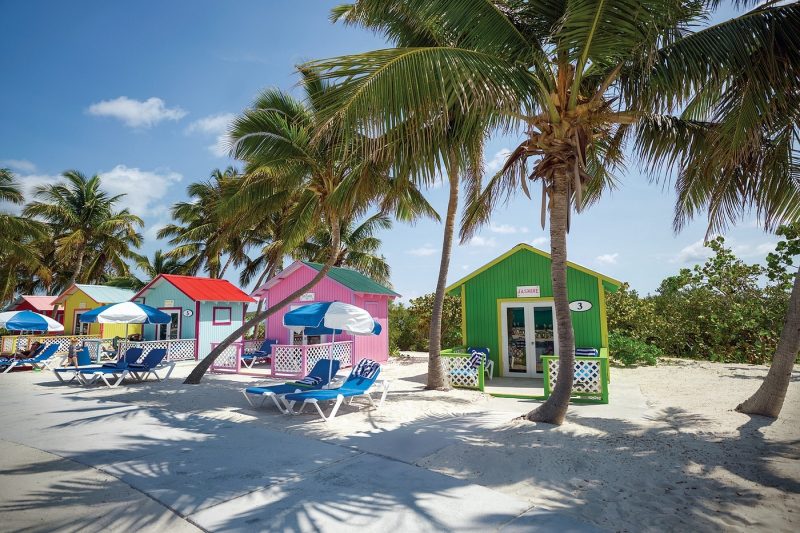 Princess Cays offers a taste of pure paradise © Princess
When she's not in port, enjoying brilliant shore excursions, Jane gets to experience first-hand our innovative MedallionClass technology, specifically the award-winning OceanMedallion device, which replaces the traditional cruise card, offering a truly touchless experience and boosting Princess' personalised service to new levels.

One of the newest members of the Princess fleet, Sky Princess launched in October 2019 and is set to become Southampton's homeport ship this summer, which marks her debut in the UK, too.
Tony Roberts, Princess Cruises UK & Europe vice president, says, 'As our homeport ship, we are excited for viewers to join Jane as she discovers what it's like to sail on the beautiful Sky Princess. Viewers can also look forward to seeing the OceanMedallion in action, while also enjoying some escapism as they follow Jane's relaxing cruise around the Caribbean.'

Series seven, episode one 'Cruising with Jane McDonald' featuring Sky Princess will air on Sunday 9th May, 9pm–10.15pm on Channel 5. Missed it? You can catch up with the episodes on My5 here.

Excited to explore the Caribbean?