Revelling in nature in Barbados
Travel writer Sarah Gordon goes off the beaten path in the Caribbean to explore the lush gardens, gorgeous green areas and unique wildlife this island has to offer
Nothing beats the magic of seeing dozens of hatchlings, scrambling over the sand, making their way into the surf at sunset.
I had been alerted to the release of these tiny turtles by the Barbados Sea Turtle Project. We watched as children emptied buckets of the little hatchlings onto the sand, so they could take their chances in the vast Caribbean Sea – where just one in every 1,000 will survive and someday return to lay their own eggs.
The project works across the island, helping locate nests to keep them safe, and helping egg-laying mothers and newly hatched babies so they don't get disorientated by the island's lights. You can put your name down and they will let you know when there are turtles spotted or if they're staging a hatchling release, so you can go and see it for yourself.
Baby hawksbill turtles weren't the beachgoers I had been expecting to see on the glitzy west coast of Barbados. After all, this is where the A-list like to wait out winter, where elegant resorts rub shoulders with sleek waterfront restaurants and beach bars serve up rum punch to relaxed calypso beats.

But venture beyond the glamorous west-coast beaches and you will discover that this tropical island is a natural playground. The interior is a patchwork of lush gardens dotted with elegant plantations. The breath-taking east coast is not to be missed, either. It may not be ideal for swimming, but the rugged Atlantic coastline is perfect for a sunny walk.
Explore Barbados' incredible nature on a Caribbean Princess cruise
I hiked from Bath Beach following the long-abandoned railway line to Bathsheba Beach, a five-kilometre trail with stunning Atlantic views and the chance to stop off for a refreshing drink in Martin's Bay.
It is one of a whole host of trails that criss-cross the island, taking in coastal scenery, tropical forests and fields of sugar cane. You don't have to venture out alone, either – if you like the idea of exploring the island on foot, join one of the National Trust's many free group walks. They depart from different spots around the island in the morning and afternoon, as well as in the evening for moonlit walks, and range from six to 12 miles, depending on your fitness level.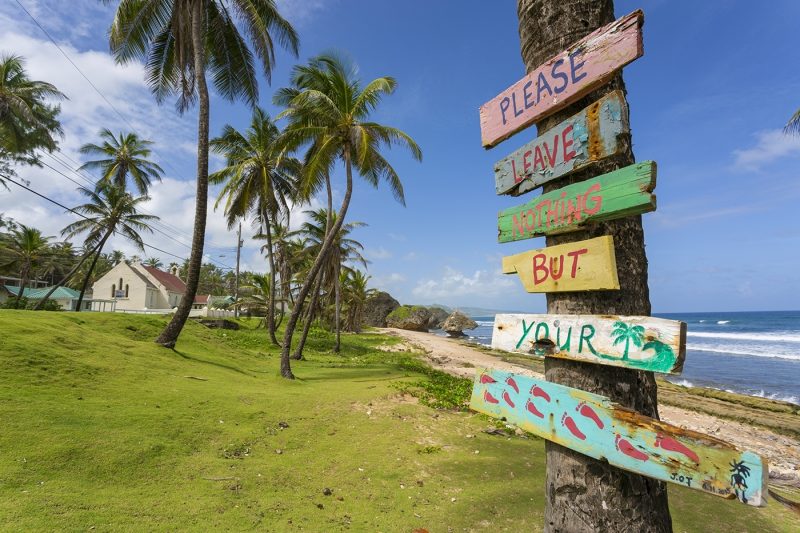 Frank Fell/Robert Harding
Learn about Caribbean wildlife & ecotourism
To enjoy the scenery in a sedate fashion, I headed for the island's gardens. There is a big selection to choose from and, with the Barbados Horticultural Society notching up 19 gold medals at the Chelsea Flower Show, this is an island that takes gardening seriously.

My first stop was slightly off the beaten track, a gem of a place owned by charismatic local Anthony Hunte, who is always on hand for a chat. Hunte's Gardens are set in a sinkhole and surrounded by verdant rainforest; a place where you can simply lose yourself, as you stroll around decorative gardens, past tropical plants and flowers, antiques and quirky statues. Colourful hummingbirds buzz and classical music floats through the air, creating an otherworldly oasis in complete contrast to the island's white and palm-fringed beaches.

Andromeda Botanic Gardens, on the Atlantic Coast, are another highlight well worth a visit. They started as a private garden, when award-winning horticulturalist Iris Bannochie created a dazzling collection of tropical and subtropical palms, trees and plants, some not seen anywhere else in the Caribbean. Paths wend their way through the gardens to the central pond, monkeys play in the trees of an evening and local artisans sell crafts in the Gallery Lounge. It is the perfect spot to get lost in for half a day, perhaps enjoying home-made breads and organic salads at the cafe.Nothing combines better with beautiful gardens than grand houses, and Barbados has its fair share of them, too; elegant plantation houses scattered among fields of sugar cane. Lemon-yellow Sunbury Plantation House dates back to 1660, its rooms still filled with heavy mahogany furniture, antique rugs and prints, and it is a great place for a buffet lunch of traditional Bajan dishes.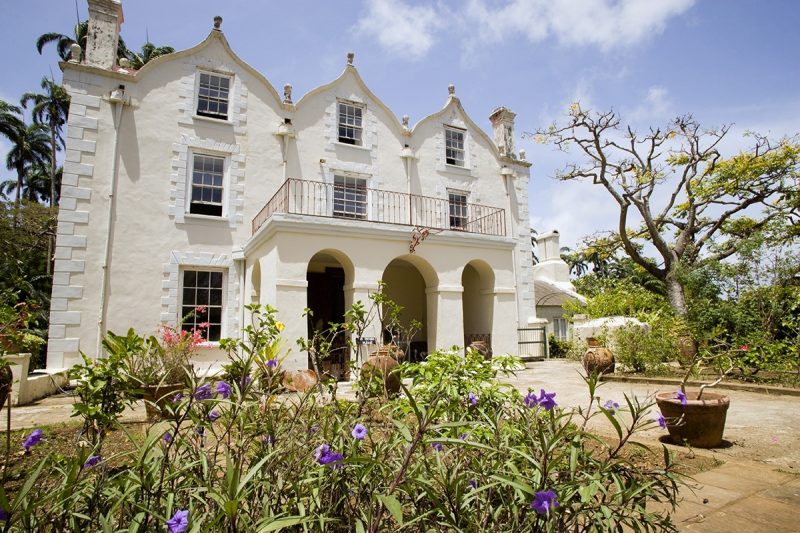 eye ubiquitous/Robert Harding
But perhaps the most beautiful plantation house is St Nicholas Abbey (above). The Great House is a Jacobean mansion tucked right in the island's north, with rooms frozen in time behind a striking red-and-white façade and curvilinear gables. The estate has its own rum distillery and 400 acres of cane fields, mahogany forests, gardens and tropical gullies. It is a joy to explore under your own steam and the views from Cherry Tree Hill, across to the east coast, are breath-taking.
That's what Barbados is all about: those magical moments as you look around and take in your surroundings. Glimpses of a colonial life gone by, gardens filled with gem-coloured hummingbirds and empty, pristine, wave-lashed beaches. It is standing in the half-light and watching as tiny hatchlings skit across wet sands and battle against the waves to make it out to sea.
Barbados may be known for its glittering coastlines, but there is so much more to discover beyond the beach.